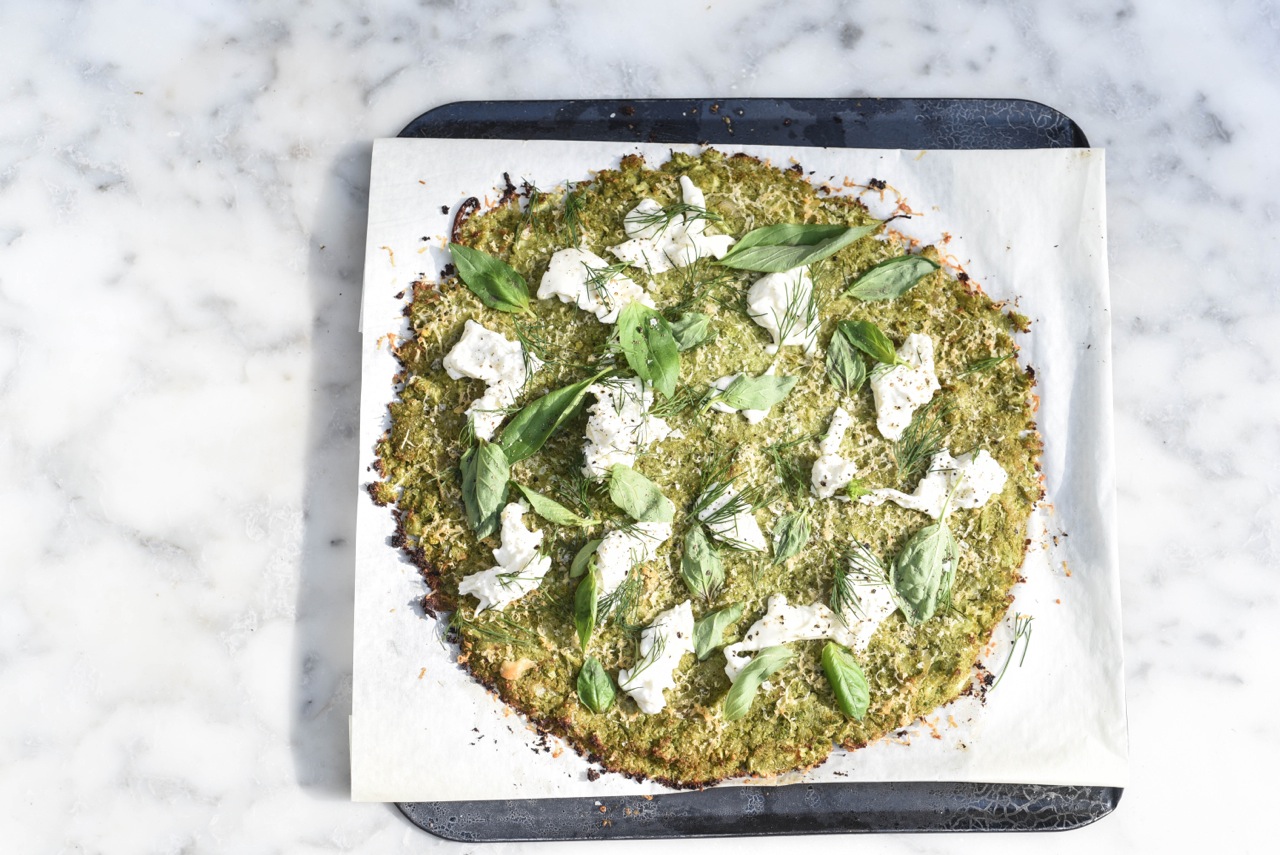 This carb-free, gluten-free pizza style dinner will keep everyone interested. Hearty enough for The Vegetarian post-run and light enough for me to feel like I'm vaguely sticking to my low carb evening meal. This subtle flavour combination makes for iphone 5c reconditionné an interesting variation on your regular Friday night take away. Perfect for the spring/summer months, serve with a tomato and onion salad and heaps of lemon dressing for the ideal meal combo.
Preparation Time 5 – 10 minutes
Cooking Time 10 – 15 minutes
Serves 4 – 6
Ingredients: 
Pizza Style Base: 
2/3 Romanesco (remove large amounts of the stalks, using mainly just the heads)
Handful of parsley – stalks removed
Zest of half a lemon
Generous glug of rapeseed oil
Sprinkle of sea salt flakes
Generous sprinkle of freshly ground black pepper
2 Banana shallots – peeled and sliced into thin rings
30g finely grated Manchego
Extra drizzle of rapeseed oil
Topping:
1 large ball of burrata (around 250g)
Handful of basil leaves
1 stalk of dill – roughly chopped
1 tbsp of toasted almonds (optional)
Generous sprinkle of freshly ground black pepper to serve
Method: 
Begin by preheating your oven to 220 degrees Celsius. In a food processor, or using a hand blender, add the roughly chopped Romanesco, parsley, lemon zest, seasoning and rapeseed oil to the blend and blitz until you have a fine crumb that begins to stick together. In a small frying pan add a glug of oil plus your chopped shallots and allow to sweat down over a low heat until soft and sticky. Once cooked gently combine the shallots with the blitzed Romanesco and add in two-thirds of the grated Manchego. Have a taste for seasoning and adjust if necessary.
Next, arrange the Romanesco mixture into a pizza-like shape on a nonstick tray or parchment paper, making sure it sticks together and isn't too thick. Sprinkle over the remaining third of Manchego and place in the oven for 7-10 minutes or until it starts to crisp around the edges and turn a little golden.
Next, simply arrange your Burrata on top then return to the oven for 2-3 minutes to allow to Burrata to heat through a little. Once cooked and just prior to serving sprinkle over the fresh basil leaves and dill, add a little extra black pepper and drizzle some oil and serve.
Follow Anna Barnett on Twitter: @AnnaBarnettCook
Follow Anna Barnett on Instagram:  @AnnaBarnettCooks