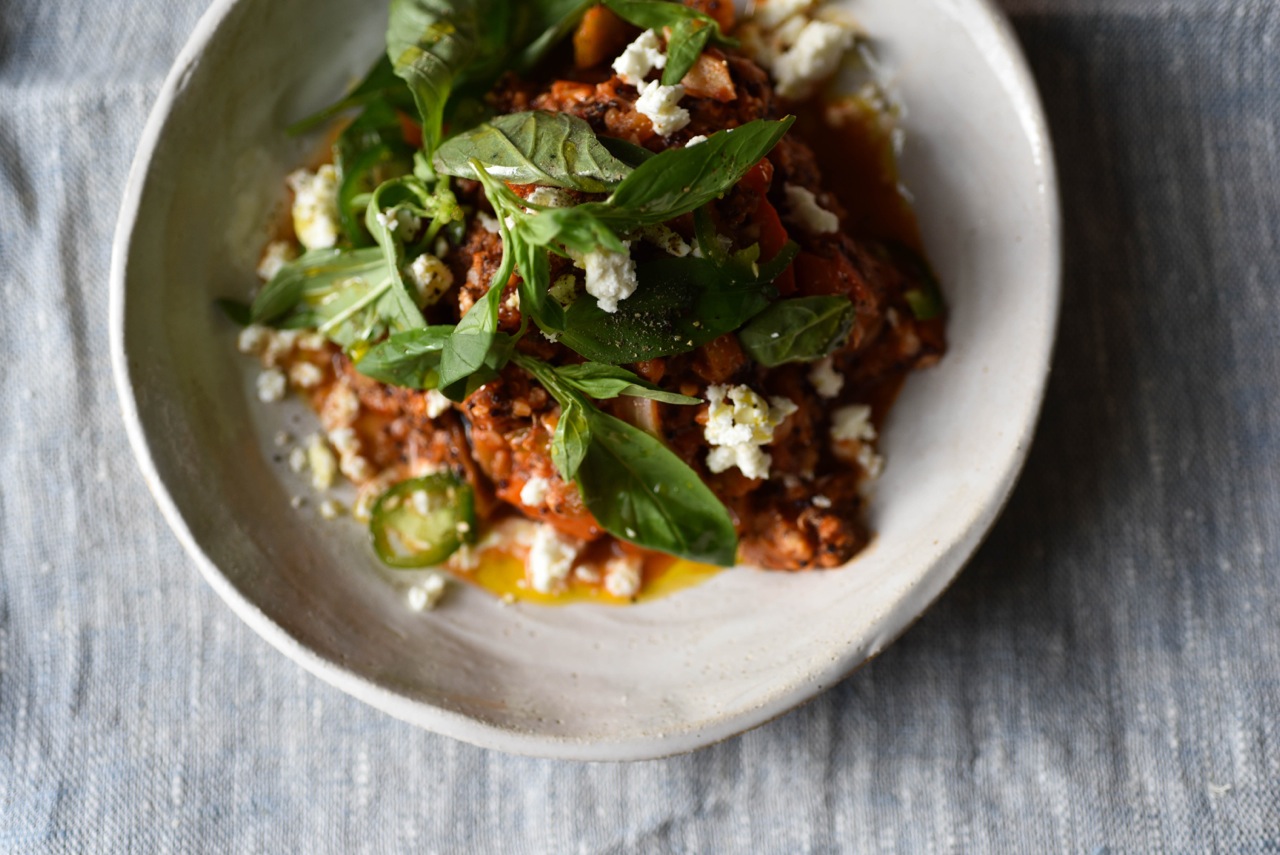 This is perfect for those days when the weather doesn't quite know what it's doing. There's some sunshine but not enough to get rid of the layers so something warming is still required. This dish is vibrant, spicy and fragrant with the abundance of fresh basil. Opt out of eating heavy carbohydrates and get summer ready with these great quinoa and cauliflower substitutes.
Preparation Time 10 minutes
Cooking Time 40 minutes
Serves 4 – 6
Ingredients:
2 Cups of quinoa – Cook as per instructions
Several glugs of extra virgin rapeseed oil (or olive oil)
1 White onion – Roughly cut into segments
3 Cloves of garlic – Crushed, peeled and finely chopped
2inches of fresh ginger – Peeled and finely grated
1 Red chilli – Finely chopped
2 Charred (or jarred bought) red peppers – Char directly over flame and remove skin
1 Tin of cherry tomatoes (regular plum tomatoes will work too)
Glug of red wine vinegar
1 Heaped tsp of paprika
½ Cauliflower – Finely grated
Garnish –
200g Feta – Crumbled
1 Green chilli – Finely sliced
Large bunch (around 50g) fresh basil
Generous drizzle of extra virgin rapeseed oil
Method:
Begin by cooking your quinoa as per instructions (some varieties need rinsing first) this should take around fifteen minutes.
Next heat a generous glug of rapeseed oil in a casserole dish or large pan. Prepare all ingredients as noted, once the oil has increased in temperature add the onion garlic, ginger and chilli, cook over a medium to low heat for several minutes, ensuring that the garlic doesn't turn golden.
For the charred peppers, if you're not using shop/jar bought do the following. Carefully (and using tongs) hold the pepper directly over the flame from your gas hob, turning once it blackens on one side and repeat until black all over. Place in a bowl and cover with cling film for several minutes by which time the burnt skin should easily peel off. Alternatively roast on 200 degrees Celsius with a glug of oil and remove once the skin darkens and peel as noted above.
Roughly chop or tear the charred peppers and add them to the pan with the onion and garlic. Next add in your tinned tomatoes, a glug of red wine vinegar and paprika plus a good sprinkle of sea salt flakes and several turns of black pepper. Allow to cook over a medium to low heat for a minimum of twenty-five minutes. The longer you cook this over a low heat, the richer the flavours become. If the sauce does evaporate too much add a glug of water to loosen, you need to make sure you have enough sauce to easily cover the cauliflower rice and quinoa.
Have a taste and adjust seasoning or spice if necessary. Once you're happy with it simply add in your grated cauliflower, allowing it to cook for a minute or two then add in the quinoa and stir so both the cauliflower and quinoa are evenly coated.
Prepare your garnishes and then serve your stew either allowing everyone to serve themselves or plate up not forgetting to be generous with the basil. Adding it at the end like this allows the flavours to stay as vibrant as possible, drizzle with extra virgin rapeseed oil, additional seasoning if necessary plus a sprinkle of crumbled feta.
Follow Anna Barnett on Twitter: @AnnaBarnettCook
Follow Anna Barnett on Instagram:  @AnnaBarnettCooks