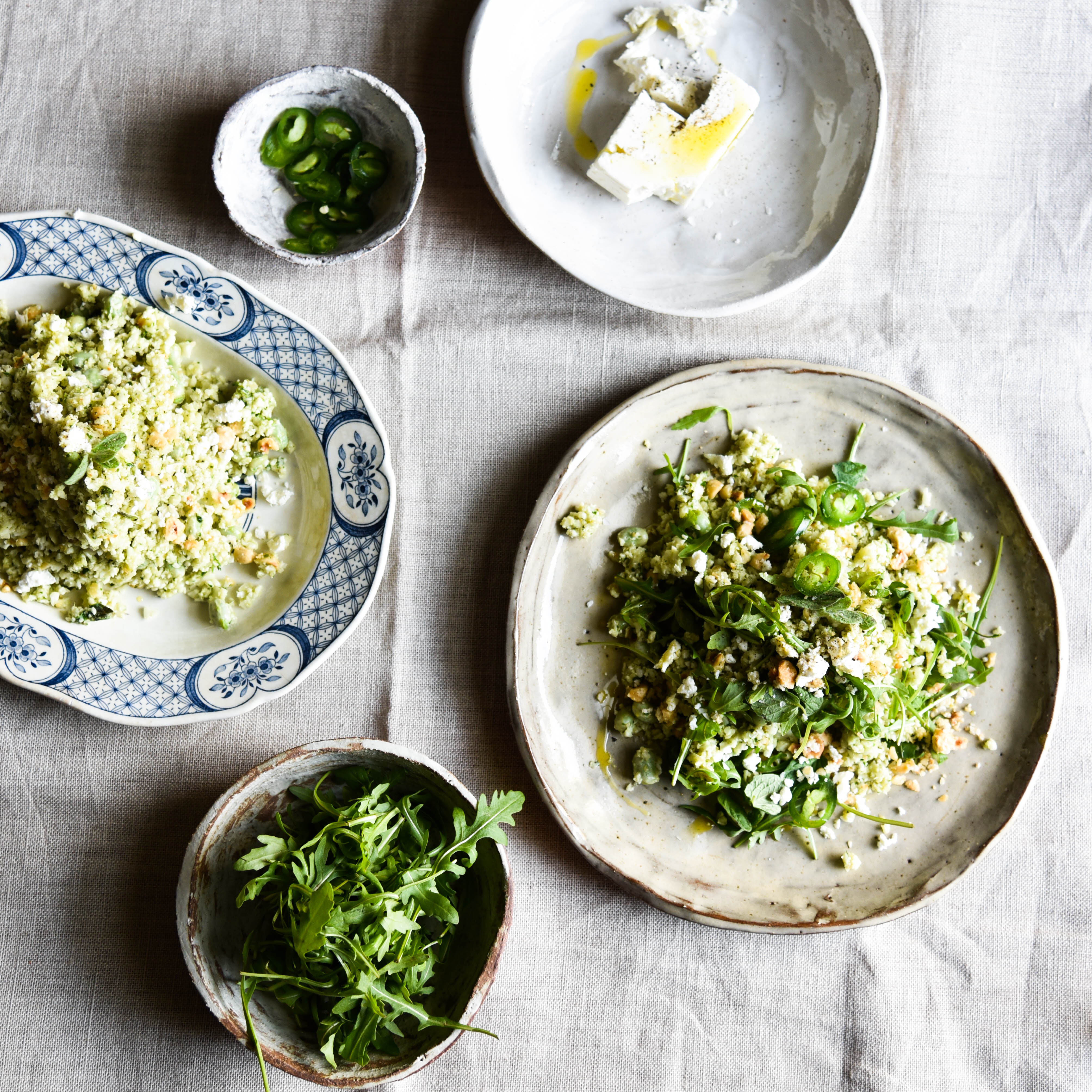 This is the perfect low carbohydrate meal, swapping out regular rice and instead making it from cauliflower. Combine with pesto and mix in a wild peppery rocket for a hearty filling salad. Serve as a side or send it out solo. This is a salad that packs a punch and is guaranteed to keep everyone happy, plus you can get this together easily in under fifteen minutes.
Preparation Time 10 minutes
Cooking Time 5 minutes
Serves 4 – 6
Ingredients:
1 Medium Cauliflower – Roughly chopped into florets
Good glug of rapeseed oil
200g Wild rocket
2 Jalapeños – Finely sliced
150g Broad beans
200g Feta – Crumbled
Small handful of parsley – Leaves removed from stalk, roughly chopped
Handful of basil leaves – Removed from stalks and roughly chopped
Generous sprinkle of sea salt flakes
Several turns of freshly ground black pepper
Pesto:
1 Clove of garlic
2 Tbsp of pine nuts
½ Tsp of black peppercorns
1 Handful of basil leaves
20g of Grated Parmesan
3-4 Generous glugs of extra virgin rapeseed oil
Method: 
Begin by roughly breaking up the cauliflower into bite-sized florets then blitzing to a fine crumb in a blender. Once blitzed to a crumb set to one side and heat up several glugs of oil in a large frying pan then add in the cauliflower plus seasoning. Stir occasionally and cook for 4-5 minutes.
For the pesto simply muddle all ingredients together, beginning with the garlic, pine nuts, black peppercorns then add in the basil. Muddle some more before adding in the Parmesan and finally the oil.
Next, combine the pesto with the cauliflower rice and mix through the rocket, broad beans, and basil leaves. Sprinkle in the feta along with the fresh jalapeños. Finally, drizzle with extra virgin rapeseed oil, and add a little extra freshly ground black pepper then serve.
Follow Anna Barnett on Twitter: @AnnaBarnettCook
Follow Anna Barnett on Instagram:  @AnnaBarnettCooks