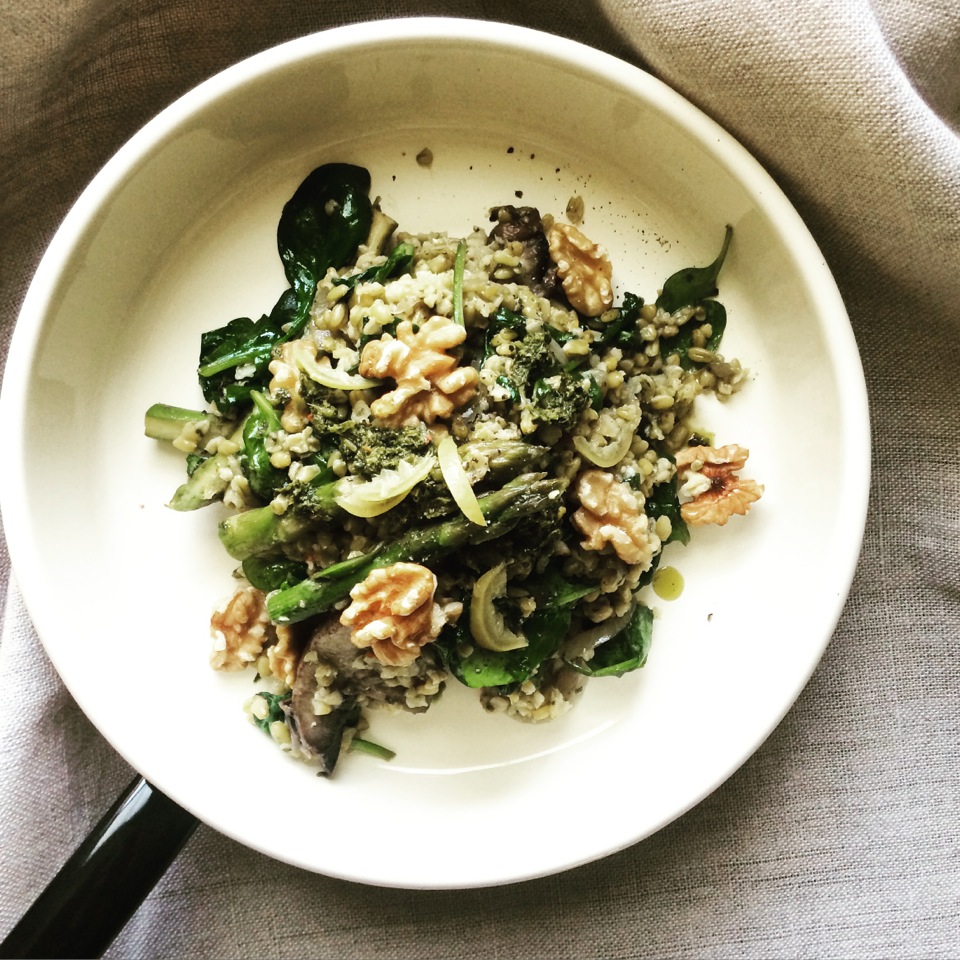 This is one of those dishes that has so much going on you won't get bored or feel like you're eating the same old thing (this is no mushroom risotto – vegetarians will know what I'm talking about!) The flavours in this dish are bold, vibrant and light but warm and hearty enough to be a delicious winter warmer.
As much as I'm a huge fan of gravy and all the mash that goes with it, but come winter it's easy to get stuck in a rut of overeating and missing forgetting your greens and a bit of goodness. The Verbena Harrissa in this dish offers a totally distinct citrus flavour followed by a mellow warmth from the chilli. This combined with the preserved lemons makes for a delicious Middle Eastern inspired dish and a moorish combination.
Freekeh is a great source of protein and fibre so pack in some greens and a few nuts and you've got a totally balanced meal. Not to mention you can reheat and take it for lunch the next day.
Preparation Time 10 minutes
Cooking Time 45 minutes
Serves 4-6
Ingredients:
3 Cups of Freekeh
4.5 Cups of vegetable stock
Good glug of rapeseed or olive oil
1 Large white onion – Finely sliced
2 Cloves of garlic – Crushed and finely chopped
Generous sprinkle of sea salt and black pepper
3 Portobello mushrooms – Roughly chopped
Bunch of asparagus – Hard ends removed – Cut in half
200g Fresh Spinach
3 Large Tbsp green Verbena Harissa
2 Preserved lemons finely diced
Handful of walnuts
Method:
Begin by adding the freekeh to a large pan, add in your stock and bring to the boil, Once boiling reduce the heat, cover with a lid or foil and allow to simmer for 40-45 minutes.
In a separate pan add a good glug of oil and combine the onion, garlic and seasoning and allow to cook over a low heat for several minutes or until the onion softens and turns translucent. Next add in the mushrooms, asparagus and spinach and cook for 2-3 minutes ensuring that the asparagus still has a crunch and that the mushrooms aren't overcooked. Remove from the heat and set to one side until the freekeh is ready.
Once the freekeh is cooked through and all or the majority of the stock has been absorbed you can then add in 3-4 large tablespoons of the green harissa, perhaps start with a couple, have a taste and add more if you like a stronger flavour. You can now also add in the onion, asparagus, spinach and mushroom and gently combine. To finish garnish with a handful of walnuts and some finely sliced or diced preserved lemons.
I like to serve this one in a big bowl in the middle of the table where everyone can help themselves. This dish works really well alongside meat but just as well on it's own.
Follow Anna Barnett on Twitter: @AnnaBarnettCook
Follow Anna Barnett on Instagram:  @AnnaBarnettCooks
Anna has worked in events and celebrity booking for MTV and Channel 4, has spent many years as part of the team at British fashion label House of Holland – but she's still primarily known to her friends as 'The Feeder'.
Her lifelong obsession with cooking led to a weekly blog, 'The Reluctant Vegetarian', which she spent two years writing for UK newspaper The Independent.
She now contributes a monthly recipe spot on Miss Vogue, while running www.AnnaBarnettcooks.com and has just been appointed as one of Grazias resident cooks for the magazine. She regularly turns her house in Hackney into a pop-up restaurant and has been featured extensively in the glossies, nationals and online.
Her debut cookery book 'Eat the Week' launched this summer.