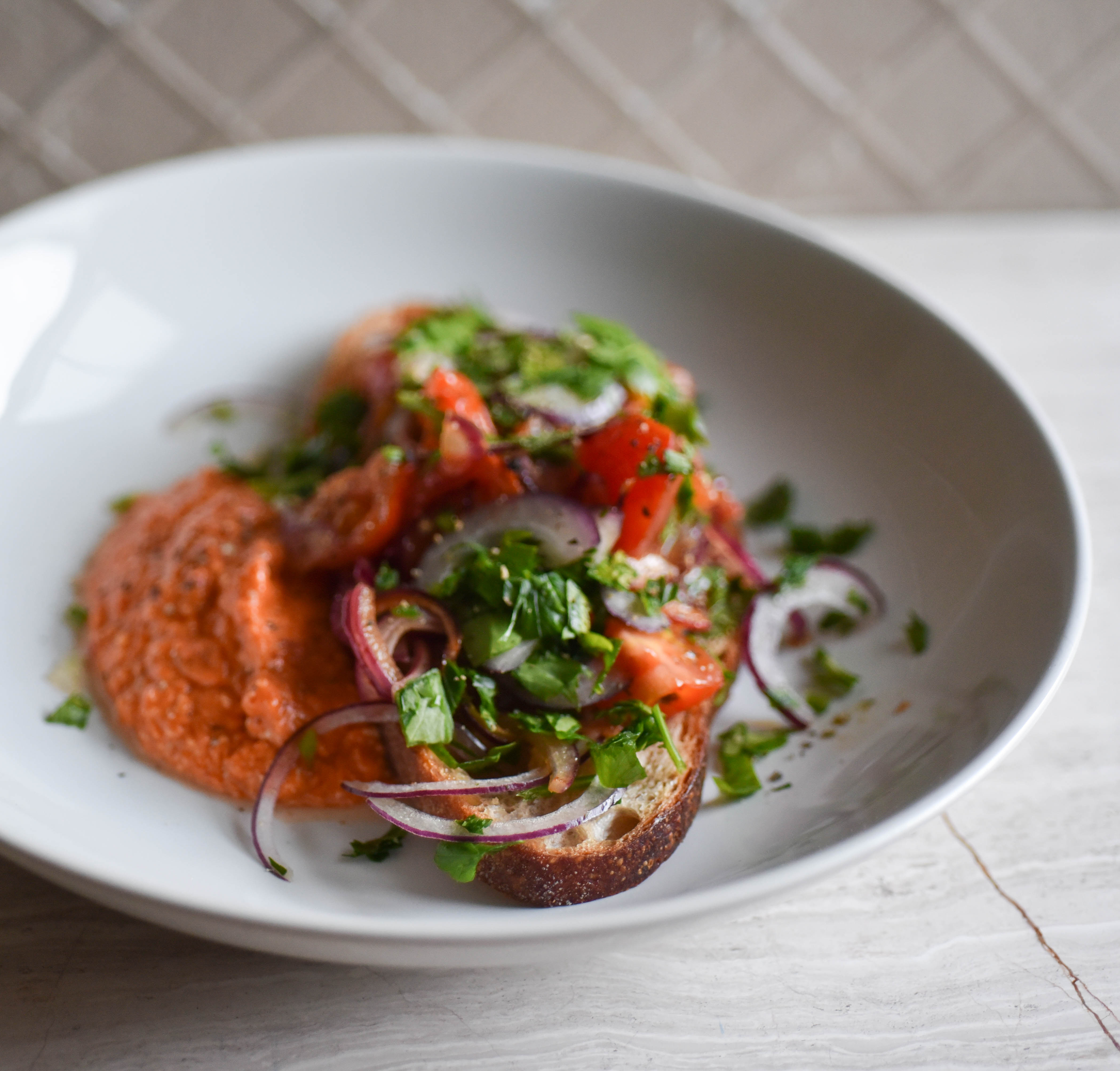 If you've indulged on endless roast dinners this winter then this might be a welcome alternative. I love the freshness of the cherry tomatoes with the almost raw red onion and garlic salad (It may be worth keeping a little extra parsley to one side for afters!!) The spicy feta dip can double up as a great alternative to your classic pasta sauce and also works well with white meats. It's so delicious it's worth experimenting with and using wherever you can.
Preparation Time 5 – 10 minutes
Cooking Time 5 minutes
Serves 4
Ingredients:
1 Small loaf of sourdough – Sliced into roughly 1cm thick
2 Cloves of garlic – 1 ½ Peeled, crushed and finely cut (save one half to rub on sourdough)
½ Red onion – Finely sliced into thin half moons
2 Vines/Around 15-20 ripe cherry tomatoes – Each roughly cut into four
Glug of extra virgin olive oil
Generous sprinkle of sea salt flakes
Several turns of black pepper
Generous handful of parsley – Roughly chopped, stalks removed
Dash of red wine vinegar
Spiced Feta Dip:
10 Ripe cherry tomatoes – Squashed, seeds removed
100g Feta
½ Clove of garlic – Peeled
1Tsp of roughly chopped parsley
½-1Tsp of Sambal Oeleck (or 1 red chilli minced with ½ clove of garlic and sprinkle of salt)
¼ Tsp of sugar (optional)
Glug of extra virgin olive oil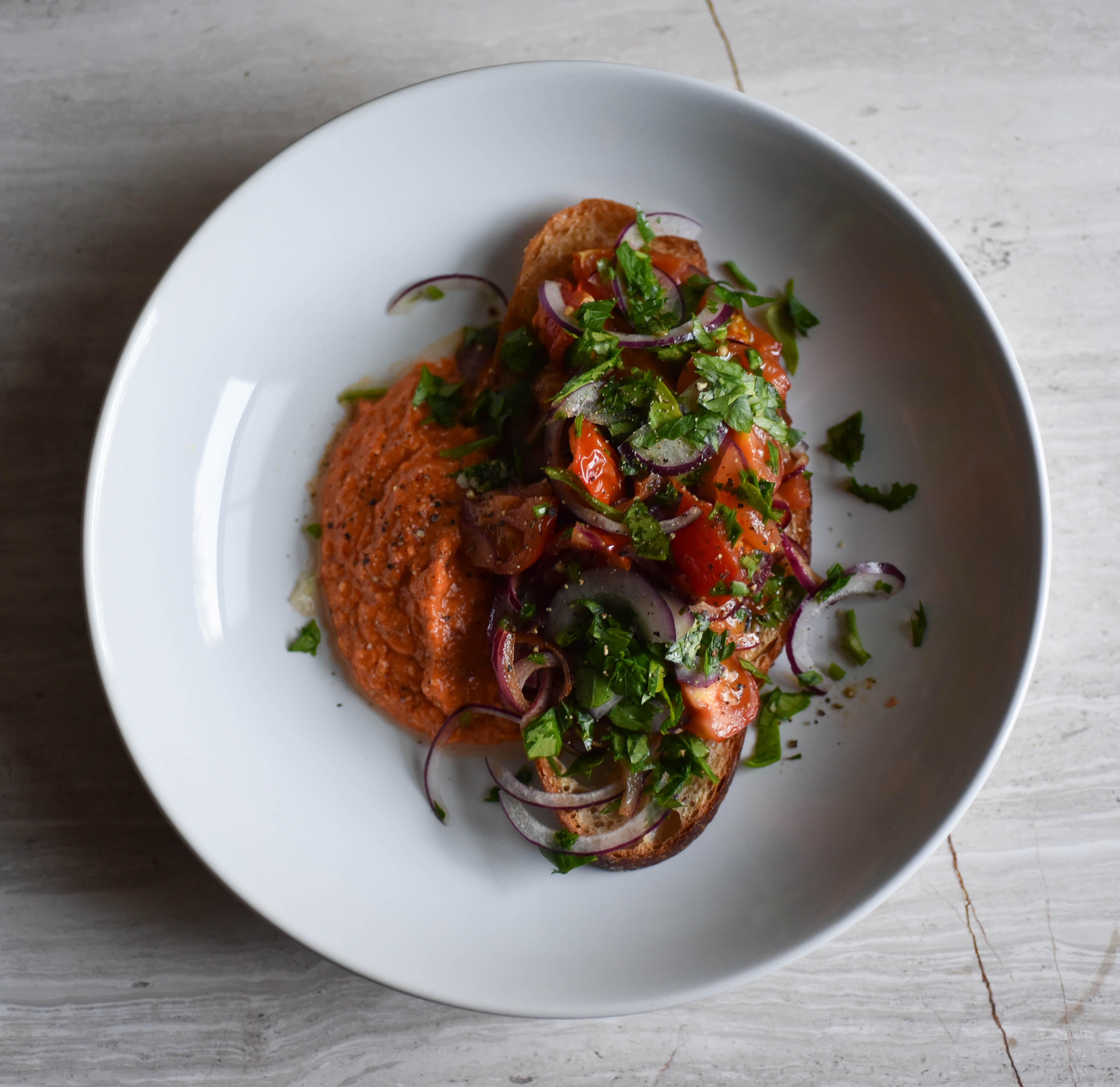 Method: 
To make the Spiced Feta Dip, first remove the seed from the tomatoes then add them plus the feta, garlic, parsley and chilli to a food processor along with a glug of extra virgin olive oil and blitz until smooth. Store in the fridge until ready to use or serve immediately.
Add a glug of extra virgin olive oil to a frying pan and heat over a medium to high heat. Next add the finely chopped garlic, onion, cherry tomatoes and cook briefly for two to three minutes then remove from the heat. Add a splash of red wine vinegar, fresh parsley and add in your seasoning – go big on the black pepper and easy on the salt as the dip will naturally be quite salty due to the feta.
Finally slice your sourdough and heat a nonstick frying pan or griddle with a dash of oil. Once hot place the slices of sourdough in the pan and allow to turn crisp, turn over and lightly toast the other side also. Once toasted slice a garlic clove in half and gently brush one side.
Serve by spooning on the lightly fried tomato and onion salad onto the toasted sourdough along with a dollop of the Spiced Feta Dip.
Follow Anna Barnett on Twitter: @AnnaBarnettCook
Follow Anna Barnett on Instagram:  @AnnaBarnettCooks
Anna has worked in events and celebrity booking for MTV and Channel 4, has spent many years as part of the team at British fashion label House of Holland – but she's still primarily known to her friends as 'The Feeder'.
Her lifelong obsession with cooking led to a weekly blog, 'The Reluctant Vegetarian', which she spent two years writing for UK newspaper The Independent.
She now contributes a monthly recipe spot on Miss Vogue, while running www.AnnaBarnettcooks.com and has just been appointed as one of Grazias resident cooks for the magazine. She regularly turns her house in Hackney into a pop-up restaurant and has been featured extensively in the glossies, nationals and online.
Her debut cookery book 'Eat the Week' launched last summer.