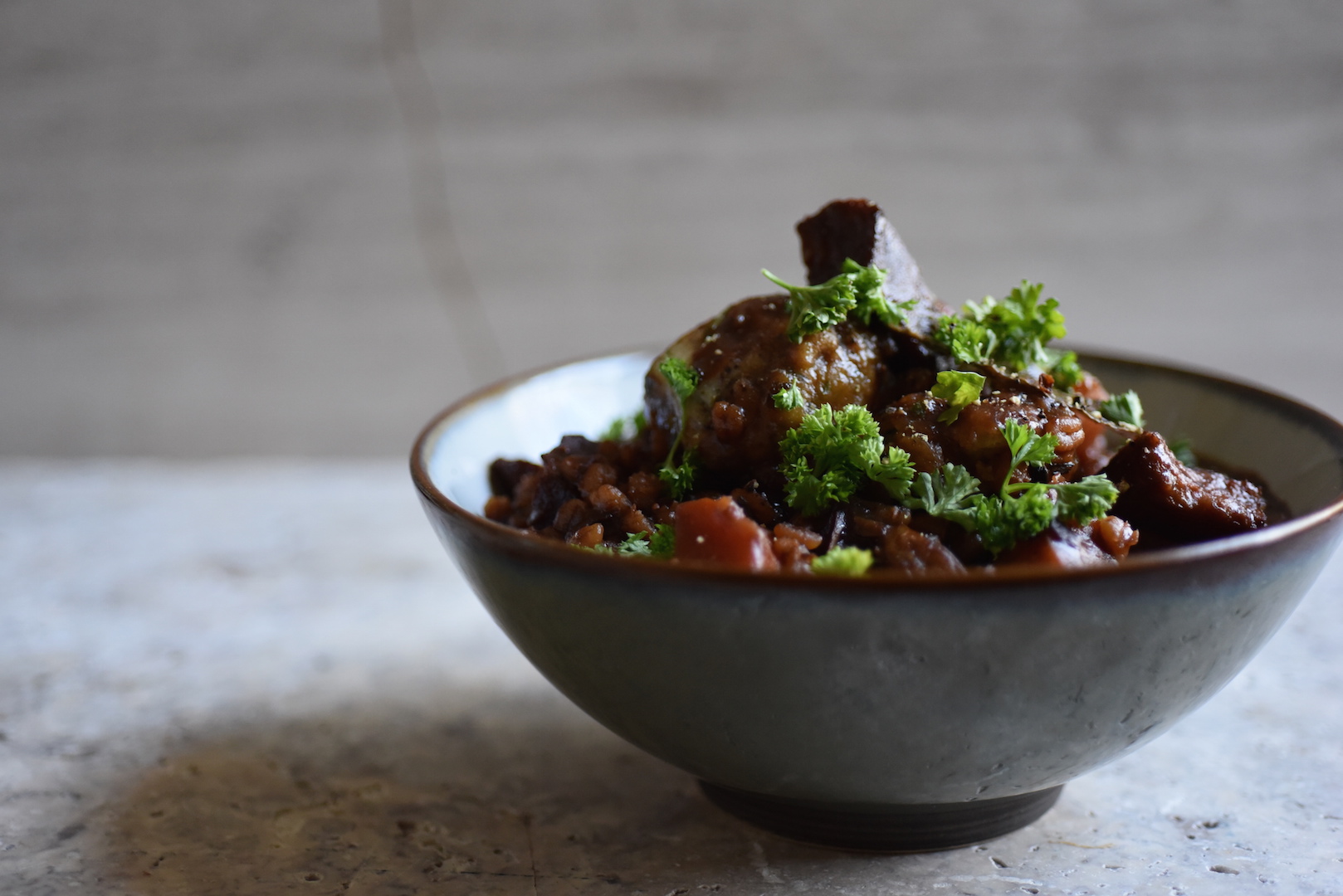 When you're in the thick of winter and hitting the January blues you can't beat curling up with a hearty stew and a serious side of greens.
My conundrum until now has been how I manage to satisfy both my own and The Vegetarian's winter stew cravings in one meat free pot. After twelve years of committed carnivorous abstinence, The Vegetarian had forgotten what an actual beef stew tasted like having been fobbed off with tomato and lentil style stews over the years. I took on the challenge to create the most beef like winter stew I could and I have to say it came out pretty well. Here's my delicious rich winter stew with dumplings, even if I do say so myself.
Preparation Time 10 minutes
Cooking Time 45 – 60 minutes
Serves 4 – 6
Ingredients:
Stew:
1 Red onion – Peeled and roughly chopped into chunks
3 Cloves of garlic – Peeled, crushed and roughly chopped
3 Large carrots – Washed and roughly chopped into generous chunks
Chestnut mushrooms or dried and rehydrated porcini are a great addition (The Vegetarian isn't a fan of mushrooms so I left these out)
Several generous glugs of rapeseed oil
400g Seitan (wheat gluten meat substitute popular in Asia, you should be able to find this in most large supermarkets or Asian stores) – Roughly chopped into chunks
2 Tbsp flour
Generous sprinkle of white and freshly ground black pepper
1 Can of Guinness
1 Large glass of red wine or good glug of port
Good glug of dark soy sauce
3 Bay leaves
2 tsp of marmite
1.5-2 pints of vegetable stock
2 Sprigs of rosemary
Small handful of fresh oregano (or 3 tsp dried) – Roughly chopped
70g Pearl barley
Handful of curly parsley – Roughly chopped
Cheese & Herb Dumplings:
100g Self Raising flour
50g Butter
100g Mature Cheddar – Grated
10g Freshly grated horseradish or 2 tsp of creamed horseradish
Handful of curly parsley – Finely Chopped
Generous sprinkle of white and black pepper
Sprinkle of salt
Several splashes of cold water
Method: 
Begin by adding the onion, garlic and carrots to a large casserole pot with a glug of oil and allow to cook over a medium to low heat until the onions soften. After around 5 minutes remove from the pan and set to one side. Using the same casserole dish add another glug of oil and allow to heat. Take the roughly chopped Seitan and toss on flour and seasoning then place in the casserole dish and stir once the pieces start to brown. Once all Seitan has been browned on both sides add back in the onion, garlic and carrots. Pour in the can of Guinness which will help to remove any flour that has stuck to the bottom of the pan. Increase the heat then once boiling add in the red wine or port, dark soy sauce, marmite, bay leaves and stock. Allow to cook for 15-20 minutes on a medium heat then have a taste and adjust seasoning if necessary. For more salt add in extra dark soy sauce and for more heat add in extra white pepper and freshly ground black pepper. Next add in the fresh rosemary and oregano followed by the pearl barley, stirring every few minutes so it doesn't stick to the bottom of your pan. Keep an eye on liquid too as your may need to add another half a pint of vegetable stock or red wine depending on how rich you like your stew to be. Allow to cook for a further 10-15 minutes or until the barley is soft when eaten.
For the dumplings simply rub the butter into the flour using your fingertips until you have a fine crumble like texture. Add in the cheese, herbs, horseradish and seasoning then combine well before finally adding in a splash of water. Add in another if you need to, enough to bring the mixture together like a dough. Next roll into rough balls the size of a cherry tomato or a little larger and place on top of the stew. Cover with a lid and cook over a medium heat for 12-15 minutes. Note – Ensure you have enough stock/gravy in your stew so that the barley doesn't stick while you cook your dumplings
Serve with a big bowl of steamed buttered greens or shredded cabbage with a generous sprinkle of white pepper.
Follow Anna Barnett on Twitter: @AnnaBarnettCook
Follow Anna Barnett on Instagram:  @AnnaBarnettCooks
Anna has worked in events and celebrity booking for MTV and Channel 4, has spent many years as part of the team at British fashion label House of Holland – but she's still primarily known to her friends as 'The Feeder'.
Her lifelong obsession with cooking led to a weekly blog, 'The Reluctant Vegetarian', which she spent two years writing for UK newspaper The Independent.
She now contributes a monthly recipe spot on Miss Vogue, while running www.AnnaBarnettcooks.com and has just been appointed as one of Grazias resident cooks for the magazine. She regularly turns her house in Hackney into a pop-up restaurant and has been featured extensively in the glossies, nationals and online.
Her debut cookery book 'Eat the Week' launched last summer.