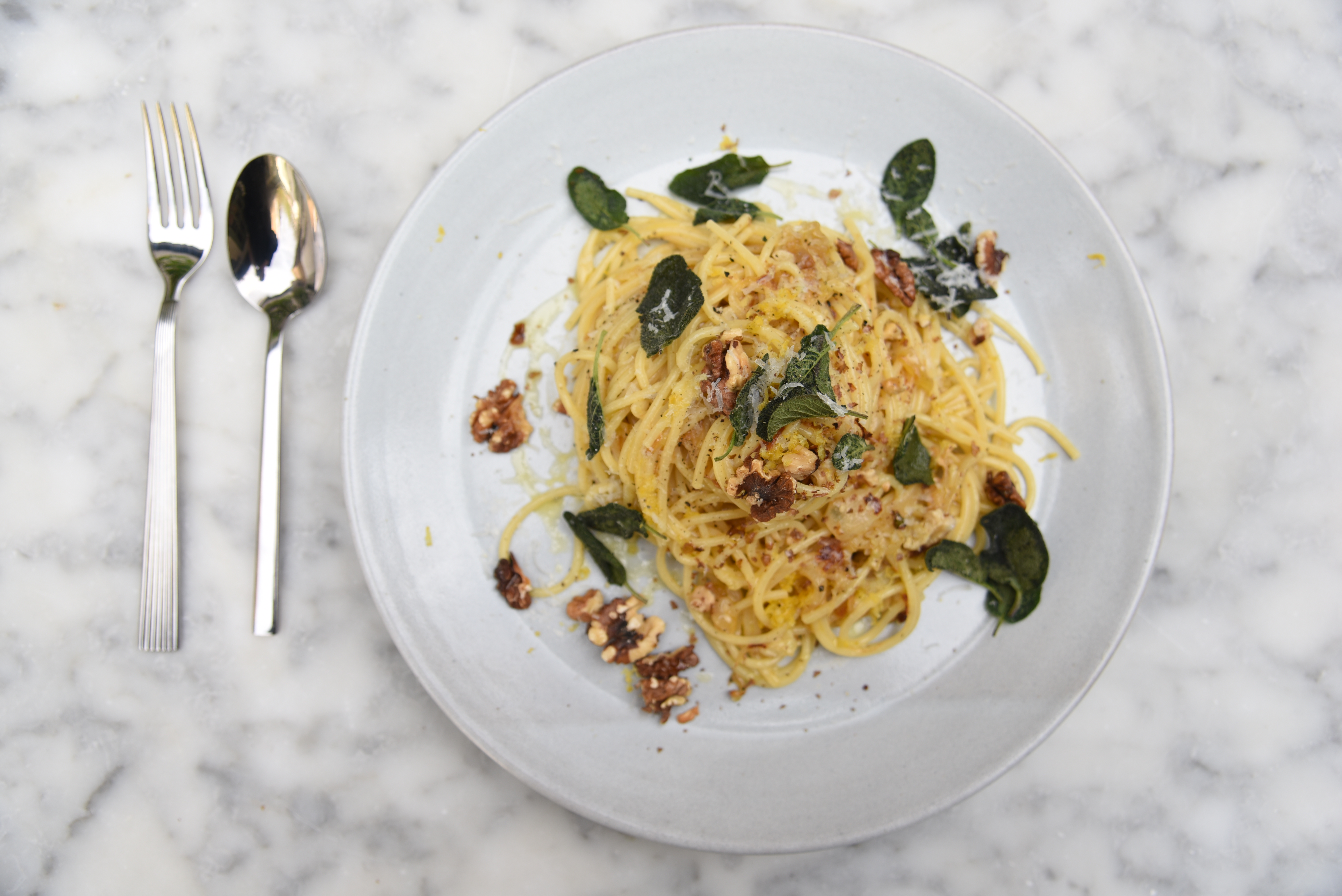 Preparation Time 5 – 10 minutes
Cooking Time 10-12 minutes
Serves 4
Ingredients:
3 Shallots – Finely sliced
4 Cloves of garlic – Crushed and finely sliced
Several generous glugs of olive oil
Generous sprinkle of sea salt flakes
Several turns of freshly ground black pepper
5 Egg yolks
80g Parmesan (or vegan alternative) – Finely grated
4 Sprigs of sage – Leaves removed
150g Walnuts – Lightly toasted
Good quality spaghetti – Around 80g per person
Method:
Begin by bringing a large pan of salted water to the boil. Once boiling, add in your pasta and stir thoroughly. Cook until al dente with this taking around eight minutes.
In a large frying pan add several generous glugs of olive oil and allow to heat for a minute or two. Next, add in your chopped shallots followed by the garlic and cook until soft. In a small bowl separate your egg yolks from the whites and whisk together the egg yolks with the finely grated Parmesan before adding seasoning.
In a small pan add several glugs of oil, heat and then add in your sage leaves, fry until crisp then blot on paper towel.
In a dry pan lightly toast your walnuts until they darken slightly and set to one side until you're ready to sprinkle over your pasta.
Once the pasta is cooked, drain, then add in the cooked garlic and shallots, stir, then remove from the heat and pour in your egg yolks and parmesan mixture stirring thoroughly before serving. Sprinkle over the crispy sage leaves and toasted walnuts adding a little extra freshly ground black pepper. Eat immediately.
Follow Anna Barnett on Twitter: @AnnaBarnettCook
Follow Anna Barnett on Instagram:  @AnnaBarnettCooks