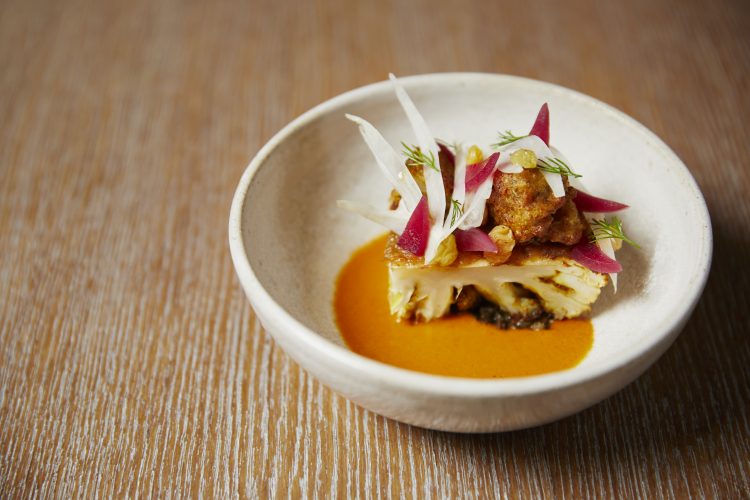 The Dorchester, in the vibrant centre of London's Mayfair, is the epitome of classical London style and elegance which thrives through the decades. It is a hotel that's known for its respect for the passage of time and all of the beautiful and sensual changes that the passing seasons bring. Seasonal decorations at The Dorchester have become a tourist attraction in their own right, but this hotel is so much more than an attraction, it is a destination.
The doors of The Dorchester were first flung open to global glitterati in 1931 and it has remained a cultural melting pot since then – the Babel-esque sounds of accents and languages from all four corners of the world ring out, particularly during tea time, as the Dorchester's 'high tea' is legendary.
Today we share a recipe from Tom Booton, the Head Chef for The Grill at The Dorchester. This is a perfect way to make use of all those veggies collecting in that bottom draw of the fridge.
Ingredients for Cauliflower curry sauce
200ml veg oil
2 red onions (sliced)
1 green chilli (deseeded and sliced)
1 garlic (peeled and sliced)
10g ginger (peeled and sliced)
Trim of cauliflower
½ tsp garam masala powder
½ tsp turmeric powder
1 tsp curry powder
salt
1 tsp curry paste if any in fridge (I have got red curry paste)
1tsp mango chutney
300ml water
1 tin coconut milk/or powder
20g yoghurt
20g butter
Method for curry sauce
In a large sauce pan over a med heat up 150ml of veg oil (seems like a lot but you need it) add in the thinly sliced onions and start to cook down nice and slowly (remember to season from the start) after 3-4mins add in the chilli, garlic and ginger and continue to cook down for a nice long time. (building levels of favour)
While these are cooking nicely chop up all of your cauliflower trim (doesn't have to be spanking) heat up a larger frying pan and add in the remaining 50ml of veg oil, then add in the cauliflower trim, cook over a high heat to get a nice roasted golden brown colour all over the cauliflower (this is where we are getting the favour!)
Once you have nice colour on the cauliflower in add in all the dry spices and toast on a low heat for 1 mins, be carefully not to burn the spices. Then add the curry paste and mango chutney (this a great secret to get nice sweetness into the dish) then in goes the water followed by the coconut milk and bring to the boil. Add in the onions to the same pan and cook for another 2mins.
In your food blender put the yoghurt and butter in the bottom, then carefully add in the curry. Blend on a high speed for a good 3-5mins. Try it for seasoning, if you want it spicier try adding in some chilli powder now.
Once the curry sauce is blended, place back into a clean saucepan, if it is a bit wet you can cook it out with a whisk over a low temp.
Ingredients for for the curry
100g lentils
1 aubergine
1 green courgette
Cauliflower florets
150g halved cooked baby potatoes
100g baby spinach
Method for curry
Blanch the lentils in 300ml water for 10mins or until just soft. Then cool, these will be added to the curry sauce once you're ready.
Cut the aubergine into ¼ and roast in a pan with oil, then drain and leave on side.
Bring a sauce pan of water to the boil, you are going to blanch the courgette and cauliflower until just cooked
To finish, add in all your vegetables including the cooked baby potatoes and lentils to the curry sauce and mix, get some heat into the veg, once its nearly ready, add in the spinach and cook for 30 secs then it's ready to serve.