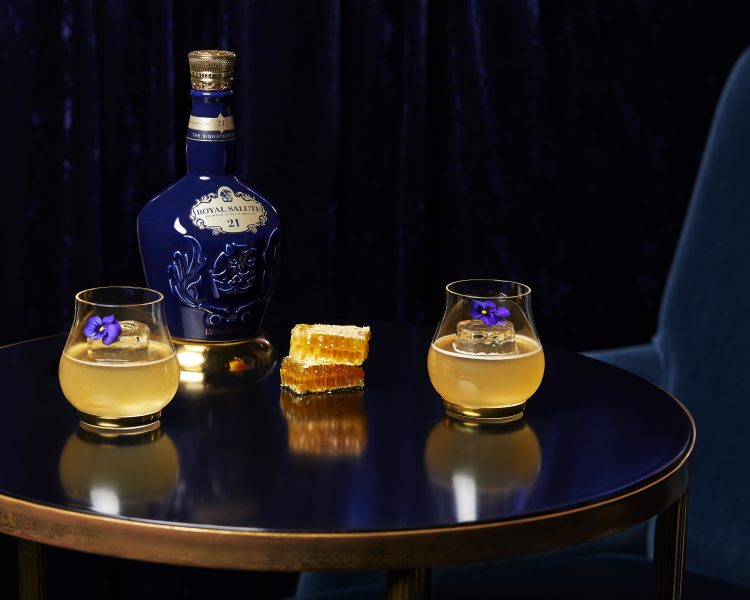 Royal Salute may be known for its breathtakingly sumptuous blends and daring new expressions, but it isn't to be underestimated as a base spirit for a seriously high end 'treat yourself' cocktail.
The brand was founded in 1953, the year of the coronation of Queen Elizabeth II. In fact, the heritage of Royal Salute intertwines with this event, as successful entrepreneur Sam Bronfman, who founded the brand, gave a bottle of the 21 Year Old Royal Salute to 'our Lizzie' as a gift to celebrate her accession to the throne. Royal Salute remains to this day the only distillery to consistently produce a 21 Year Old expression.
Martin Siska, the Director of Bars for Rosewood London has commented, "'I always like to be playful and look to at ways to celebrate the unique qualities of a spirit. Royal Salute can always be relied on for exceptional Scotch whisky and the 21 Year Old Signature Blend is a perfect balance of flavours and on the nose presents rose petals and a sweet orangey marmalade. Using the floral infused honey syrup really celebrates this distinctive sweetness with the lemon to balance on taste".
Today we share an extraordinary cocktail made with Royal Salute's 21 Year Old Signature Blend.
Ingredients
50ml Royal Salute 21 YO The Signature Blend (available for delivery from the Whisky Exchange)
25ml Rose water infused honey syrup*
15ml Fresh Lemon Juice
50ml Soda water
Method
Combine all of the ingredients except the soda water. Shake well with ice and strain into tumbler over ice. Top with fresh soda water and stir gently. Garnish with a small colourful flower
*To make your own rose water infused honey syrup simply stir equal parts boiling water, rose water and honey and leave to cool.