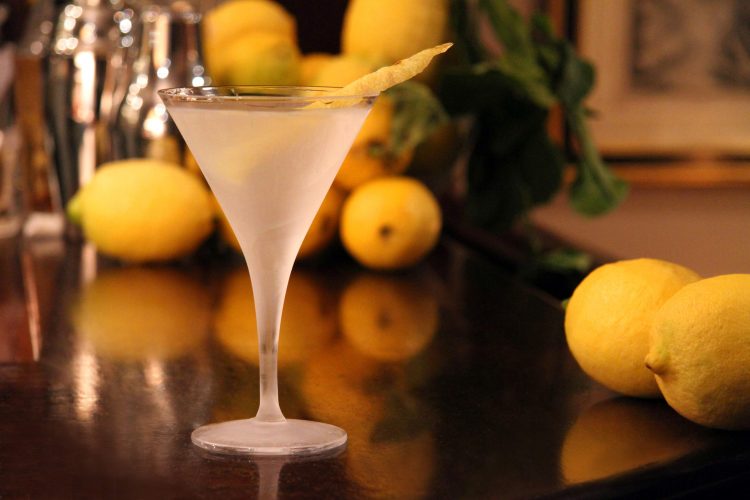 The DUKES Hotel, found tucked away in St James's, is an institution in its own right – and deservedly so. The bar, which is akin to a refined gentleman's club (the Pall Mall kind, not the Soho kind), and was famously the favourite haunt of James Bond author, Ian Fleming. It is also where Fleming invented the Vesper martini, of Casino Royale fame.
According to DUKES Bar's Head Bartender, Alessandro Palazzi, the secret to the best dry Martini is in its execution. The DUKES Martini is prepared table-side on a Rosewood trolley – neither shaken nor stirred, but free-poured – so 'one sip screamers' beware.
Alessandro emphasises that the The Martini glass and the gin must both be kept in the freezer overnight so that the Martini is perfectly chilled in order to avoid using ice, which waters down the gloriously potent taste.  His advice is to keep a couple of glasses in the freezer so that, after 20 minutes of serving, any remaining cocktail can be poured into the second, frozen, glass, to maintain its optimum temperature. The zest of organic Amalfi lemons is normally used – but in these times of make-do-and-mend, whatever citrus fruit (or liquor brands) you have to hand will do nicely.
Ingredients
1 frozen martini glass
100ml frozen No. 3 Gin
5ml Sacred Dry vermouth
1 twist of organic Amalfi lemon pee
Method
Drop 5ml of Sacred Dry Vermouth into the frozen glass. Top the glass up with 100 ml of the frozen No.3 Gin. Finish off with a large twist of zest of organic lemon from the Amalfi coast, squeeze the lemon zest to extract the fragrant oils which makes the DUKES Martini unique. Finally, gently swirl the lemon zest and drop it into the glass and serve.