The Retreat is found on a private inlet of the UNESCO Global Geopark in Iceland and provides visitors with the opportunity to experience the geothermal waters of the famous lagoon in exquisite luxury. Both the spa at The Retreat, which boasts innovative in-water treatments, and the remarkable 'Moss' restaurant, which showcases creative Nordic cuisine, are both irresistible draws for visitors to Iceland.
Led by executive chef Ingi Þórarinn Friðriksson, the team at Moss takes it diners on a journey through Iceland's vast terrain, sourcing ingredients from across the country. The menu changes daily according to availability and seasonality. Sample dishes include a reimagined beet salad with blue cheese 'snow', langoustines farmed in nearby Grindavík and served with wild garlic, butter, parsley and croutons and arctic char crudo served on top of a sorrel and cucumber sauce and studded with roe.
Keeping in tune with the area's surroundings, a chef's table made of lava rock, that was quarried on-site, faces the open kitchen. Downstairs, guests can visit the wine cellar that was carved into a cavern of lava that dates back to 1226.
Today we look at Chef Friðriksson's spectacular Ceviche recipe.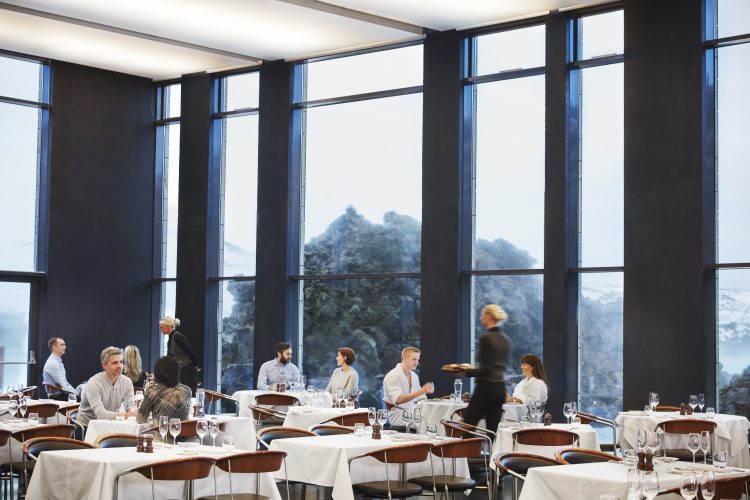 Ingredients
Chili oil
500 gr red chili finely chopped
250 gr jalapeno finely chopped
500 gr ginger finely chopped
500 gr shallots finely chopped
500 gr extra virgin olive oil
250 gr pomace oil
5 drops red tabasco
5 drops green tabasco
200 gr honey
200 gr sugar
Method
Scale all ingredients in a bowl and mix together. For the garnish for ceviche -Lime boats cut in squares -Lemon boats cut in squares -Finely chopped spring onion -Finely chopped parsley -Finely chopped coriander (cilantro) -Shred cucumber -Lime juice -Cristal salt -Coriander (cilantro) leaves
Seafood Cut a big scallop to 9 pieces. Cut arctic char fillet into equally sized pieces as the scallop and defrost shrimp in the shell and clean them.
Put 90-100 gr of seafood in a bowl that is on ice. Add 1 teaspoon of chili oil and 1 teaspoon of garnish. Pour lime juice over the seafood and sprinkle a little salt on top. Top with coriander (cilantro) leaves and serve on a dish that is on ice.