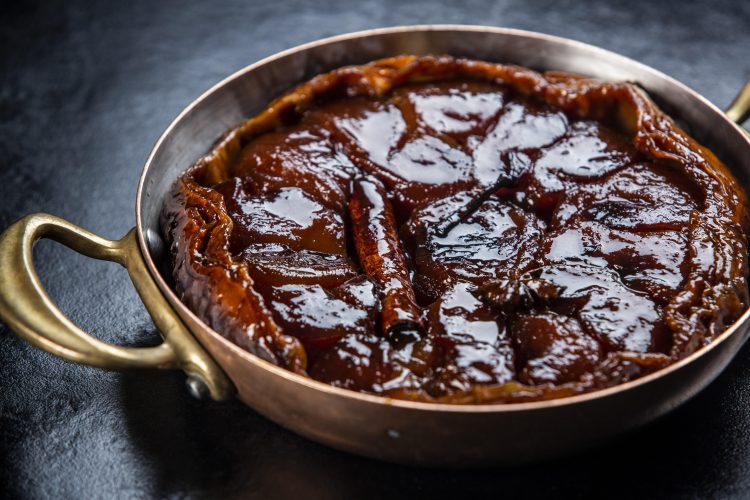 This recipe comes from one of London's iconic venues; Brown's a Rocco Forte Hotel. In fact, it was even visited by my parents who stayed there on their wedding night in 1979 and has been a firm family favourite since then. The Chef Director of Food & Beverage at the hotel is Adam Byatt, who has shared his own version of the classic dessert from apple-rich Normandy with us. This take revolves around the pear, rather than the traditional apple to give an extra irresistible sweetness to the dish.
Adam Byatt commented on the recipe, "Tarte Tatin is the most decadent and delicious dessert, perfect for sharing and elevates the humble pear to another level. We make ours at Charlie's that bit extra so that it can even be taken home and enjoyed for breakfast the next day". My, what generous souls they are. This recipe should serve two.
Ingredients
Puff Pastry
110g Softened Salted Butter
130g Caster Sugar
One Star Anise
One Vanilla pod, split
Three William Pears
Method
Roll the puff pastry out on a lightly floured surface to the thickness of a pound coin. Rest in the fridge for 40 minutes. Slice the butter and place on the bottom of the heavy based pans and add the sugar with one whole Star Anise and a neat piece of dried Vanilla Pod. Peel and halve the Pear, scoop out the pips with a Parisienne scoop and carefully turn the edges of the pear with a knife to make it neat and round. Place curved side down in the sugar and butter. Cut a disc of Puff Pastry out to the same diameter as the outside of the pan. Dock it all over with a fork and place the pastry over the pears, tuck the pastry in gently around the pears and allow this to rest in the fridge
After 20 minutes of resting, place the pan on the stove and gently allow to caramelise. The butter and sugar should combine to create a light butterscotch that will appear around the pastry, do not leave the Tarte Tatin unattended on the stove, and turn continuously to achieve even cooking.