With Christmas just round the corner, we thought it would only be right to share this beautiful recipe guaranteed to warm your heart with festive cheer. Happy December!
Recipe (serves 8-10)
Prep: 30 mins
Cook: 40 mins
Decoration: 30 mins plus overnight refrigeration
Cake Ingredients
120 g unsalted butter
150 g dark muscovado sugar
2 eggs
240 ml buttermilk
100 g molasses
270 g plain flour
1 tsp bicarbonate of soda
60 g cocoa
2 tsp ground cinnamon
2 tsp ground ginger
Large pinch of nutmeg
½ tsp salt
4 tbsp crystalized ginger, chopped
180 g chocolate, roughly chopped
Method
Heat the oven to 180 C, and lightly grease 2 round 8 inch tins.Using an electric mixer, cream the butter and dark muscovado sugar together until light and fluffy.
Beat in the eggs, followed by the buttermilk and molasses. The mixture may look a little curdled.Sift in the flour, bicarbonate of soda, cocoa powder, cinnamon, ginger, nutmeg and salt and mix until you have a smooth batter.
Fold in the crystallised ginger and chocolate, taking care not to over-mix. Divide the mixture evenly between the two tins. Bake for 35-40 mins, until a skewer comes out clean.
Cool on a wire rack.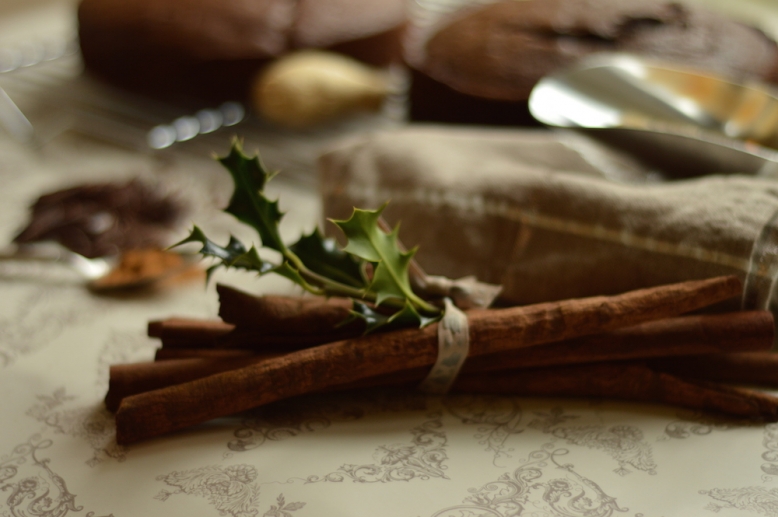 Cinnamon and Honey Frosting
Icing Ingredients
200g mascarpone cheese
50 g unsalted butter
120 g icing sugar
1 tbsp runny organic honey
¼ tsp cinnamon
Method
Cream the cheese and butter together for about five minutes until soft and fluffy. Add in the honey and cinnamon and then sift in the icing sugar. Check the taste until you are happy with the sweetness, adding more icing sugar if needed. Beat until smooth.
Once the cake has cooled, level off the tops. Smooth some of the frosting over the bottom layer, then stack the second cake on top. Coat the top of cake (and the sides if you prefer) with the rest of the frosting, as smooth as you wish.
Sugar Frosted Cranberries
The cranberries are best prepared the night before to ensure complete sweetness. However, a few hours are also sufficient.
Topping Ingredients
75 g fresh or frozen cranberries (not dried)
120 ml water
110 g granulated sugar, plus extra for coating
Method
Make a syrup by simmering the water and sugar together until the sugar has dissolved. Place the cranberries in a bowl, and once the syrup has cooled, pour over the cranberries. Allow to cool completely, then cover completely and refrigerate for a few hours, or overnight if you have time.
Drain the cranberries (you can re-use the syrup). Place the extra sugar on a flat plate, and roll a single layer of the cranberries in it until coated, shaking the plate gently.
Place on some greaseproof paper to dry for about an hour. Once the cake is frosted, and the cranberries have dried, arrange on top in a random pile.
Enjoy!
Recipe and styling by Ann Hall
Photography by Stem and Ginger
Visit Stem and Ginger blog: stemandginger.co.uk