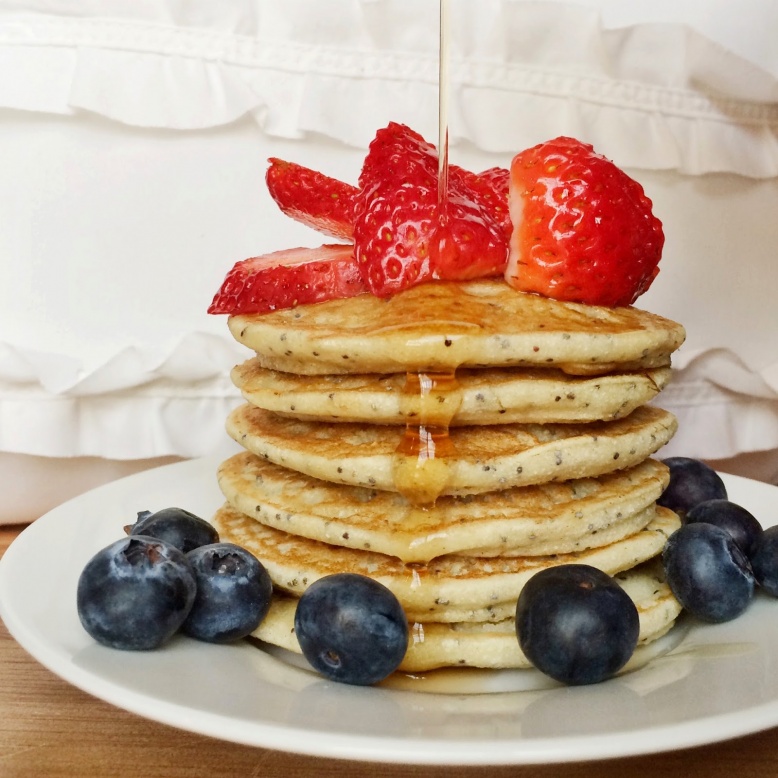 Lemon and poppyseed go together like peanut butter and banana. These pancakes taste just like your favorite lemon poppyseed muffins! Using vegan buttermilk makes them super moist, and the addition of maple syrup adds the perfect sweetness to balance the tart lemon flavor! Packed with healthy fats, carbs and protein, these pancakes will give you a ton of energy to start your day. And best of all, they are 100% vegan and gluten free!
Serves 1. Makes about 6, 2.5″ pancakes
You will need:
1/4 cup buckwheat flour
2 tbsp coconut flour
1/4 tsp baking powder
1/2 tsp coconut sugar (optional)
1 tsp poppy seeds
zest of 1/2 a lemon
1 cup vegan buttermilk (1 cup soy milk + juice from 1/2 a lemon + 1/2 tsp vanilla extract)
1/2 tsp lemon extract (or juice from the other half of the lemon)
Directions:
First, form your buttermilk by combining the three ingredients in a bowl, and let it sit for 5-10 minutes to curdle.
Preheat a pan over medium heat and melt a little coconut oil.
In a medium mixing bowl, add the buckwheat and coconut flours, baking powder, sugar, poppy seeds and lemon zest and whisk to combine. Pour in the buttermilk and lemon extract (or lemon juice), and whisk to combine. The batter will be thick, but pourable. If it seems too dry, add a bit more soy milk.
Turn the heat down to medium low, and pour a heaping 1/8 cup of the batter onto the pan, flattening the batter with the back of a spoon until it forms a circle. Let it cook for a couple minutes, then flip and cook until both sides are golden brown. Repeat with the rest of the batter.
Top with fresh fruit and lots of maple syrup!
Enjoy!
Website: www.caseys-wholesome-kitchen.com
Instagram: www.instagram.com/wholeandhealthy
Facebook: www.facebook.com/caseyswholesomekitchen
Pinterest: www.pinterest.com/caseyyrose/caseys-wholesome-kitchen/