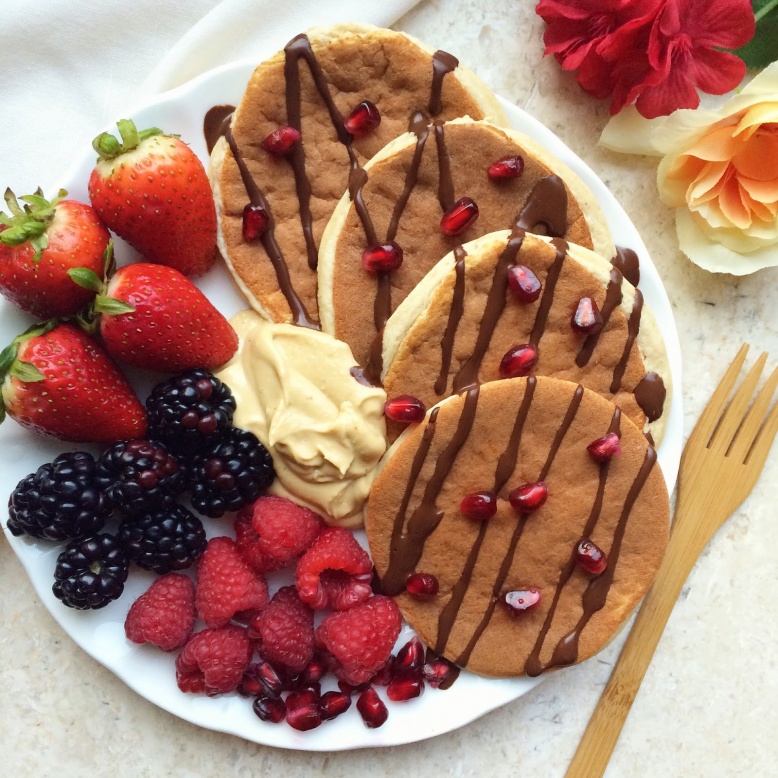 These pancakes were insane. I already have a recipe for grain free peanut butter pancakes, but I made some modifications for these and the results were absolute perfection. The combination of sweet coconut and peanut butter with tart kefir made the flavor of these pancakes not too sweet, they held together beautifully, no crumbling in sight! Full of fiber and protein, these pancakes will power you through your morning!
Serves 1
You will need:
3 tbsp coconut flour
1/2 tbsp peanut flour (PB2)
1/2 tsp baking powder
1 tsp psyllium husk powder
helps bind the pancakes
optional: 1 tsp maca powder
3/4 cup carton egg whites
or about 3 large egg whites
1/4 cup plain kefir
1 tsp vanilla extract
sweetener of choice, to taste
coconut oil, for pan
Directions:
Preheat a pan over medium high heat and melt a little coconut oil. Turn the heat down to low or medium low once it is hot.
Sift the coconut flour, peanut flour, baking powder, and optional maca powder into a medium sized mixing bowl and whisk to combine.
Add the psyllium husk powder and whisk again.
In a separate bowl, whisk the egg whites, kefir, vanilla extract and sweetener.
Pour the wet ingredients into the dry and whisk well until the liquid is absorbed.
Let the batter sit for a few minutes so it can thicken slightly.
Pour a heaping 2 tbsp of the batter onto the center of your pan and let it cook until bubbles start to form on the top, about 1-2 minutes.
Flip and cook for another 30s – 1min, or until both sides are nicely browned.
Repeat with the rest of your batter until it's gone!
Enjoy!
Website: www.caseys-wholesome-kitchen.com
Instagram: www.instagram.com/wholeandhealthy
Facebook: www.facebook.com/caseyswholesomekitchen
Pinterest: http://www.pinterest.com/caseyyrose/caseys-wholesome-kitchen/