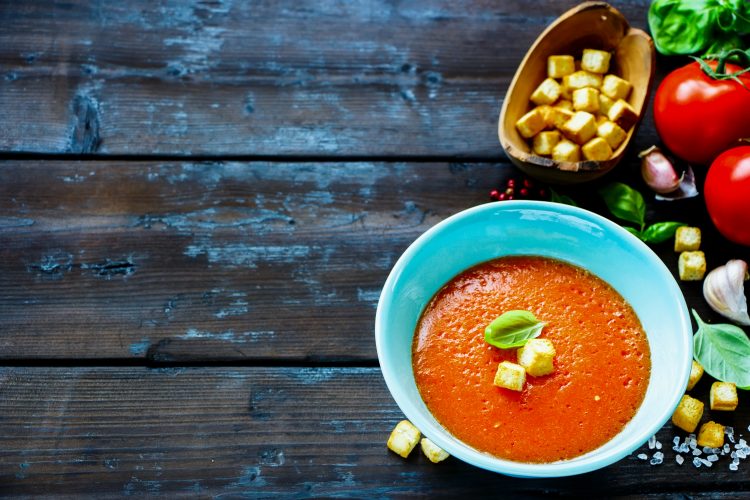 With the world unable to travel, luxury hotel group, Anantara, are sharing their delectable immune-boosting recipes to help bring a slice of that corner of the world to you.
Classic Gazpacho – Anantara Villa Padierna Palace Resort, Spain
Tomatoes are a great source of vitamins. A single tomato can provide about 40% of the daily recommended minimum of vitamin C. Tomatoes also contain vitamin A, which supports immunity, vision, and skin health; and potassium, a key nutrient for heart function, muscle contractions, and maintaining healthy blood pressure and fluid balance. This healthy soup, served cold, is a Spanish favourite that takes advantage of the bounty of the region, from fresh tomatoes to locally-produced olive oil.
Ingredients:
· 1 cucumber, peeled and diced
· 1 green bell pepper, diced
· 2 cloves garlic, crushed
· 3 tomatoes, diced
· 2 Tbsp olive oil
· 6 Tbsp red wine vinegar
· 1/4 tsp salt
· ½ cup slightly stale crusty white bread soaked in cold water for 20 minutes.
Instructions
Mix the diced tomatoes, peppers and cucumber with the crushed garlic and olive oil in the bowl of a food processor or blender. Squeeze out the bread, tear it roughly into chunks, and add to the mixture. Blend until smooth and add the salt and vinegar to taste and stir well. Pass the mixture through a fine sieve, then cover and refrigerate until well chilled. Serve with small pieces of cucumber and pepper.