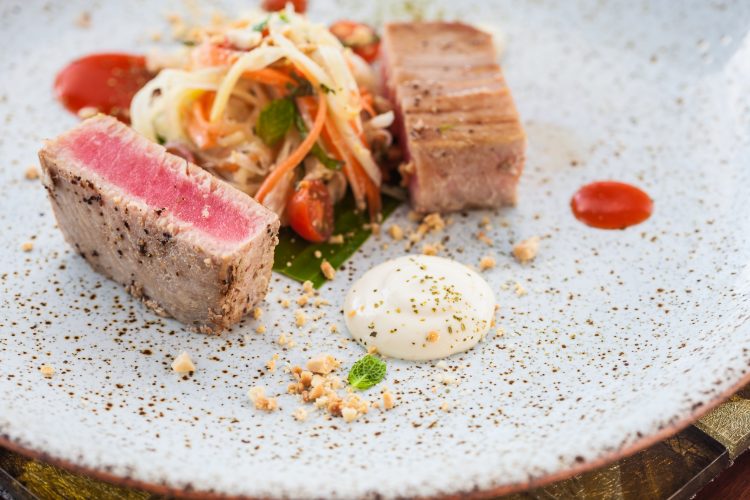 With the world unable to travel, luxury hotel group, Anantara, are sharing their delectable immune-boosting recipes to help bring a slice of that corner of the world to you.
Seared Tuna Loin with Papaya Salad – Anantara Bophut Koh Samui Resort , Thailand
In this fresh, tangy salad, chilies are replaced with basil, lemongrass (see above), cilantro and mint, all great immune system boosters. It's then topped with roasted peanuts, which are high in potassium, phosphorous, magnesium, and B vitamins.
We suggest serving it alongside seared or grilled tuna, a fish rich in manganese, zinc, vitamin C, and selenium, all antioxidants that boost the immune system.
For the Salad
· 1 cup shredded carrots
· 1 cup cherry tomatoes
· ¼ cup of a green papaya, shredded
· ¼ cup fresh lemongrass
· 1/4 cup fresh mint, lightly packed
· 1/4 cup fresh cilantro, lightly packed
· 1/4 cup fresh basil, lightly packed
· 3 x 200g lean tuna loin steaks cooked to your liking
· Toppings: 1/4 cup fried onions and 1/4 cup roasted peanutsDressing
· 1/4 cup lime juice
· 2 Tbsp palm sugar
· 2 Tbsp fish sauce
· 1 clove of garlic, minced
· 1/8 tsp Vietnamese chili paste (or fresh chopped Thai chilis)
Instructions
Add all salad ingredients (except toppings) to a large mixing bowl and toss.
Prepare the dressing: whisk lime juice, fish sauce, garlic, chili paste, and palm sugar together in a small bowl. Pour the dressing over the vegetables and stir to coat. Top with fried onions and roasted peanuts.
Serve with seared tuna.