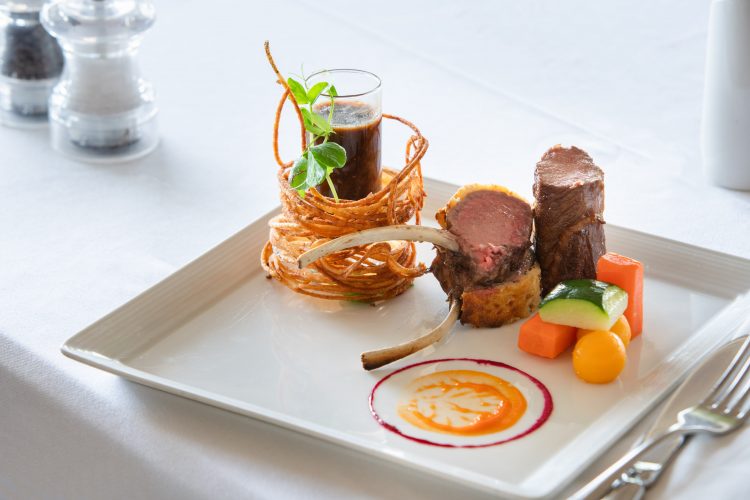 Founded by the late Sir Royston Hopkin, owned and run by the Hopkin family, Spice Island Beach Resort is a five-star property on the picturesque island of Grenada. Following a six million pound refurbishment project the luxury resort re-opened its doors in late 2005 with a slick blend of contemporary and traditional Caribbean style. The resort offers 64 suites stretching along Grand Anse Beach, an open-air gourmet restaurant, the state of the art 'Janissa's spa' and the first kid's club of its kind on Grenada, 'The Nutmeg Pod'. Spice Island Beach Resort is known island-wide for its exquisite cuisine and romantic beachfront settings.
Ingredients (For the Lamb)
2 6oz Lamb Loins
2 6oz Lamb Chops
Rosemary Sprigs
10ml Olive Oil
Pinch of salt
Pinch of black pepper
1 tsp Mustard
Ingredients for Herb Crust
¼ cup Breadcrumbs
½ tbsp Chopped Parsley
1 tsp Chopped Rosemary
1 tsp Chopped Thyme
1 tsp Lemon Zest
Ingredients For the Buttered Vegetables
1 Large Carrot
1 Small Butternut Squash
1 Small Courgette
2 tbsp Butter
Salt and pepper to taste
Ingredients for Lamb Jus
150ml Demi Glaze
30ml Red Wine
Method
Wash and marinate lamb loins and chops with rosemary, olive oil, mustard, salt and pepper. Set aside in refrigerator for 1 hour. For herb crust – Blend breadcrumbs, parsley, rosemary, thyme and lemon juice. Set aside. For vegetables – Wash and peel carrot, courgette and butternut squash. Cut in preferred shapes. Blanche vegetables and place in ice water to retain colour. For the sauce – Using a saucepan, heat wine for 3 minutes. Add demi glaze. Add seasoning and cook until reduced. Add butter to finish. For the lamb – Heat frying pan. Add olive oil and sear lamb loins and chops on both sides to preferred level of completion. Once done, apply mustard and coat with herb crust. Set oven at 200˚C. Cook lamb chops in oven for 7 mins. Add loins after 2 minutes. Remove once cooked.
Finally, heat pan, melt butter and sauté blanched vegetables, adding salt and pepper to taste. Add parsley and mix.
Place items on plate, garnish and serve.