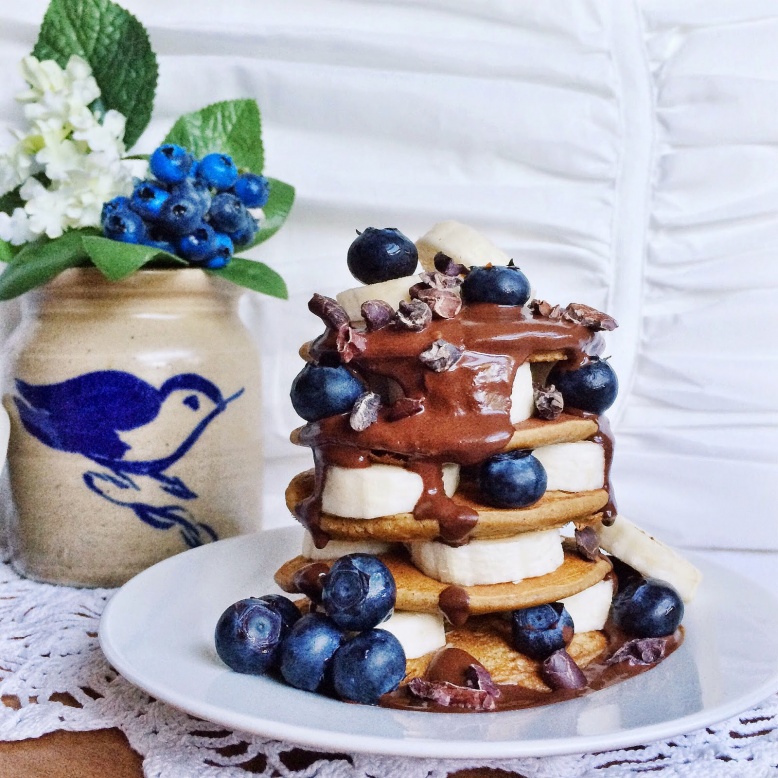 Gluten free, Vegan, full of Protein and Fibre.
Serves 1
Ingredients:
3 tbsp garbanzo bean flour
1 scoop vegan vanilla protein powder
1/2 tsp ginger
1/4 tsp cinnamon
1 tsp maca powder
1/8 tsp baking powder
1/2 tsp sweetener of choice (stevia, coconut sugar, etc)
1 tsp chia seeds + 1 tbsp non-diary milk of choice
◦                     this forms a chia "egg"
1/4 cup + 2 tbsp non-dairy milk of choice
1/2 tbsp blackstrap molasses
1/2 tsp vanilla extract
Directions:
Preheat a skillet over medium heat, and melt a little coconut oil.
In a small bowl, combine the chia seeds and milk and let it sit for about 10 minutes to gel and form a chia "egg."
In a medium mixing bowl, combine the garbanzo bean flour, protein powder, cinnamon, ginger, maca powder, baking powder and sweetener, then whisk until well combined.
In a smaller bowl, add the milk, vanilla extract, molasses and chia egg and stir with a fork, then add the liquid to the dry ingredients and whisk until combined. There may be some clumps, but the batter should be fairly smooth and pourable.
Turn the heat down to medium-low, and pour about 1/8 cup of the batter onto the pan. Let cook until bubbles form on the top, about 2 minutes, then flip and cook until both sides are nicely browned.
Repeat with the rest of the batter, stack up tall on a plate, top with whatever you like and dig in! I layered them with banana slices, topped them with my healthy raw chocolate sauce, blueberries and cacao nibs!
Enjoy!
Website: www.caseys-wholesome-kitchen.com
Instagram: www.instagram.com/wholeandhealthy
Facebook: www.facebook.com/caseyswholesomekitchen
Pinterest: http://www.pinterest.com/caseyyrose/caseys-wholesome-kitchen/