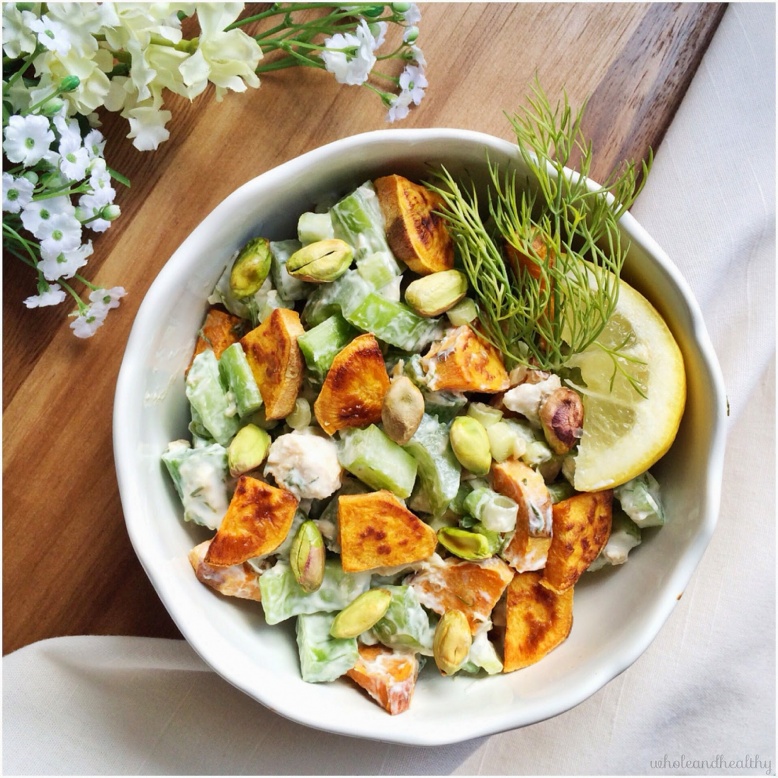 Serves 1
For the salad, you will need:
5 ounces left-over salmon filet (canned would work)
1 cup diced celery
1/8 cup diced green onion
1 tbsp fresh dill, chopped
1/2 medium sweet potato
handful of roasted, unsalted pistachios
For the Lemon-Yogurt Dressing, you will need:
1/4 cup plain Greek yogurt
1-2 tsp fresh lemon juice
Directions:
Preheat your oven to 400F. Wash, peel and cut your sweet potato into small, 1-inch cubes and place on a greased baking tray lined with aluminum foil. Brush a little coconut oil over the tops and place in your over for about 15 minutes.
While the sweet potatoes cook, prepare your salad and dressing. Chop the green onion, celery and dill and place in a bowl with the salmon, then mix together to incorporate.
To make the yogurt dressing, simply stir the yogurt and lemon juice together in a small bowl. Place in your fridge to stay cool.
Shell your pistachios now.
Remove the sweet potatoes from the oven once they have browned and softened, then place about half of the cubes in the bowl with the salad. Mix to combine, then carefully fold in the yogurt dressing to just coat the salmon and vegetables. Top with the rest of your sweet potato cubes, pistachios and a squeeze of fresh lemon juice!
Enjoy!
Website: www.caseys-wholesome-kitchen.com
Instagram: www.instagram.com/wholeandhealthy
Facebook: www.facebook.com/caseyswholesomekitchen
Pinterest: http://www.pinterest.com/caseyyrose/caseys-wholesome-kitchen/