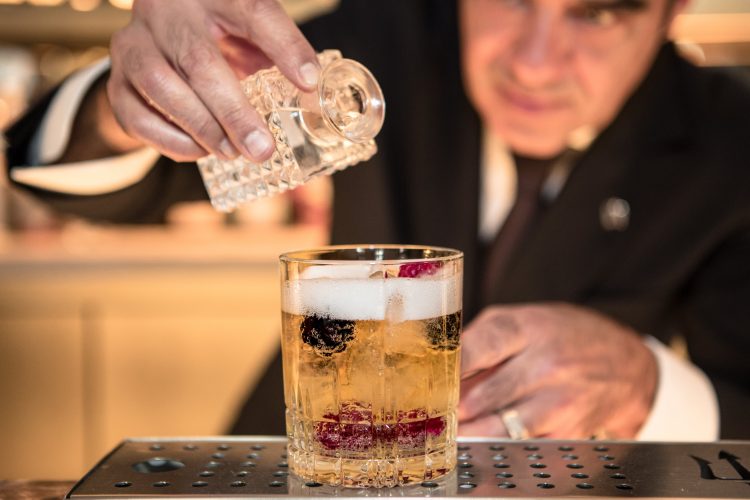 'The Grand Hotel Dei Dogi: The Dedica Anthology' is a sumptuous Venitian palace which boasts majestic rooms, the city's largest private garden and the much loved 'La Voga' bar. The highly ornate and opulent building was constructed by the Patarol family during the 16th Century, and in 1833 it was passed over to the artistocratic Rizzo family. The building lived many different lives having been a monastery, and the French embassy at different stages. Now the hotel is now the only one in Venice to have such a beautiful and capacious garden of more than 2,000 square metres.
Whilst the history of the hotel and the beauty of its garden should be alluring enough, there is one further feather in the cap of the Grand hotel Dei Dogi; La Voga bar.
Today, to celebrate World Cocktail Day, we look at the recipe for an extremely popular cocktail made at La Voga, which was created by the Bar Manager, Alessandro Caro. This cocktail is named the Lady Rose and is light and floral having been inspired by the celestial scents found in the hotel's own botanical garden.
Ingredients
40 ml infusion of Verbena, Mint Tea and Orange Blossoms
20 ml Homemade Rose Petal Syrup
40 ml Moscato Fiori D'Arancio Colli Euganei Maeli
Raspberries, Blackberries and Mint Leaves for garnish
Method
To infuse soak the tea bag of in boiling water and allow to cool. To make the rose petal syrup boil water and sugar until the sugar has dissolved. Next, mix in rose petal and simmer for 10 minutes. Strain the syrup and allow to cool. Fill a glass with ice to cool. Combine all the ingredients in a cocktail shaker, fill with ice and shake well before serving.