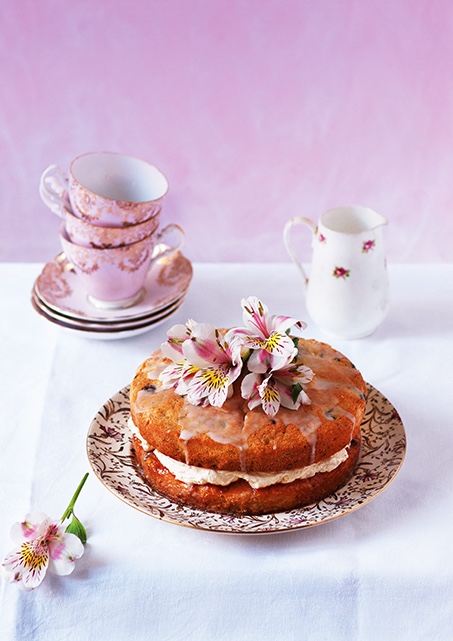 Lily's madeira cake recipe is delicately flavoured with cherries and seeds but you can use lemon zest, almonds or simply leave it plain for a lovely light sponge.
Ingredients
180g unsalted butter, room temperature
180g caster sugar
3 eggs
250g self-raising flour
3tbsp milk
75g mixed seeds – pumpkin, sesame, poppy
small handful of fresh pitted cherries, each sliced into 3 pieces
small amount of sugar infused with lapsang souchong tea (optional – see tip)
20 ml raspberry jam
150g double cream, whipped
150g icing sugar, sifted
small amount of lemon juice
handful of flaked almonds, toasted (optional)
fresh flowers to decorate
Two 18cm round cake tins, greased and lined
Method
Preheat the oven to 180C fan assisted/gas mark 6.
Cream the butter and the sugar together for 4 minutes. Add the eggs, one at a time, and beat until just incorporated.
Fold in the flour then add the milk slowly – you need just enough to ensure that the mixture falls slowly from the spoon.
Fold in the seeds and cherries.
Divide the mixture between two prepared cake tins and level out to the edges.
Sprinkle the top with the lapsang-infused sugar, if using.
Bake for 20-25 minutes, or until a cocktail stick inserted into the centre comes out clean.
Remove from the oven and leave to cool in the tins for 10 minutes before turning out onto a wire rack to cool completely.
Spread the base layer with the jam and pipe the whipped cream on top. Sandwich the two halves of the cake together.
Mix the icing sugar with enough lemon juice to give it a pouring consistency – and pour over the top of the cake.
Decorate with toasted almonds and garnish with fresh flowers, if using.
TIP: To infuse granulated sugar with lapsang souchong, simply leave an unused teabag in 400 – 500g caster sugar overnight. You can use a small amount for this recipe, then store the rest in an airtight container to use another time.