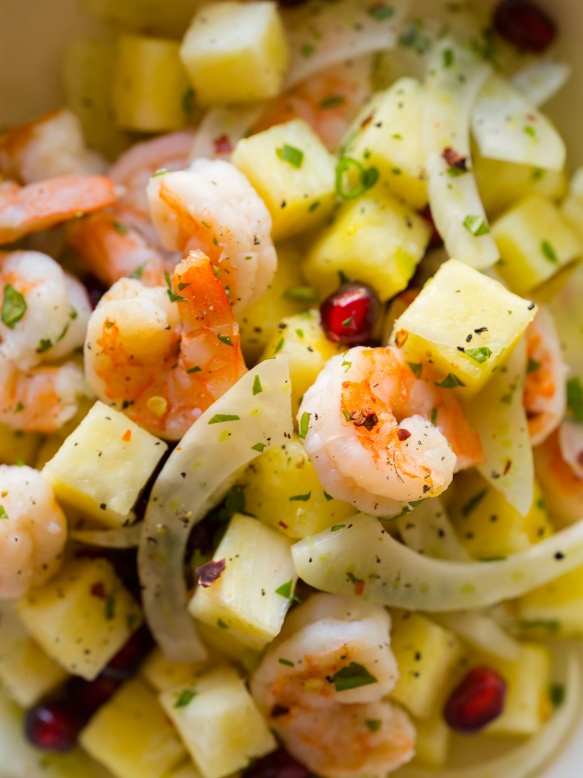 It may be cold, rainy and miserable outside but this delicious exotic salad is like a bowl full of sunshine. It is healthy, colourful and bursting with flavour. Skip your boring sandwiches for lunch and try this bright and beautiful alternative. Who knew lunch could look this good?
Shrimp, Pineapple and Pomegranate Salad
Serves 4 to 6
Ingredients:
3 cups seafood or vegetable stock
1 lb. shrimp (16-20 count), peeled deveined and tails removed
1 1/2 cups chopped pineapple
2/3 cup pomegranate seeds
1/2 head of fennel, thinly sliced
3 tablespoons minced mint
1 green onion, thinly sliced
1 lime, juiced
salt and pepper to taste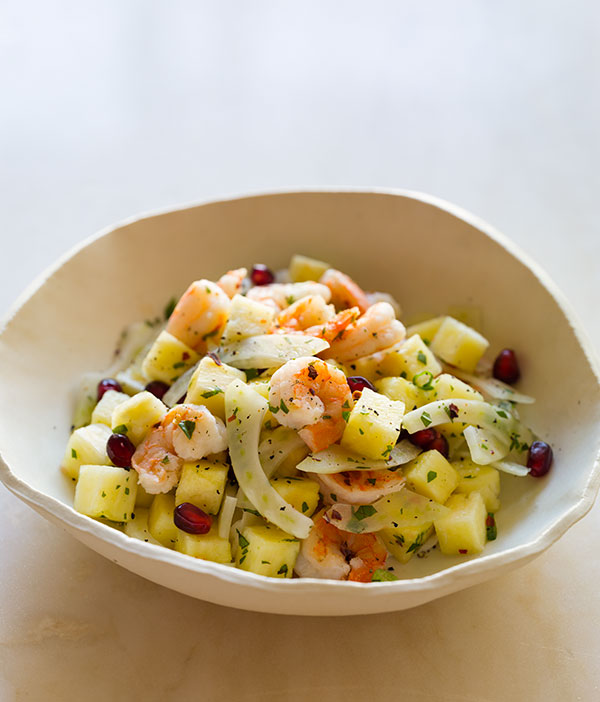 1. Pour stock into a medium sauce pan and bring to a simmer.
2. Add shrimp and poach until the shrimp has just cooked through, 3 to 5 minutes. Strain and place shrimp in the refrigerator until chilled, 30 minutes to 1 hour.
3. To assemble: Add all ingredients, except lime juice to the bowl and toss together.
4. Squeeze lime juice over the mixture, season with salt and pepper and toss together until fully incorporated. Serve immediately or allow the flavors to merry, in the refrigerator, for 20 minutes before serving.
Recipe courtesy of Lily Pulitzer at The Juice Stand.