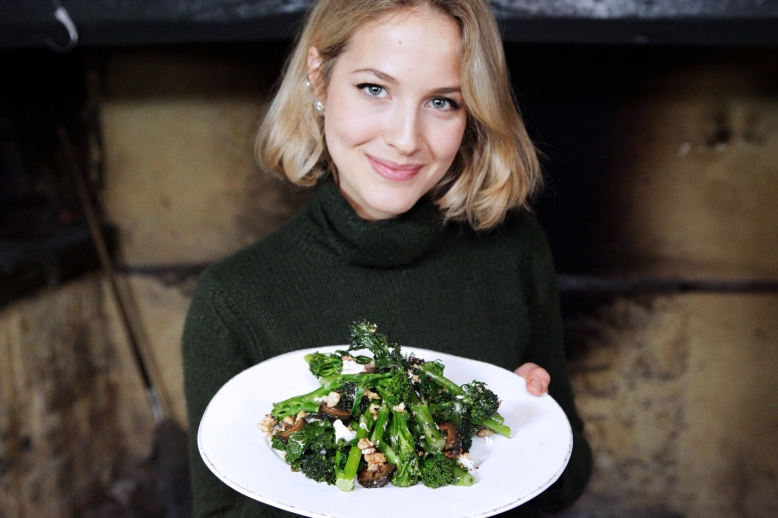 Purple Sprouting Salad
Serves 2
Ingredients:
250g a small handful purple sprouting and tender stem, steamed
2-3 pickled walnuts
20g toasted walnut halves
50g soft sheep, or goats cheese
3 tablespoons extra virgin olive oil
1 tablespoon cider vinegar
1 teaspoon mustard
1/2 teaspoon honey
salt and black pepper
Method: 
Cut the hard ends off the tender stem broccoli, then place the florets into a steamer or colander set over a pan of boiling water. Cover with a lid or tight-fitting foil and steam for 5 mins.
Meanwhile, make the dressing by adding all the ingredients together, season well with salt and pepper and give them a whisk.
Add the walnut halves to a dry frying pan and toast on a high heat for 3-5 minutes, or until golden. Slice the pickled walnuts into eighths and set aside.
Once the broccoli is steamed and vibrant green add it to a bowl with the remaining ingredients. Toss to coat in the dressing and serve warm.
Follow Tess Ward on Twitter: @TessWardChef
Follow Tess Ward on Instagram: @TessWardChef
Tess Ward is a food writer, Grazia columnist and chef, creating stripped back, healthful food. She also teaches tailor made cooking programmes.
Her first cookbook 'The Naked Diet' is due for release May 2015.