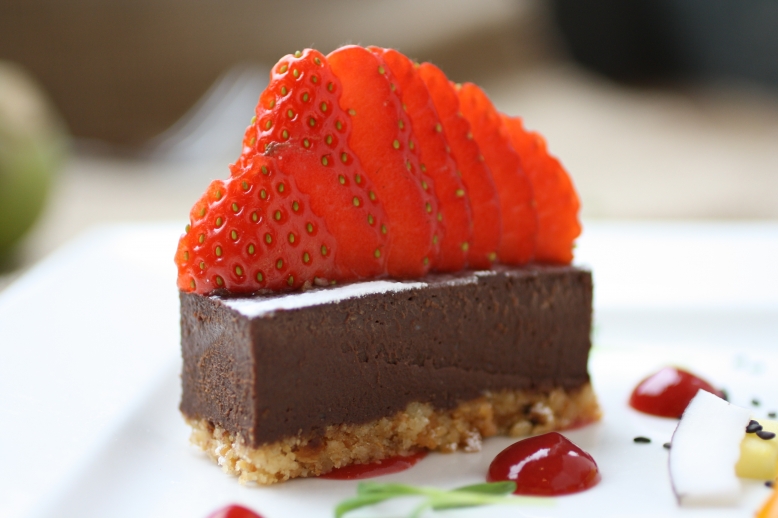 Until a few years ago, dining for vegetarians and people with special dietary requirements had been a sorry affair comprised of endless scouring of menus and pre-calling restaurants to double-check ingredients. If you wanted a meat-free meal you were either forced to eat the singular option available, most likely a lifeless salad of some sort, or you searched high and low for a vegetarian cafe somewhere that was far from the fine dining experience of a restaurant. Thankfully the food industry realised that vegetarians and vegans may actually want to have a sophisticated meal out with their friends without all the obstacles of going without meat.
Set in the quaint South Laine of Brighton is a restaurant that has been defying stereotypes for over 30 years. Food for friends is an elegant and modern vegetarian restaurant which caters for so much more than a meat-free diet. Their gourmet-style menu extends to those who are vegan, gluten-free, nut-free, to seed allergy sufferers, and of course, to vegetarians. What's interesting is a large proportion of those that dine at Food for Friends are in fact not vegetarian; they simply enjoy vegetarian food as an alternative cooking style. The restaurant is so popular that it even has its own Recipe iBook available to purchase and download from Apple. This is the third edition of their successful cookbook entitled 'Food for Friends: Modern Vegetarian Cooking at Home' and it contains more than 100 of their recipes inspired by their love of Middle Eastern, North African and Mediterranean food.
Although the restaurant has changed hands and the decor has been updated since it first opened its doors, Food for Friends has still retained its warm and inviting atmosphere which makes it such a desirable place to dine. Its extensive and varied menu incorporates the freshest seasonal ingredients and most impressive fusion of flavours to redefine the way we think about vegetarian food entirely. The tricky part is narrowing it down to which dish you want to order, leaving you mentally taking note of which option you'll be trying when you surely return.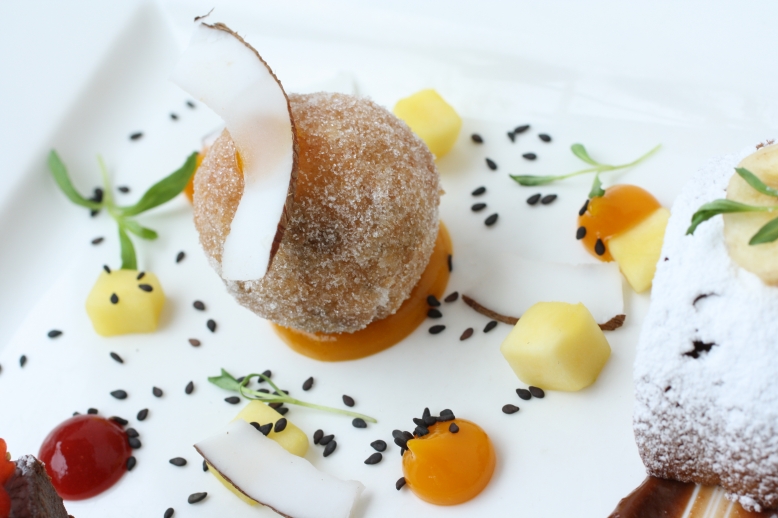 For a Monday evening, the restaurant was very busy – with almost all tables full of groups of friends, old and new, and the conversation flowing. We were led to our table through a series of conjoining rooms; a charming table for two situated next to a large curved window, looking out onto the South Laine. A single candle is lit in the middle of each table for a warm ambience, while low-hanging pleated glass shades light the room from above. The rooms are decorated in muted tones of mauve and steel blue that fit in with the low-key elegance continued throughout the restaurant and a selection of jazz, French-style, indie folk and soul music adds to the classy mood and is unobtrusive.
The first order of the night was for two cocktails, chosen from a wonderful selection of both their own creations and their individual take on the classics. I chose 'English Garden', a fresh and fruity concoction of Bombay sapphire gin, elderflower liqueur, lemon juice, fresh mint, sugar syrup
and rhubarb bitters, topped off with crisp soda water. My mum, who'd I'd chosen to accompany for the night, opted for a non-alcoholic 'Berry Cooler', comprised of Pomegranate, cranberry and apple juice topped with soda and fresh lime. We agreed that both were delicious and happily sipped away, perhaps too quickly as our glasses were nearly empty before any food had graced the table.
There was no shortage of choices for the starter; a grand total of 14 were offered, each completely unique from the other, with an option to share. I had heard of their beet, potato and parsnip spiced rostis, and so decided to try them for myself. They did not disappoint. The starters arrived in a personal-sized bowl, placed onto a rectangular black slate, connoting the rustic and organic feel of the restaurant. The rostis were crisp on the outside and the warm shredded vegetables were spiced to perfection, with the sweet tamarind and date sauce hidden beneath them. The mother chose ricotta and shallot dumplings resting on a bed of creamy caraway savoy cabbage. Both were delectable, and after scraping every last morsel from the bowl, we waited to receive our main courses.
After reading the menu about 5 times each, I had settled on the homemade deconstructed saffron ravioli, using Brighton blue cheese with parsley cream sauce and roasted butternut squash, wilted baby spinach, toasted pine nuts and crispy sage. I cannot stress enough how utterly glorious this dish was. The richness of the blue cheese balanced perfectly with the subtlety of the tender butternut squash and with the occasional crunch of the pine nuts – I would certainly recommend this to anyone. Mum's twice baked goat's cheese soufflé with balsamic caramelised vegetables, sautéed seasonal greens and hazelnut parsley pesto looked just as delicious. It's safe to say our table went very quiet during the main course.
With the standard being set very high, dessert promised to be something spectacular. For this, the manager presented us with an assiette of their favourites to share; coconut 'arancini' with fresh coconut, black sesame and trio of mango – sorbet, gel and diced; rich dark chocolate truffle torte baked on a hazelnut biscuit base served with berry coulis, and carrot cake with vanilla cream and cinnamon carrot crisps. The three desserts complimented each other perfectly; the crispiness of the coconut, the bitterness of the chocolate torte, the sweetness of the carrot cake, and the fresh bursts of coulis and sorbet kept the whole dish light. The whole combination was a success.
As we sat there looking at the clean plate in front of us, there were absolutely no regrets of our indulgence. Each course had been just as delicious as the last. We couldn't compliment the food enough to our attentive waitress, who was very helpful and welcoming throughout the whole evening. To finish off the meal I convinced my mother to try the 'Brighton Coffee'; a coffee laced with Tuaca, which is a Brighton-born liqueur synonymous with the city. The content look on her face as she sipped away was enough for me to know that I'd soon be buying her a bottle of Tuaca for her next birthday.
Vegetarian or not, I would wholly recommend Food for Friends to anyone looking to discover a new way of gourmet dining. The staff are welcoming, the food is delectable, and the ambience is sophisticated yet warm and relaxed. The restaurant is aptly named because this is the perfect place to have an elegant meal with friends (or family), safe in the knowledge that you will be eating something completely original and inspired.
Food for Friends
17-18 Prince Albert Street, The Lanes, Brighton, BN1 1HF
01273 202 310