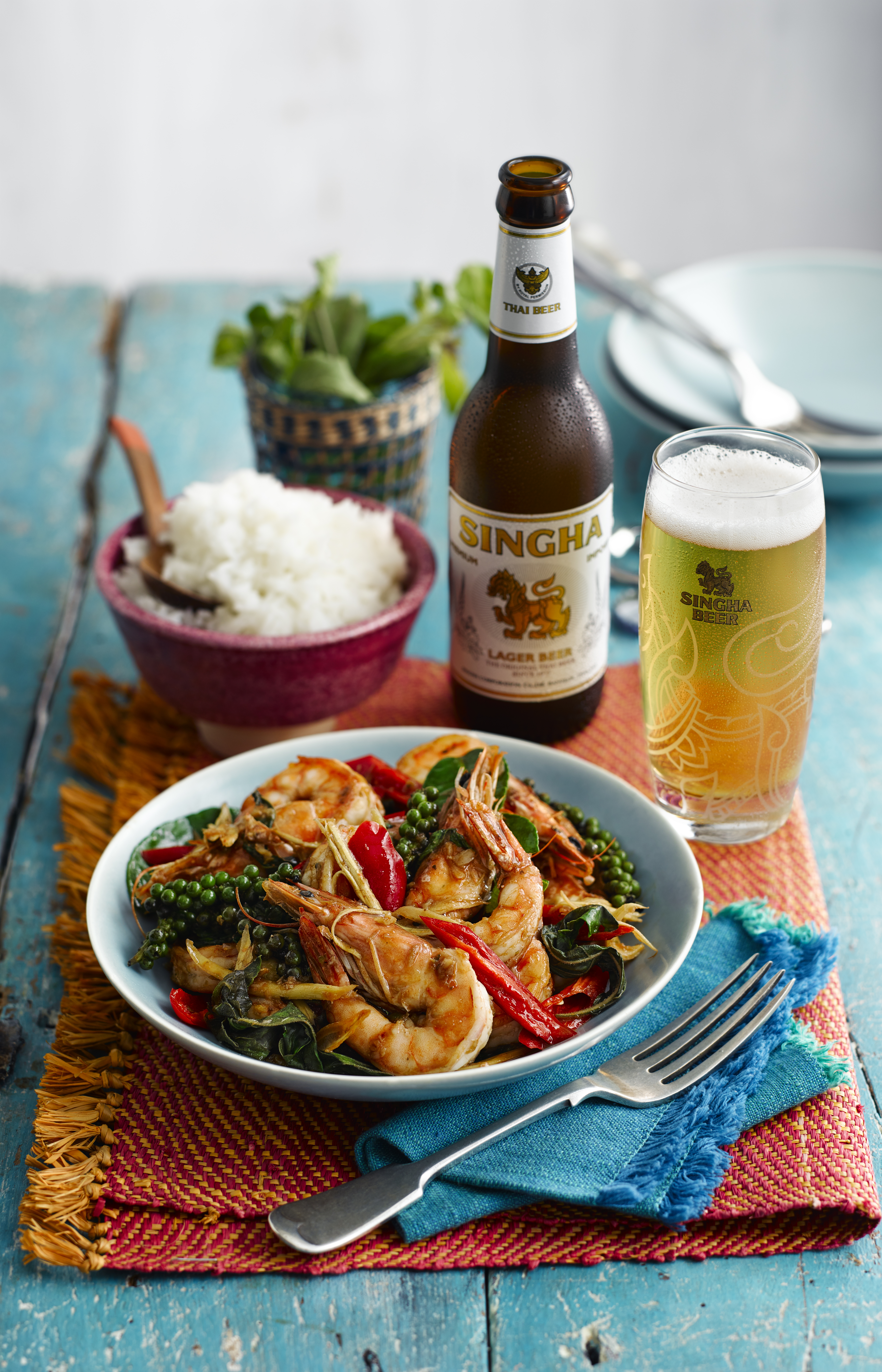 Andy Oliver is head chef and co-founder of London restaurant Som Saa. Andy will be working with Singha beer to create a range of mouth watering recipes that demonstrate the authentic taste of Thailand. As the first beer to be brewed in the country by Royal Permission in 1933, Singha's crisp rounded flavour works perfectly to complete any Thai meal.
Prawn, Green Peppercorns and Grachai Stir-Fry
This is a real Thai stir fry – hot, fragrant and really fresh tasting. The grachai (a wild ginger) really makes the dish. It gives a great earthy pepperyness, very different from regular fresh ginger. You can find grachai in the fresh section of Thai grocery stores, in Chinatown in London or online at theasiancookshop.co.uk. It lasts for a few weeks unpeeled, so if you see some, purchase it and store it in the fridge.
Serves 2, or 4 as part of a shared Thai meal
Preparation time: 20 minutes
Ready in: 6 minutes
Ingredients
For the paste:
4-5 bird's eye chillies
3 cloves of peeled garlic or 3 spoons of Thai baby garlic cloves (no need to peel)
2-3 coriander roots
Pinch of fresh green peppercorns
2 sticks of peeled grachai
Pinch of salt
For the stir fry:
10 raw prawns, head on but shelled and deveined
3 long red chillies sliced at an angle
6-8 fingers of grachai – 8 or 10 spears, peeled and sliced thinly
Small handful of fresh green peppercorns, on the stalk
3 fresh kaffir lime leaves, frozen if fresh not available
A bunch of holy basil, otherwise use Thai sweet basil leaves picked
1-2 tablespoons of plain oil (sunflower or groundnut)
3 tbsp fish sauce
Pinch of palm sugar
1 tbsp good quality oyster sauce
A splash of chicken stock or water
Method
Pound the garlic, grachai, peppercorns, coriander roots and salt in a pestle and mortar to form a coarse paste.
Now pound in the chillies – smashing them but not completely making a paste.
Heat oil in wok, then add prawns and allow to colour for around 2 mins in a very hot wok or pan.
Add paste and fry to golden.
Add fish sauce, oyster sauce, then stock, grachai and peppercorns. Toss for 1 – 2 mins, add herbs, toss and serve.