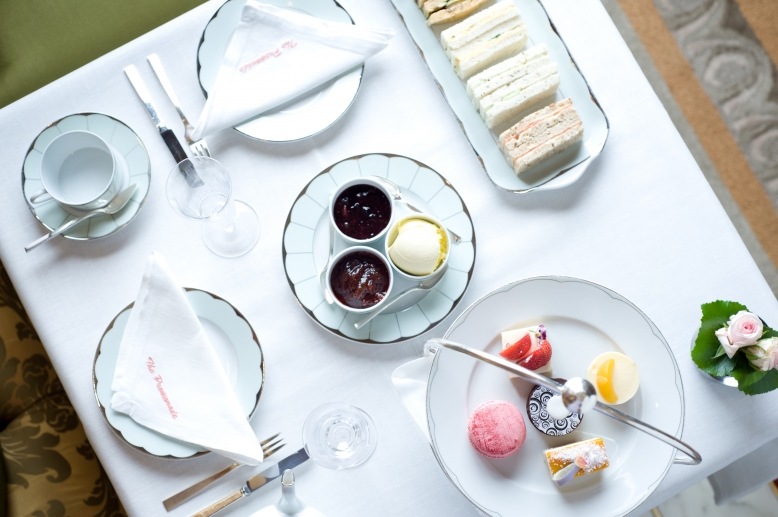 It was a dark, wet and bitterly cold afternoon in January and I had been battling a horrendous bout of the flu all week. My Uber crawled through the sea of cars that congested the residential streets of Mayfair, whilst I sat in the backseat feeling rather sorry for myself.
My mood brightened considerably as the driver pulled up beside The Dorchester hotel's iconic plane tree. It was decorated with dozens of bulbs that illuminated the branches, a small smile instantly played on my lips.
The Dorchester hotel is not only a national treasure; it has carved a reputation as one of most prestigious hotels in the world. It has defined luxury since it first opened its doors to societies' elite in 1931.
This evening was no different; two debonair doormen stood proudly outside the hotel's glittering façade. They were dressed in their traditional uniform; a suave green coat with glistening gold accents, a black top hat embellished with gold ribbon and a pair of the whitest gloves I had ever seen.
Fashion editor Jay Best accompanied me for the evening and as the vehicle pulled to a halt, the doormen approached the car, one at each passenger door. With one simultaneous sweep and a charming smile, they opened the doors and guided us towards the hotel's entrance.
Suddenly, a bitterly cold wind whipped past and I let out an almighty sneeze. It took me by such surprise that I stood motionless for a moment, like a rabbit caught in the headlights.
One of the doormen whisked a box of white tissues, from where I could not tell you and swiftly handed one to me. He smiled warmly as he did so, he said: "Bless you madam".
He then guided us into the revolving doors. These were the same iconic doors that had welcomed some of the worlds most recognisable faces from past to present; from Elizabeth Taylor and Richard Burton to George Clooney and Harry Styles.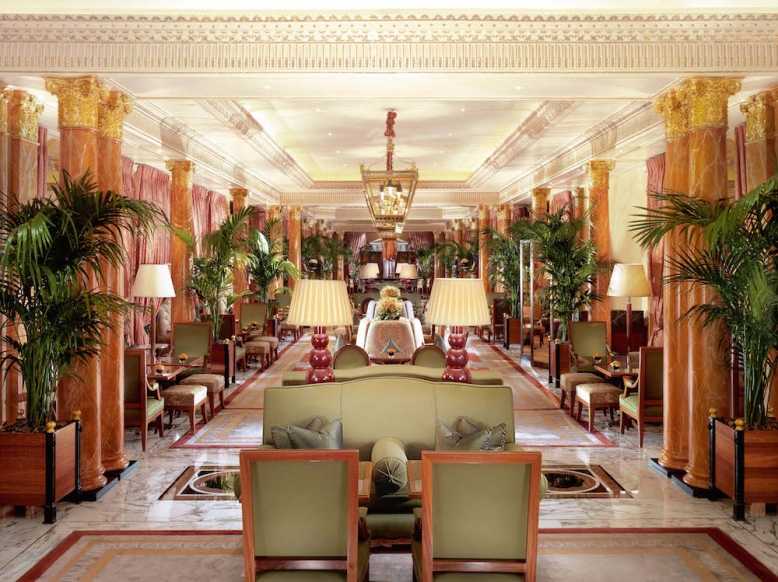 We stepped into the lobby and were immediately greeted by a suave blonde gentleman, dressed in a dapper grey suit. He led us to the ladies cloakroom, where we deposited our coats.
We were then led through to The Promenade, a long stretch of intimate tables that were studded with diners. I was amazed at how busy it was, especially in January, which is known as the quietest month of the year for most establishments. This clearly did not apply to The Dorchester.
I sunk into a luxurious peach chair and surveyed the beautifully presented table. It was dressed in an impossibly white tablecloth; on it was spotless silver cutlery and expertly folded white napkins emblazoned with 'The Promenade' stitched in scrawling red script. The table was decorated with beautiful duck egg blue plates and a small vase of freshly cut white roses.
A friendly waitress appeared with smiling red lips. She brandished a chilled magnum of Laurent-Perrier Cuvée Rosé champagne and kindly offered us a glass, which we gratefully accepted.
Laurent-Perrier Cuvée Rosé and I have always had a very loving relationship. It is bursting with rich strawberry, cherry, raspberry and blackcurrant flavours. There is also something so decadent about the deliciously delicate bubbles that tingle on your tongue long after you've finished your glass.
With the champagne glass firmly in hand, I surveyed my opulent surroundings. The Dorchester hotel is famed for perfectly toeing the line between traditionalism and modernism whilst retaining the grandness, which has attracted Queen Elizabeth II, Catherine, Duchess of Cambridge and Nelson Mandela.
In her lilting Italian accent, the waitress carefully talked us through the extensive list of teas that were on offer. We eventually decided to order a teapot of the hotel's signature 'The Dorchester Blend' and a pot of 'Paris'.
I tried 'The Dorchester Blend' first; it was truly elegant and traditional, much like the hotels rich heritage. It was made from Sri Lankan Ceylon and golden Assam teas. It had a strong character that was softened by caramel flavours.
Next, I sampled the 'Paris' tea; it was sublime and had an unmistakable romantic quality. This charming black tea blend was made from a concoction of fruity currants, bergamot, light vanilla and sweet caramel.
As I sipped from my teacup of 'Paris', my new favourite blend, the waitress reappeared with a silver platter of sandwiches. There were four options on offer, all with their crusts removed, of course. There was a rich and creamy chicken sandwich on pesto bread, cucumber with cool cream cheese on caraway seed bread, egg mayonnaise with shiso cress on white bread and the sandwich of the day, a cheddar cheese sandwich with fruity mango chutney on sweet date bread.
We chose one of each sandwich and devoured them one after the other. The waitress could clearly see how much we were enjoying them, as she made numerous trips to our table, stacking our plates with fresh sandwiches as she did so.
Once we had had more than our fair share of sandwiches, the waitress reappeared with two servings of an amuse bouche, which she described as a 'pre-dessert dessert'. The dessert was similar to an After Eight, with intoxicatingly bitter dark chocolate accompanied by fresh mint cream.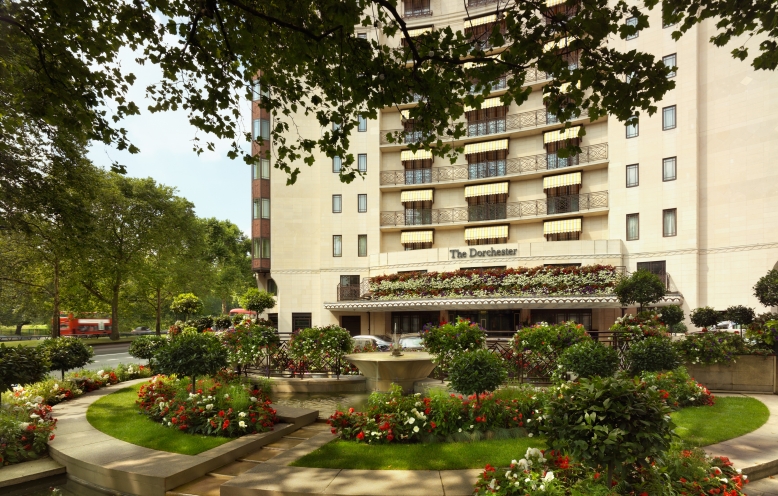 Scones are a traditional part of every afternoon tea but The Dorchester's were exceptional. Four warm scones were served, two with currants and two plain. I lathered a currant scone with a thick layer of Cornish clotted cream and homemade strawberry jam.
As Jay and I ate our scones, a dapper man in a black suit took his place behind the piano. He performed a spectacular jazz rendition of Stevie Wonder's 'Isn't She Lovely' to the delight of his audience.
As we sung along, in my mind I toyed with the idea of having another glass of champagne. As if by magic, the waitress reappeared, refilling my glass with a knowing smile on her face. I was well and truly flummoxed.
We were fit to bursting, sure that we couldn't eat another morsel when a delicate selection of French pastries appeared. They were aesthetically beautiful and clearly made with love. There was a creamy mango and passion fruit slice, decorated with coconut shavings. A particular highlight was an equally delicious rich dark chocolate pastry, sprinkled with golden chopped hazelnuts.
A group of girls dressed in a rainbow of sequinned mini dresses walked in, they giggled excitedly as they made their way to the bar. As our day was ending, their night was just beginning.
As we gathered our things and prepared to leave, the pianist began to play a soulful rendition of Pharrell's 'Happy'. It was so beautiful that we stood completely still, lost in the moment.
It is no surprise that The Dorchester is still going strong after 80 years of extraordinary service. The staff are efficient and warm, the setting is luxurious and the food is delicious. It has managed to maintain its stellar reputation for almost a century and rightly so. It has kept the sense of unrivalled elegance and glamour from the past whilst moving forward with modern times.
The Dorchester signifies all that once was and is still great about England. It is the Queen of luxury London hotels; long may she reign.
For more information: dorchestercollection.com
The Dorchester Hotel
53 Park Lane, Mayfair, London, W1K 1QA
020 7629 8888