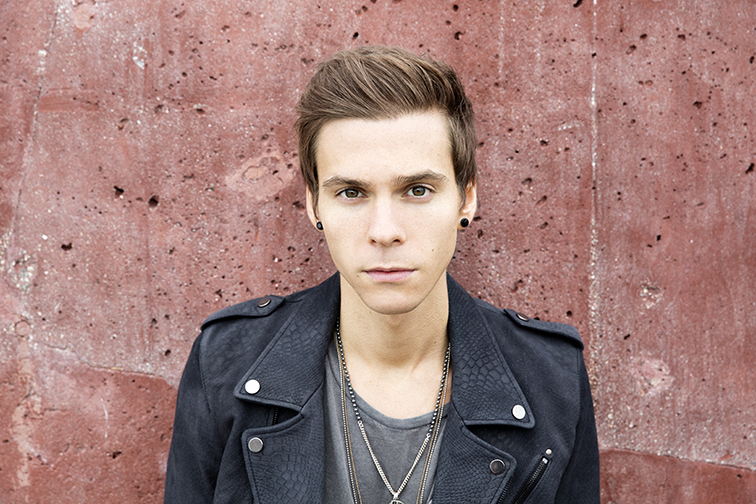 The iTunes festival pretty much dominates Camden for the month of September. However, I was surprised at how long queue for the Roundhouse in Camden was last night, it snaked alongside the entire building and disappeared around the corner. The opening act wasn't due on stage for a while, yet at least a hundred people had spilled out onto the street, basking in their post-work euphoria.
I slid in via the guest entrance found a comfortable spot next to the friendly engineer, which offered me a unobstructed view of the stage. The Roundhouse has always been a spectacular venue; with impossibly high ceilings, elegant pillars and of course the famous circular structure. Last night, the circle was filled with a sea of bodies waiting anxiously for Maroon 5 and their opening acts Nick Gardner and Matthew Koma.
Suddenly the lights went down and we were plunged into temporary darkness. Then Strobes of red and pink light streaked across the room and Matthew Koma walked on stage and took his position behind the microphone stand.
He was dressed simply in a white t-shirt underneath a denim jacket. He began his set with 'Dare You' his collaboration with Hardwell, the entire crowd was stunned into silence. Matthew Koma has an absolutely ethereal voice and delivered a mind-blowing performance.
With his white electric guitar held closely to him, he leaned into his mic and bellowed, "Hello London!" The crowd responded by screaming at the top of their lungs.
Then without missing a beat he delivered a stellar performance of his recent collaboration 'Wasted' with EDM legend Tiësto. The crowd sung along so loudly that they almost drowned Matthew out, he smiled warmly at the reception.
Matthew's chart-dominating hits had a much darker and rockier edge than the versions I had heard played on the radio. The guitar was more prominent, the bass was heavier and his vocals were raw. Was this a taste of the sounds Matthew will be channeling in his upcoming debut album? If so, it is guaranteed to be a success because the crowd absolutely loved it.
A particular highlight was when Matthew swapped his electric guitar for a brown acoustic version and sang an acoustic rendition of his arguably most popular song 'Clarity' which featured Foxes. It was a beautiful and intimate performance and as Matthew clutched the microphone in his hand, it was apparent that the words were coming not only from his lips but also his heart.
Another highlight was Matthew's performance of 'Spectrum', a track he worked on with music producer extraordinaire, Zedd. Matthew delivered a flawlessly high-octane performance to the delight of the crowd.
A man in a black leather jacket answered his phone as Matthew thrashed about on stage. He held the phone to his ear, his eyes still transfixed on Matthew. Without a moments hesitation he bellowed into the phone, 'Mate you are going to have to call me back, Matthew Koma is rocking the fuck out. I can't miss this.'
Indeed.
Follow Matthew Koma on Twitter: @MatthewKoma