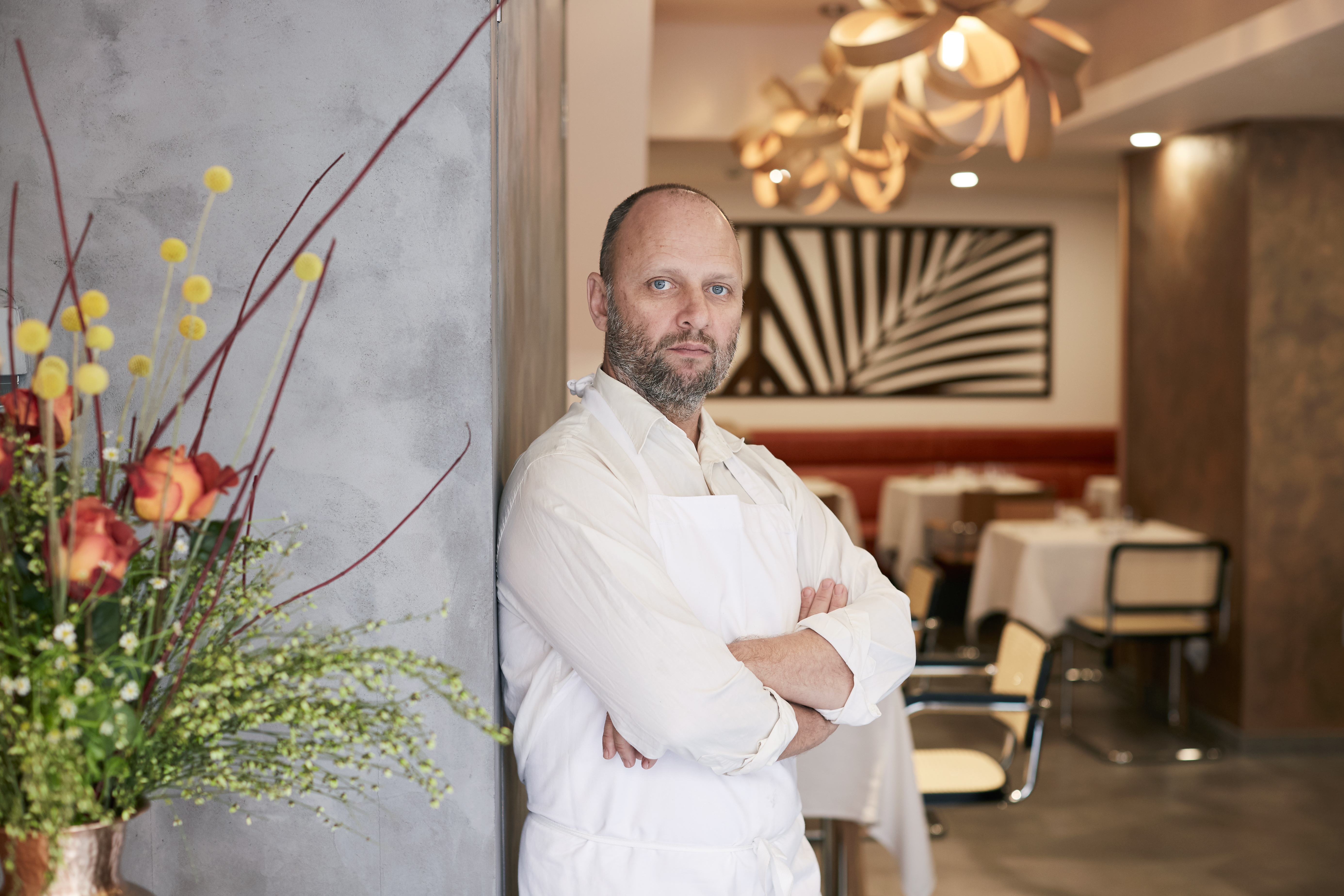 Eighteenth Century poet William Cowper once said: "No man can be a patriot on an empty stomach". After an incredible experience at Roganic, from which we left with stomach and mind full of praise for English produce and culinary genius, I rather think that Cowper would have approved of Simon Rogan's latest venture.
Sitting down a quintessential Marylebone side street, opposite the incredible Daylesford Farm Shop, Roganic exists as a laid back haven for fine dining enthusiasts – a place that is so far removed from the preconceptions of stuffiness and instead makes you laugh, smile and treat you not as royalty, but as a friend. The decor, like the service, is also refreshing – a simple design flows throughout the venue, littered with large jars of fermenting fruits and vegetables. It is airy, spacious and full of light – ideal for the newest Insta-generation of food lovers.
Then there's the three menus: Full (14 courses with wine); Short (9 courses) and Business (4 courses). There's even a partnership with Laurent Perrier to provide you aperitif refreshment with a long flute of shimmering rosé champagne.
Naturally, we opted for the 14 courses as we thought we should give you the full experience (you're welcome!).
The meal couldn't have started better. A chef walked to the table – here, the chef that finished the dish brings it to the table to explain it, a lovely touch with great opportunity to get to know everyone involved. He was here to present a simple yet beautiful raspberry, beetroot and buttermilk tart, which had excellent crunch and was accompanied by an exquisite scrumpy-like fermented apple and rhubarb drink – deliciously refreshing, as was the pear and elderflower iteration we sampled on our return (it's that good).
Palates sufficiently cleansed, the Rogan experience truly began. In quick-small-plate-succession we were treated to a plethora or intense flavours, unique preparations and mouthwatering delicacies. Seaweed Custard (did I hear someone say wow?!) was served with English caviar to provide a taste of the ocean whilst waves of wondrous flavour built and crashed with perfect precision. Raw Beef Tartare with kohlrabi gave tenderness, herbaceous spice and warmth all at once, whilst Pork, Smoked Eel and Hay Cream stood head and shoulders above the rest (for me, personally) exploding with crisp, salty, smoky tenderness. Serious last supper material.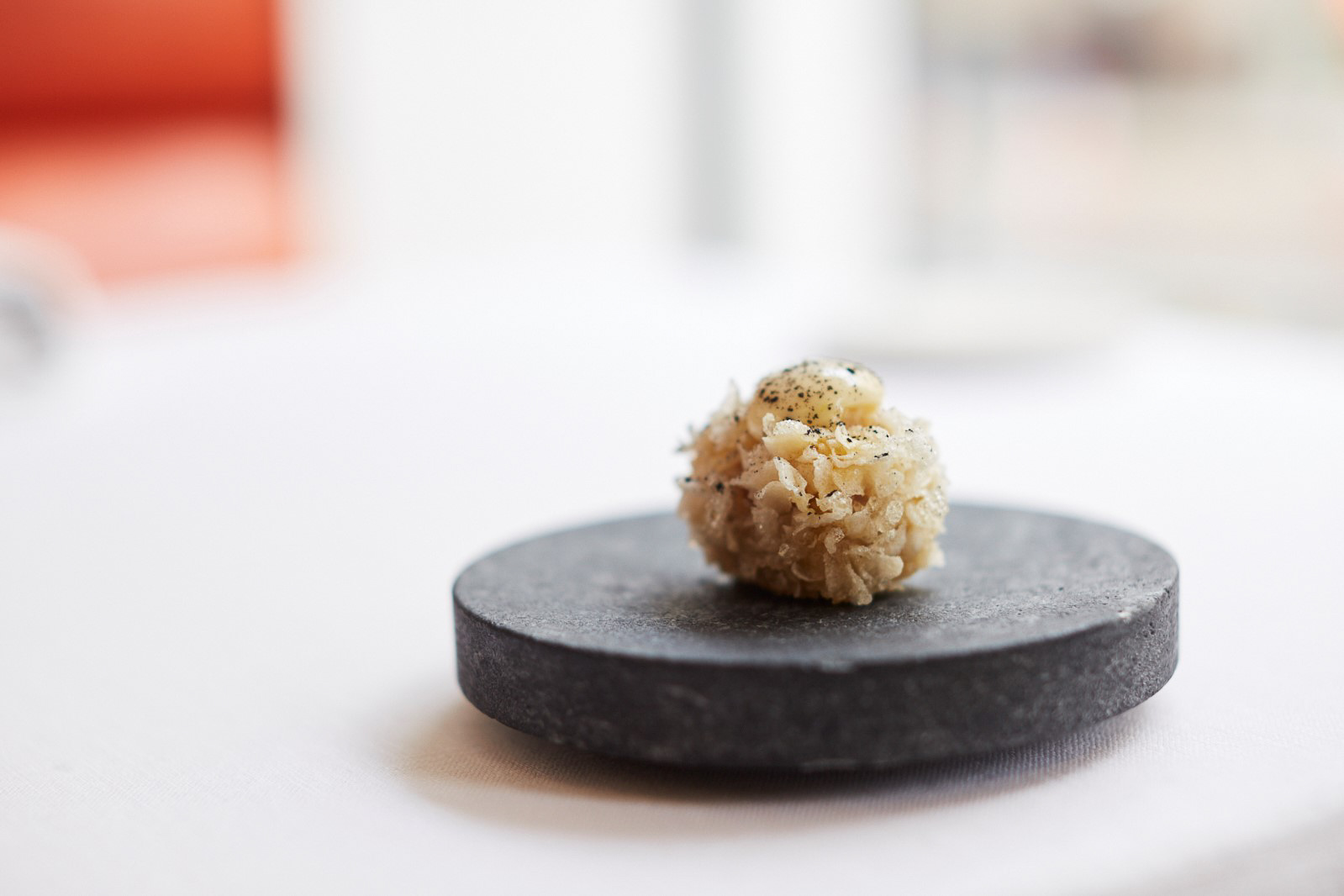 Now I must mention that the ladies seated behind us has returned back after only three days – a testament to the place and most probably for the latter of the three 'aperitvo', although it could of course been for the artichoke crisps… Goats cheese and punchy black truffle cream gave fabulous flavour and were certainly worthy of a second, third and thirtieth taste.
So the Roganic experience was certainly off to an incredible start. How could it get better, I sense you're screaming at your screen? Scallop, gooseberry and apple served refreshing and cold atop crushed ice and frozen seaweed, eaten with beautiful Portuguese Cutipol cutlery. Boom. That's how. A note of aniseed cut through delicately, complemented perfectly with the first white wine of the evening – Les Figureis, a complex number with a mellow, toasty finish.
Of course, with all the wine to come, bread was a necessity, and homemade sourdough with cultured organic butter was seen to put smiles on many a face around the restaurant.
Next up, Westcombe cheese dumplings with pickled onions in an onion broth presented a beautiful crunch, whilst intense creamy flavours danced on the palate, lifted by the characterful next wine, Opak, tasting tart and almost fermented in its finish. A finish that went on to complement the next course just as perfectly: salt-baked celeriac gave off a smokey, almost caramelised flavour and its accompanying enoki and whey added unusual, unique profiles to the dish.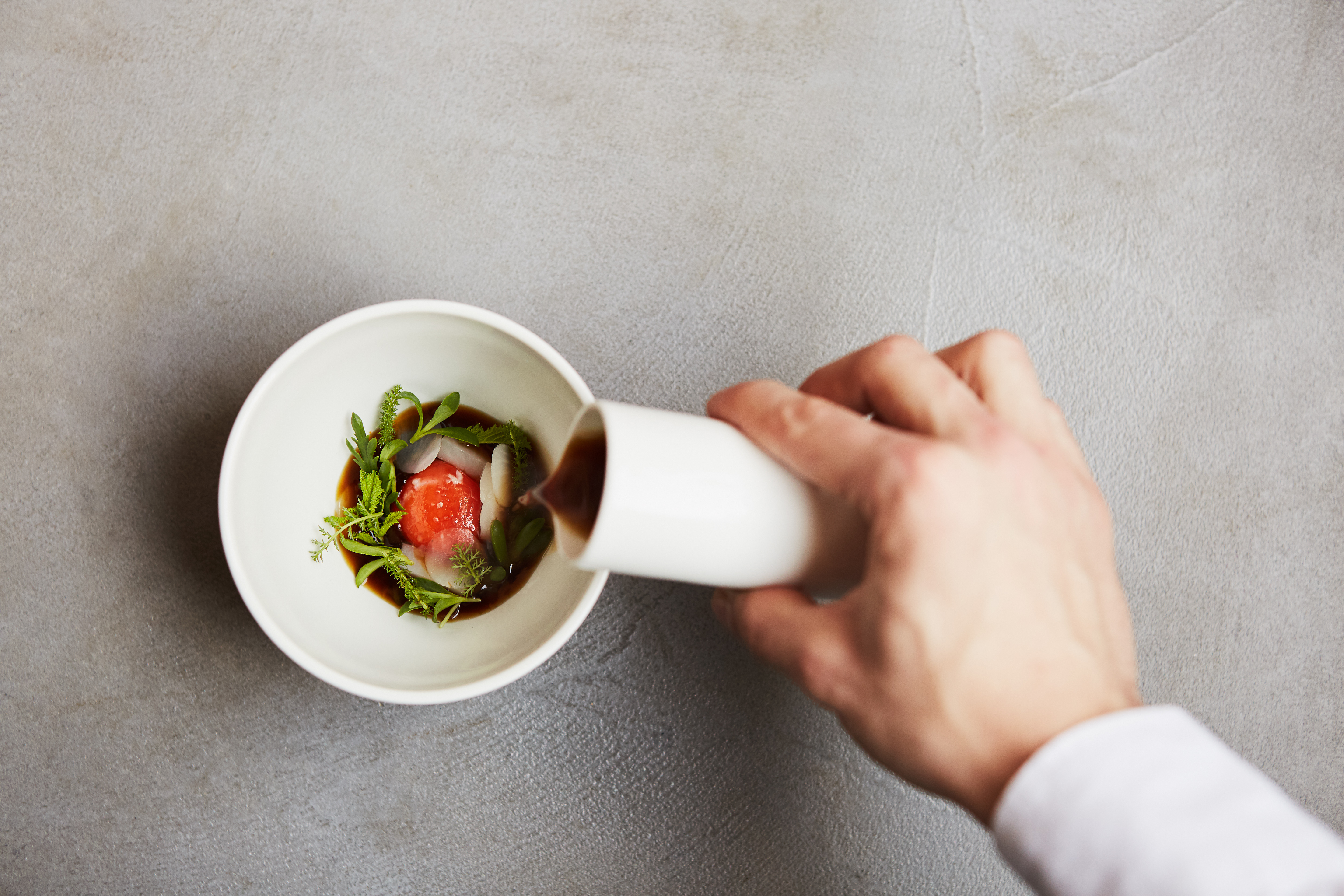 Whilst at Roganic, hours passed by, whilst we were happily lost in an abundance of organic, fresh flavours, and the course that followed was no exception. 'Cabbage, crab, horseradish, chicken' as the menu listed it, offered a vast array of 'c's – smoky charred cabbage, creamy crab and crispy chicken skin was made outstanding by a somehow delicate horseradish and garlic sauce, perfectly paired with a beautiful white wine that was in no way as painful as it sounds – Fanny Sabre is certainly a must-try – with actual notes of chicken fat linking it to its dish.
Now nobody likes to waste food but Roganic takes that one step further, using every part of a cod for the next two dishes. For the main plate, carefully flamed cod was made perfectly light and flakey and served with a smoked roe, whilst a side dish questioned why one would waste their leftovers: crispy cod skin, cod mousse and cured yolk exploded with texture and flavour and ended with a long salted finish. Mindblowing.
Letting the last course sink in, a short break passed before the next wine and course was walked over to the table by yet another chef. A dry, natural Barolo was selected to accompany a perfectly pink portion of Terras Farm dry-aged duck which turned out to be some of the best I'd ever eaten. Served with an insanely smooth parsnip puree, crunchy disks of green veg, lightly pickled green beans and a sticky, thick raspberry vinegar and duck jus, it was a course that neither of us wanted to ever end. It – like Roganic – was simply beautiful.
However, the night was not quite over. If you've looked on Instagram, you'll no doubt have come across one or two pictures of desserts that people have posted to make their friends jealous (and rightly so).
A palate cleanser of compressed rhubarb, custard and buttermilk snow provided a sweet, bitter and creamy refreshment before the first dessert wine, Tokaji in style, was brought over to accompany 'Burnt Milk, Blackcurrant, Yoghurt' with cues of creme brûlée and a delicate anise note cutting through.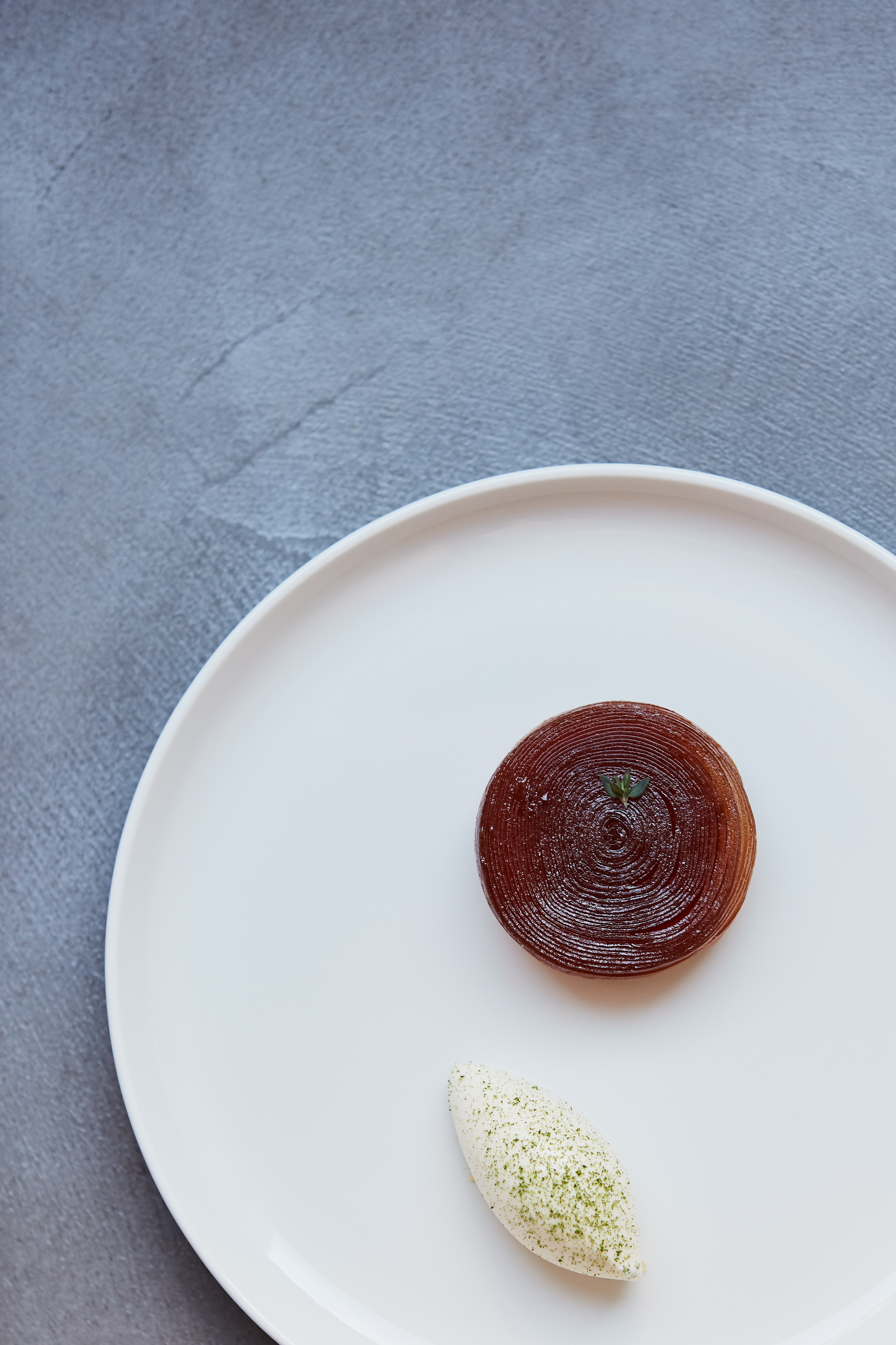 A Sauternes with notes of Pedro Ximenez was next to the table, alongside the Insta-popular, intricately prepared Tarte Tatin – hands down the best dessert I've ever had. The tiniest sprig of rosemary kicked out heaps of aromatic flavour whilst meadowsweet ice cream countered the savoury flavours with a vanilla sweetness.
With the meal at its end, we prepared ourselves to say 'goodbye for now' to a truly unforgettable restaurant. But this was quickly interrupted. A trio of petit fours (petit twelves?) arrived to the table, comprising a rich iced buckwheat and praline; a smooth chocolate and cherry teacake and the piece-de-resistance, Juniper Fudge – melting on the tongue like a creamy, rewarding gin and tonic whose botanicals flooded onto the back of your palate as it dispersed.
Roganic is a truly special place, full of fantastic people and unbelievable food. It is an experience I will remember forever and recommend constantly, as I will now. If you try one new restaurant this month, let it be Roganic – the latest jewel in Marylebone's culinary crown.
Roganic
5-7 Blandford St, Marylebone, London, W1U 3DB