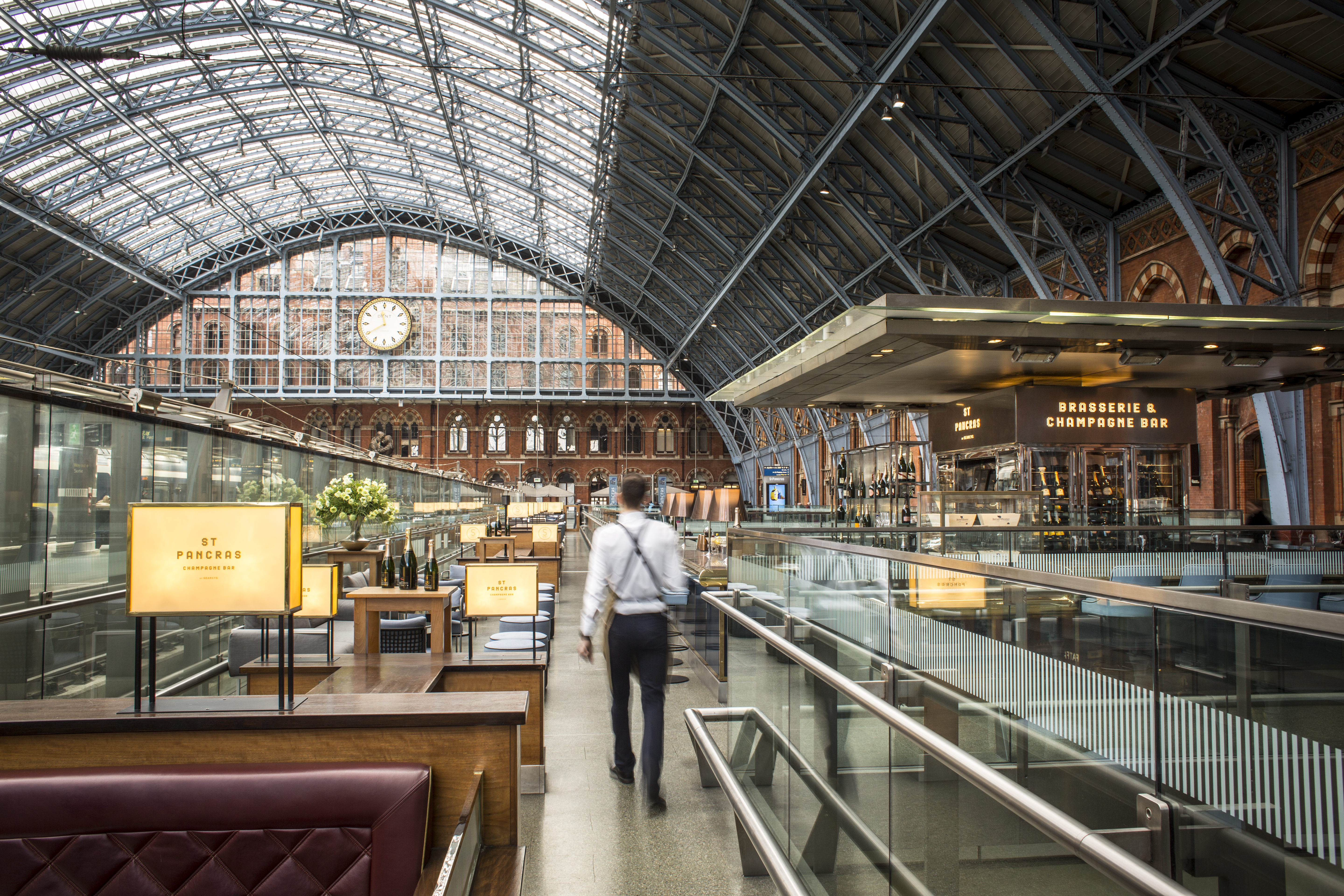 Under the magnificent arched roof of St Pancras station, beneath a text installation by artist Tracey Emin that reads "I want my time with you" in enormous, hot-pink, neon lettering, you will find Searcys' famous Champagne Bar. A welcome slice of calm and sophistication amidst the hustle and bustle of the busy station, this is somewhere that invites you to stop and take a moment to enjoy the finer things in life.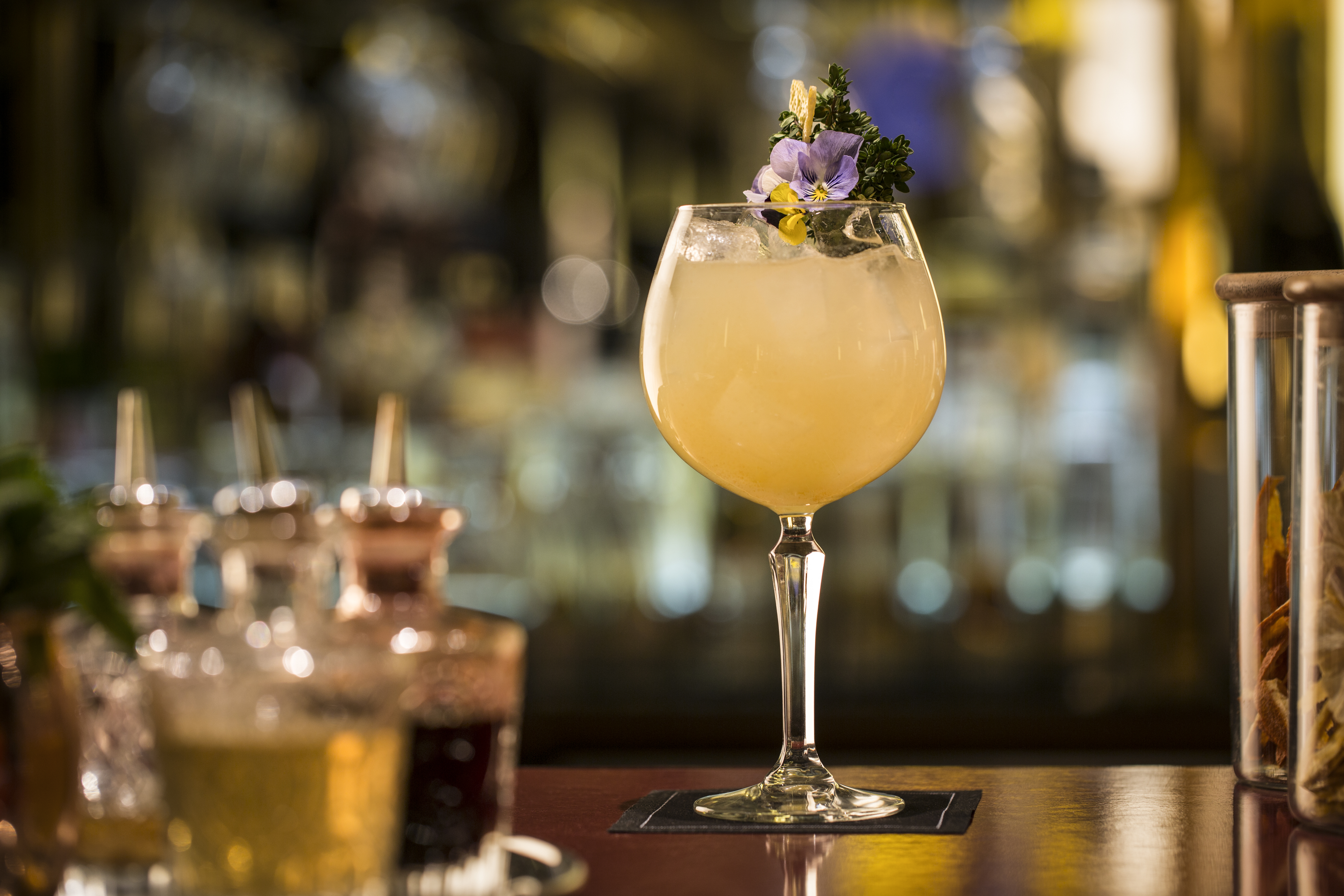 My guest and I entered the Brasserie to the side of the bar. The decor is grand and romantic, with art deco detailing and extensive brass-work throughout that harks back to the roaring twenties. Old-station clocks adorn the walls, subtly reinforcing a sense of place.
It seemed only right that we began with a glass of Searcys Selected Cuvée Brut, which was served to us in elegant tulip flutes. The dry fizz was smooth and delicious, and far too easy to drink.
The food menu offers a great selection of seasonal British flavours – there are hearty comfort-dishes such as chicken pie and fish and chips, as well as grilled meats and fish. If you are looking for a particularly special start to a romantic weekend to Paris, the menu also offers oysters.
After we had devoured a cob of seeded wholemeal bread, warm and spongy inside and crunchy outside, our starters arrived. Mine: soft, creamy Burrata, a contrast in texture to the vibrant broad bean and pea salad that accompanied it. My guest's: Scottish Sherry Smoked Salmon, full of flavour and served with pickled cucumber and Searcys soda bread. The Brut complemented both dishes perfectly.
Next I sampled a glass of Furleigh Estate Rosé – a light and deliciously crisp sparkling rosé wine from Surrey, so fine it is considered by many to be on a par with Champagne. My guest, who was driving, moved on to a fresh Tonic and Remedy mocktail made with lemongrass, ginger syrup, fresh lemon and served with Fever Tree tonic water.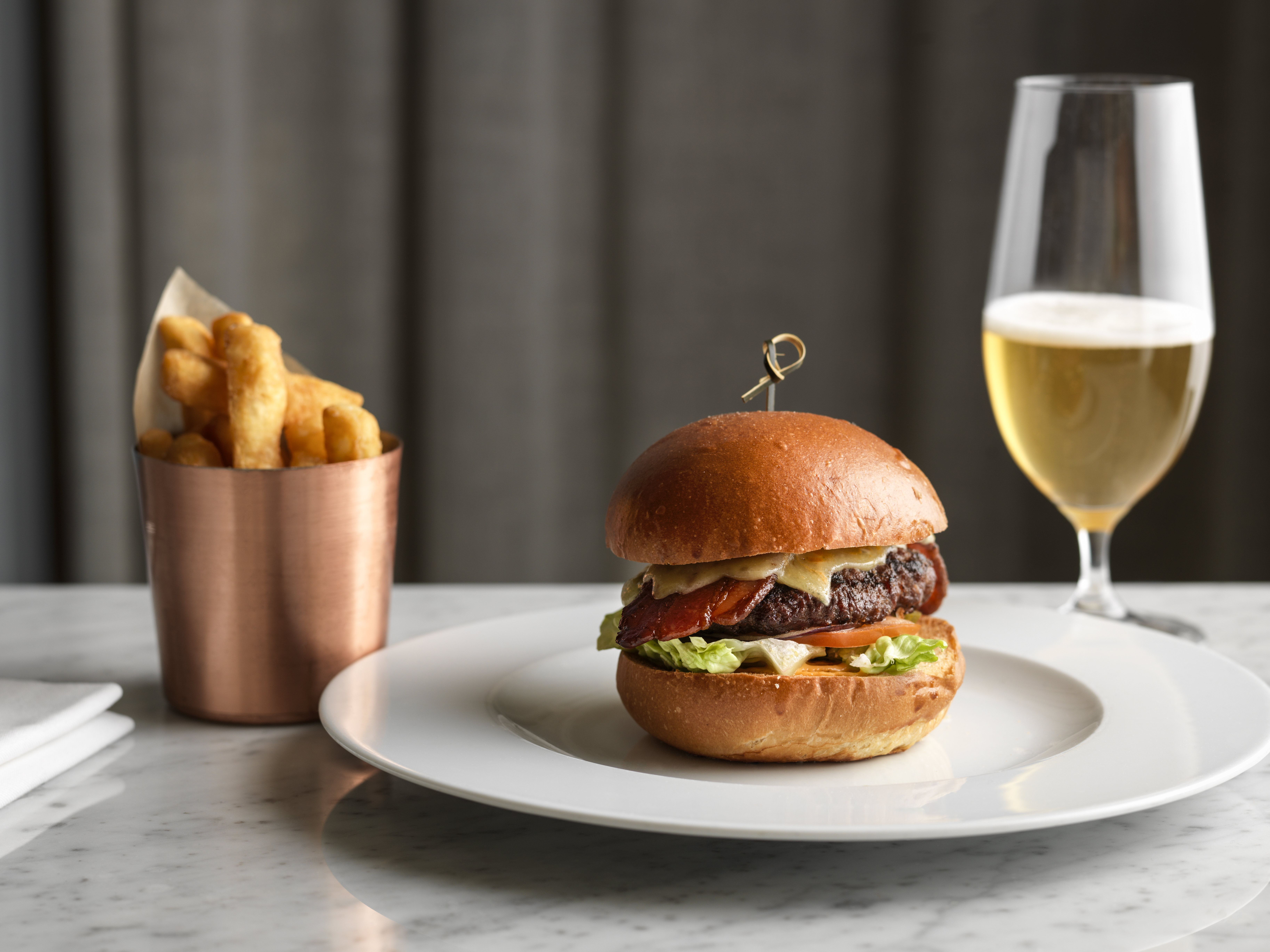 For mains my guest opted for a 280g ribeye cut of 45-day house-aged Lake District beef . Cooked to perfection, the pink meat was succulent and complemented by a classic Bearnaise sauce.
I chose the Cumbrian Saddleback Pork T-bone, medium cooked and served with a smooth apple sauce. The meat was juicy and flavoursome, served with a grilled portobello mushroom and dressed young spinach. We selected sides to share; Mashed Yukon Gold Potatoes, creamy and sweet, and crunchy seasonal Mixed Young Greens.
To leave room for dessert, I made the difficult decision to leave some of my generous serving of pork, but I had made the right decision as the Chocolate and Hazelnut Mousse certainly did not disappoint. The layers of milk and dark chocolate mousse with shards of crunchy brittle and smooth salted caramel ice cream were heavenly. My guest selected Greyfriars Peach and Raspberry Trifle, with lavish whipped cream and topped with chunks of honeycomb.
Before you set off on your next adventure on the Eurostar, be sure to stop in at Searcys for a delicious dining experience and a glass of the finest fizz around.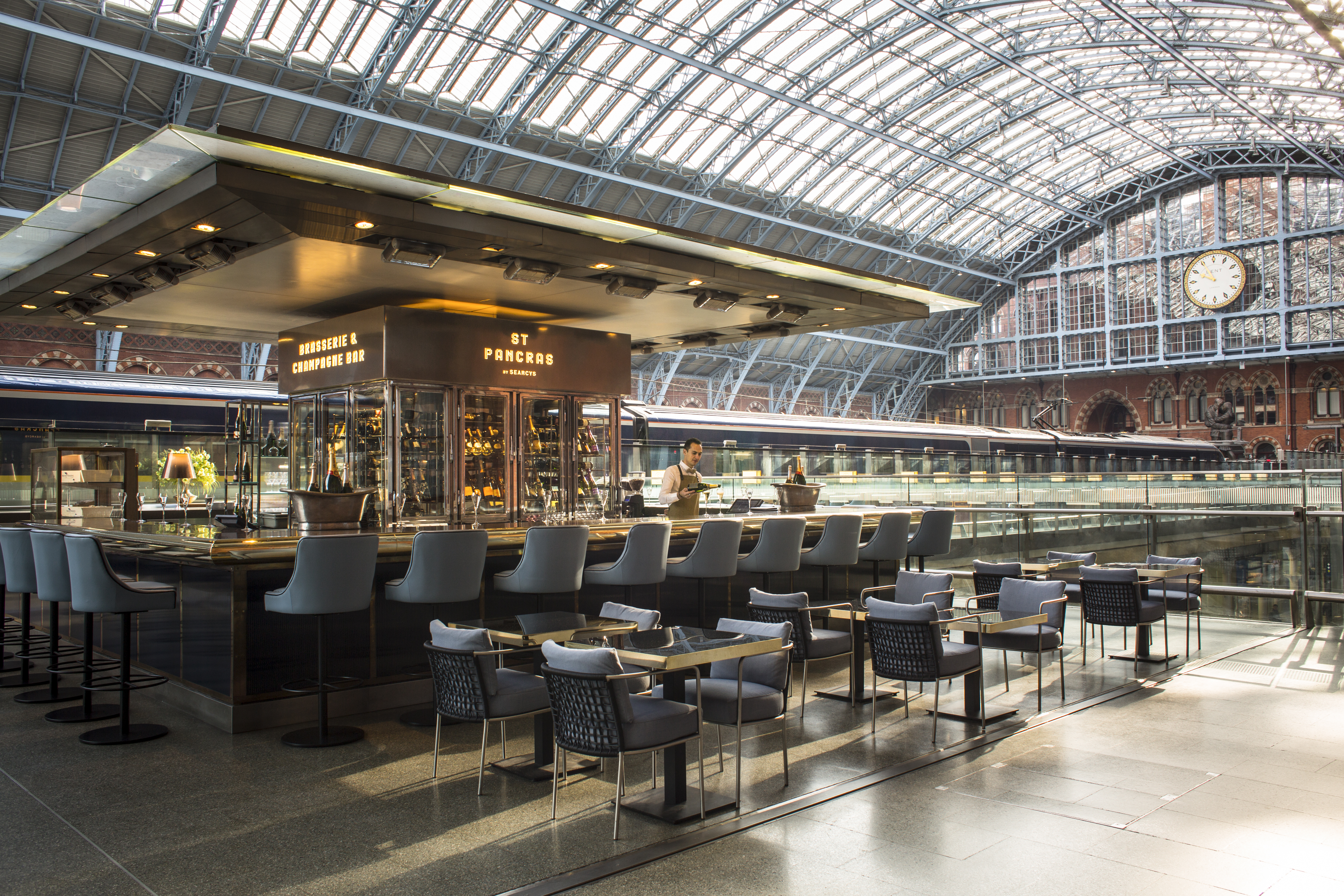 Searcy's St Pancras
Grand Terrace, Upper Concourse, St Pancras International Station, London, N1C 42L