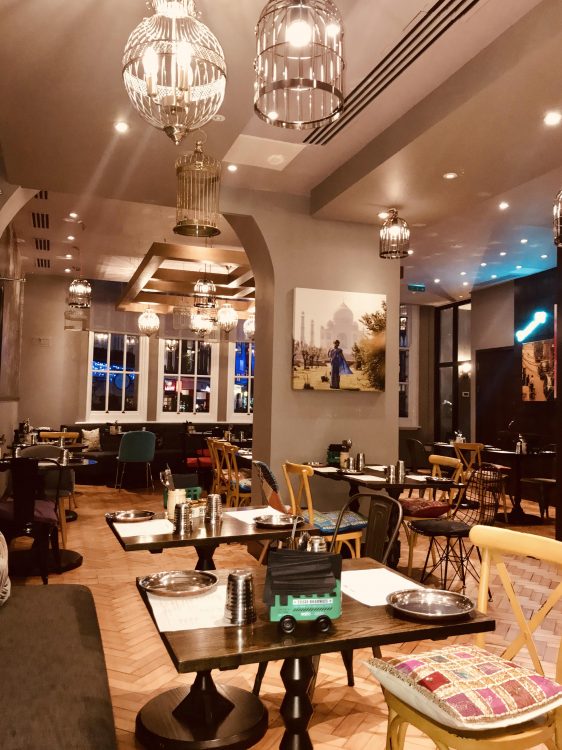 It had been a glorious winter's day spent taking in the familiar sights of central London. As fatigue and hunger began to set in, we made our way through the crowds of Carnaby Street and onto Great Marlborough Street, up the steps towards the beautifully embellished door that was the entrance to Soho Wala, the new restaurant located within the luxurious Courthouse Hotel.

The restaurant was a haven from the hustle and bustle of Soho and I felt myself relax immediately as soon as I stepped through the door. The kooky interior featured grey walls festooned with mammoth monochrome drawings of exotic plants, whilst dozens of light fixtures enclosed within miniature bird cages hung down from the ceiling, illuminating the room. The mismatching furniture consisted of glass and wooden tables, yellow wooden chairs and intricate onyx metal chairs covered with dazzlingly embroidered cushions.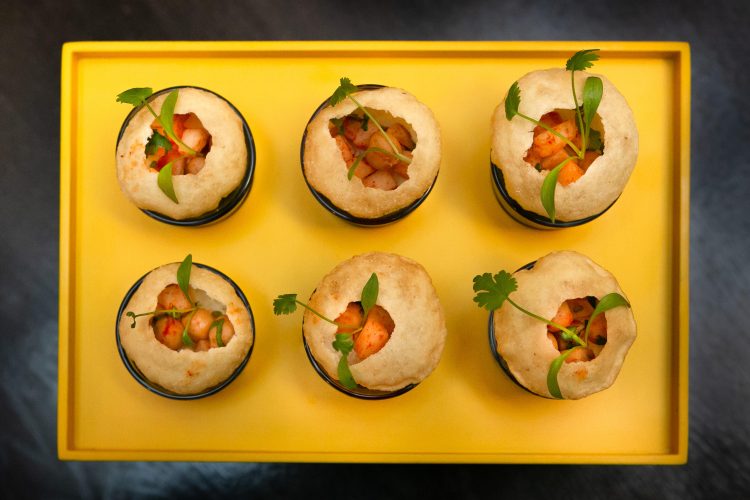 We were seated within the intimate arched booth, the contrasting wooden panels on the wall were bedecked with colourful dreamcatchers. Mini barrels held the cutlery, whilst a wooden blue bus displayed the napkins and traditional Indian plates, known as 'thalis' were laid out on the table, ready for the wonderful cultural delights to follow.

The staff on hand were great in suggesting the right dishes for our desired level of spice, appetite and palate, as well as our indecisiveness.

To begin, we recommend the Videshi Poppadums covered in the perfect amount of Parmesan and garlic, a delectable modern twist to a traditional starter. The Papdi Chaat – wheat crisps, tamarind, sweet yoghurt and mint, garnished with a handful of fresh pomegranate, a personal favourite and delightful combination. The Matchstick Chicken wings were one of the highlights of the evening, fried and crispy, infused with green chilli, lime and ginger and served in a bright yellow wheelbarrow.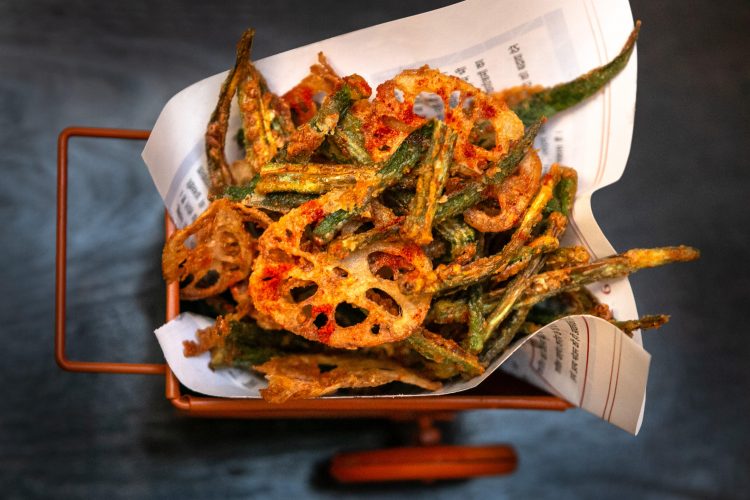 For the main course, the Chooza Makhani, British chargrilled chicken cooked in fenugreek, tomato, butter and marinated in traditional Indian herbs and spices. We paired this with plain rice, as well as garlic and butter naans – soft and fluffy on the outside, whilst deliciously crisp on the outside.

Despite being too full to take another bite and always a glutton for punishment, we proceeded to order dessert. We opted for the coconut and pistachio ice creams and the Mango Phirni, a creamy rice pudding puree with mango and pistachios adorned with a sprinkling of lavender on top.

We left Soho Wala happy and satisfied, the cold crisp air waking us up as we waddled our way through the busy streets and descended into Oxford Circus.