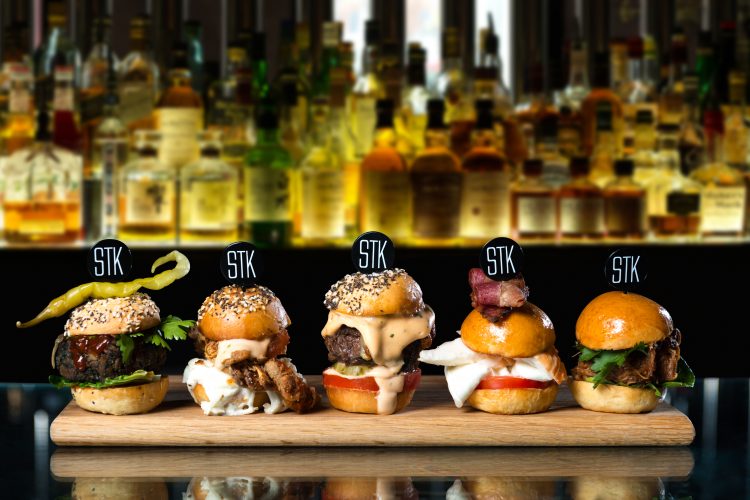 Lunch is usually the most overlooked of meals, hastily eaten sandwiches at desks or lukewarm soup from a carton. That is why it is so important to cherish it from time to time. There is no better place to treat yourself than with a decadent lunch than at STK.
STK has garnered an incredible global reputation as one of the most seductive and provocative restaurants in the world. It has gained a loyal following from Los Angeles to London for its succulent steaks and intoxicating cocktails. By night STK is a dark and decadent lounge with low lighting and romantic atmosphere, by day sunlight streams in from the windows illuminating the contemporary eatery. If you dare, start with one of STK's signature martinis, the Lemon Stiletto, with Grey Goose, st. germain, passionfruit and vanilla or the STK Martini, made with Russian Standard, cranberry, orange sanguine and orange bitter.
Specialities on the dedicated lunch menu include, a Popcorn Shrimp Poboy with coconut chilli remoulade in a brioche bun and the Pattymelt with USDA beef crowned with cheddar cheese, caramelised onion on sourdough bread. Alternatively, try STK's signature succulent Grilled South American Strip Loin (200g) with golden french fries and topped with STK's world famous special sauce. When it comes to dessert, the Junk Chalice is legendary, a delicious monstrosity of vanilla & caramel pecan ice cream, with a halo of boozy whipped cream, popcorn, chunks of salted caramel brownie and candyfloss, trickled in a rich caramel sauce. With extraordinary food and outstanding service let STK add a little decadence to your lunch hour.
@eatstk
336-337 Strand, London WC2R 1HA