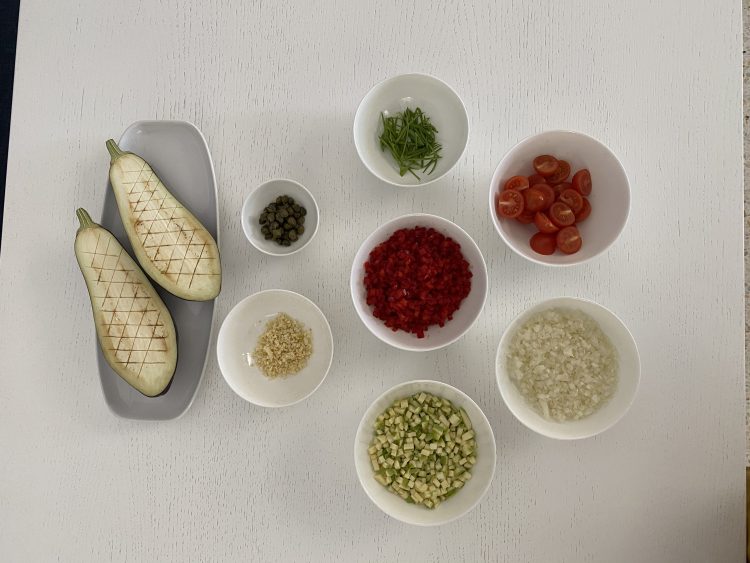 The Murano Restaurant in Montenegro has an idyllic location on the shores of Boka Bay and specialises in Mediterranean inspired cuisine, but with a local twist. This recipe from the restaurant's kitchens is an ideal healthy veggie option, or even vegan if the Mozzarella is removed. This dish should serve four.
Ingredients
Aubergine – 2
Bell pepper – 300g
Courgette – 100g
Onion – 150g
Garlic – 3 pcs
Thyme – 20g
Pesto Genovese – 80g
Olive oil – 0.5dl
Mozzarella cheese – 200g
Salt, pepper
Method
Preparation: Wash, dry and cut the aubergines in half. Season with salt, pepper and coat with olive oil. On a heated pan, grill the eggplants from the cut side until they turn brown. Once cool, carve the baked inside of the aubergine with a spoon to make room for the filling.
Stuffing preparation: Chop all the vegetables into a brunoise, and fry rapidly with olive oil. Remove from the heat and then add the pesto, finely chopped thyme, a portion of Mozzarella cheese (diced) and the inside of the eggplant. Season with salt and pepper.
Serving: Fill the aubergine, cover with the rest of Mozzarella cheese. Put the aubergine on an oiled pan and bake in a preheated oven at 200° C for 15 minutes.
Serve with marinated arugula or fresh cherry tomato salad, leeks and capers.