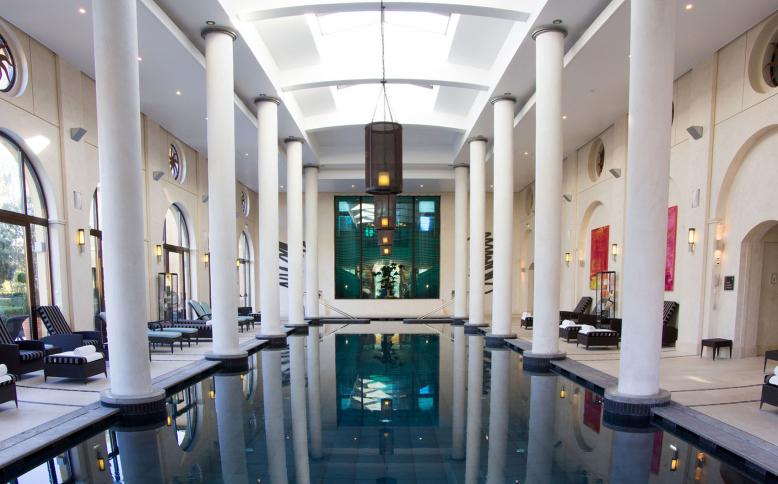 I have spent most of my childhood summers in the South of France. Over the years I have come to know the winding mountain roads, quaint provincial villages and unspoilt beaches rather well. It is a rarity that I discover much that is new there, that is until I visited Terre Blanche.
The day I arrived couldn't have been better. The flight had been straightforward; I flew through Passport control and baggage collection without as much as a hint of a queue. I stepped outside amongst the tall palm trees; their leaves touched the cloudless blue sky above. The sun beat down on me and casted a golden glow on everything it touched.
Terre Blanche is nestled in the heart of the luscious rolling hills of Provence, a short drive from Nice airport.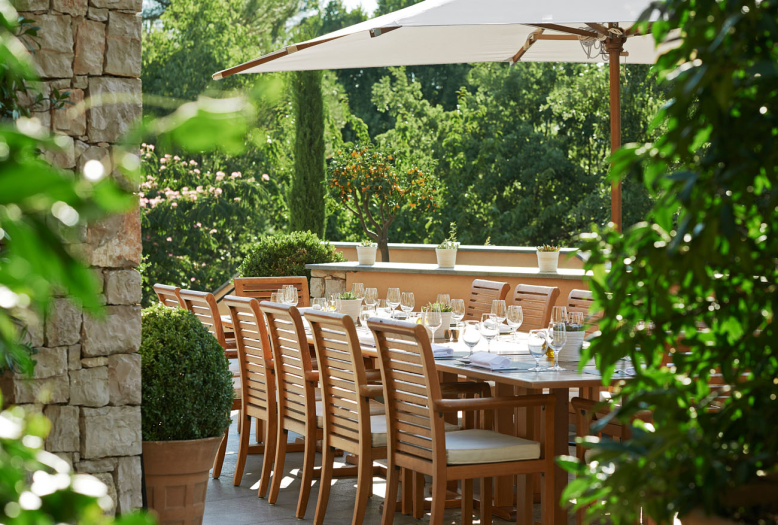 Terre Blanche had sent a sleek black SUV to chauffer me to the resort. We drove along winding roads past stalls selling fresh melon and colourful fabrics. We continued on, going deeper and deeper into the countryside, but from the rear window I could still see a glimmer of the aquamarine waters of the ocean.
Suddenly, the car pulled up in front of a vast security gate and after our driver had shared a knowing look with the guard, the barrier was lifted and we were in.
Tom Ford once said: "Time and silence are the most luxurious things today". At Terre Blanche there is both in abundance.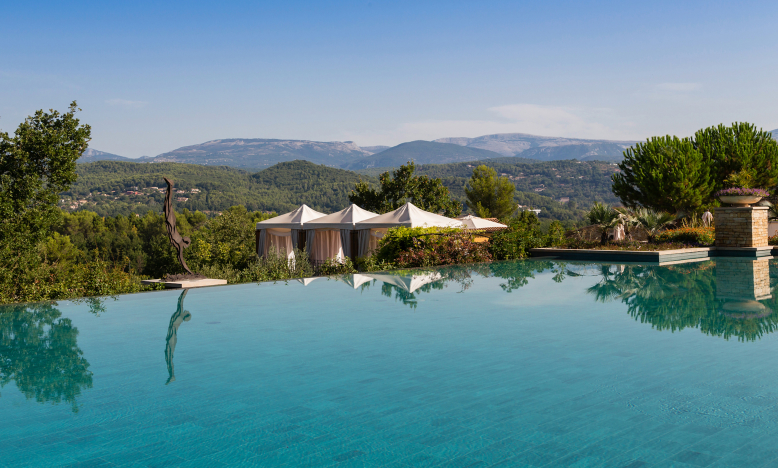 The resort is only a short drive from Cannes and the glittering French Riviera, the notorious playground for both billionaires and Hollywood's elite. However, Terre Blanche offers an equally luxurious yet considerably more relaxed experience. Instead of the raucous nightclubs of Cannes, at the resort there are beautiful open-air terraces where the finest wine and cocktails are served under the stars.
To refer to Terre Blanche as a hotel is a disservice. It is a 750-acre luxury resort which although has all the amenities of a five-star hotel, at the heart of it; it maintains the charm of a provincial village.
There are over 115 suits and villas, each offering the height of luxury and rustic appeal. I stayed in a decadent 'Premier Suite'; it was almost as big as my entire apartment in London. It boasted a spacious living room, elegantly decorated bedroom in earthy colours and terra cotta, a dressing room with more storage space than I could ever need and a vast bathroom with 'his and her' sinks, a bath and a shower.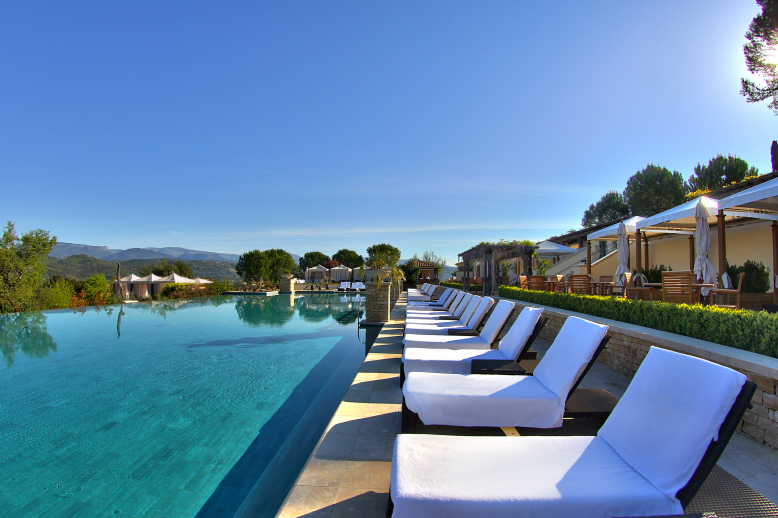 When I am away from home, I always miss my bed. However, after my stay at Terre Blanche the tables had turned, I went home dreaming of their bed. It was big enough for four adults and I sunk into it like a cloud. I looked over at my bedside table and saw a bottle of red wine, a glass and two dishes filled with olives and nuts. After all, the little things can go a long way.
The highlight of the suite was definitely the private terrace, where I enjoyed a truly idyllic breakfast every morning. At 9am precisely, an attentive waiter would arrive, a crisp white tablecloth folded over one arm and pushing a tray laden with silver covered dishes. He laid the table impeccably and even decorated it with pink hibiscus flowers. He would then discreetly withdraw but not before checking that I had everything I needed.
The table was heaving under edible treats. There was a wicker basket filled with an assortment of buttery-bronzed pastries, an apple compote with cool yoghurt, a tray of fresh berries and a traditional French baguette accompanied by butter and apricot jam. The sun beat down on my bare shoulders as I devoured the feast, with only the company of the birds that were singing harmoniously in the trees above.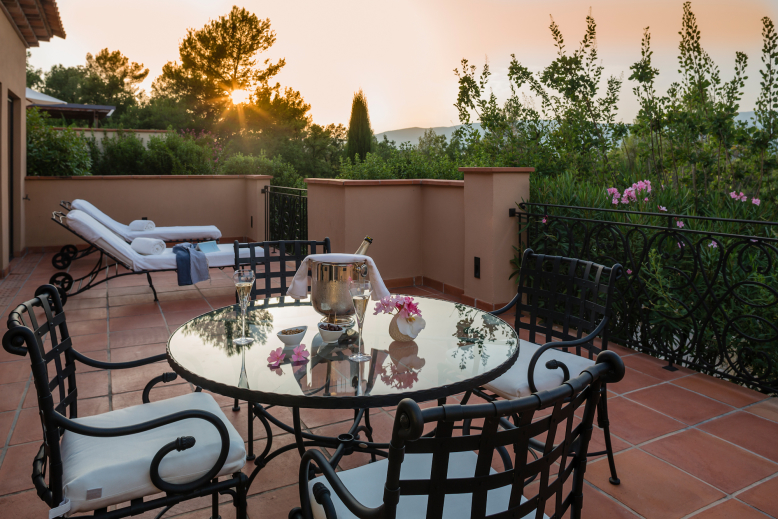 Terre Blanche offer a particularly interesting mode of transport around the resort in the form of golf buggies. With a push of a button on the phone, you can request a rather attractive Frenchman, dressed head-to-toe in white to collect you in your very own buggy.
On one particular afternoon, I requested a golf buggy to take me to the spa. It arrived in under 3 minutes and I was swiftly taken to Terre Blanche's spectacular 35,000 sq. ft. spa. Cypresses shrouded it and the smell of fresh lavender, rosemary and myrtle filled the air. The spa's masterpiece is without doubt the 20-meter indoor pool. It is framed by majestic white columns and would look at home in Caesar's Palace. It is heated to 28 degrees for year-round enjoyment and is the picture of elegance.
My spa therapist greeted me and kindly led me upstairs to a candle-lit treatment room. I had been booked in for a Swedish massage and couldn't wait to lie down on the table and forget the world. The next 60 minutes were paradisiacal; the therapist used various massage strokes to warm up the muscle tissue. With every stroke, I could feel tension melting away.
I would have happily spent the entire trip lounging by the pool or in the spa but there were so many more beautiful things to see and do. We visited the utterly magical Chateau D'Esclans, an idyllic chateau and gardens that look as though they have come straight out of a fairy tale. It is also a vineyard where they produce the world-famous 'Whispering Angel' rosé.
We were given an informative tour of the vineyard and a wine tasting of all the wines that were produced there. I have never considered myself a wine connoisseur but it was fascinating to see the wine making process from vine to bottle.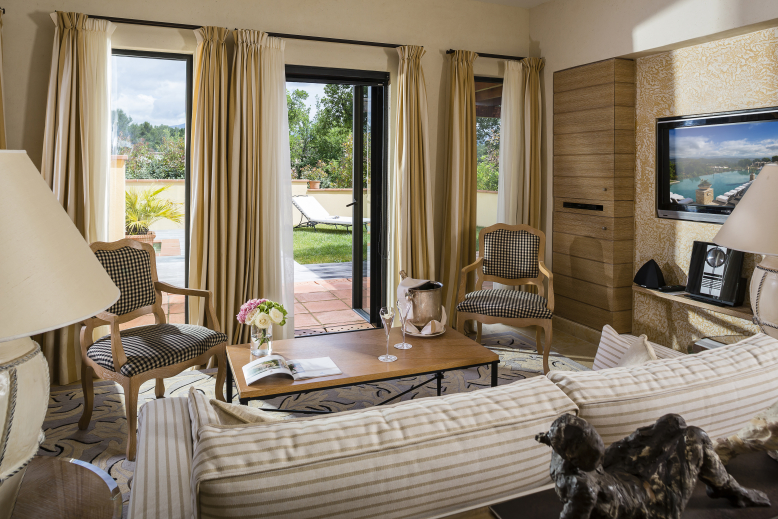 Terre Blanche also offer the opportunity to hire high-performance buggies. We had a wild time tearing around the hairpin bends of Provence on our very own buggies. We visited the local market and I fell in love with all of the whimsical stalls, selling everything from; tomatoes to sun perfume. I couldn't resist treating myself and purchased handmade lavender soaps and an exquisite white wool scarf.
We drove the buggies up to the picturesque Seillans. We had an alfresco lunch of delicious steak and wine in the romantic courtyard there.
If you are looking for a haven of tranquillity, elegance and luxury, look no further than Terre Blanche. I fell in love with France as a child and I thought I had experienced all that it had to offer but Terre Blance well and truly proved me wrong.
As billionaire software developer Dietmar Hopp once said: "In the heart of the beautiful landscapes of Provence, I achieved a dream: the dream of three hundred sunny days, the dream of peacefulness which for me is absolute luxury. Terre Blanche is like an oasis and staying here is soothing to the soul."
Terre Blanche
3100 Route de Bagnols en Foret, 83440 Tourrettes, Provence, France
+33(0)4 94 39 90 00