Set on the lush riverside in the leafy suburban town of Richmond, The Bingham Riverhouse offers fantastic food with stunning views of the Thames.

Upon arrival, we were asked if we wanted to sit inside the restaurant or outside and couldn't resist the opportunity to dine al fresco. There was a line of inviting tables on the terrace area through the large French doors, sitting elevated on the side of the river. As we scanned the menu, soaking up the sun, a steady stream of boats with merry passengers passed us by.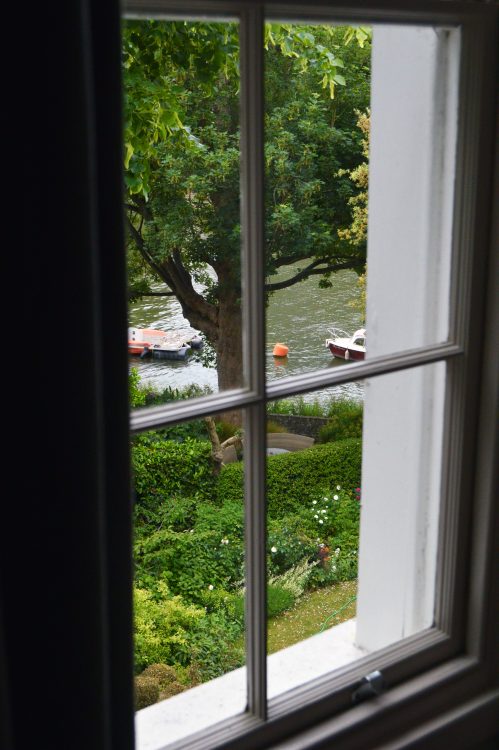 The facade of the building, originally built in 1740, is charming and it spreads across two large Georgian townhouses, with a 15 bedroomed hotel upstairs and the restaurant downstairs.

Inside the restaurant, there's a hubbub of laughter of diners enjoying their lunch. The decor inside is contemporary yet traditional. The walls are lined with artwork and inset bookshelves that are home to thousands of old Penguin books, zebra stripes of orange and white.

The atmosphere is formal but retains a laid back feeling. The friendly staff were happy to give us recommendations so my guest and I opted for the highly-praised martinis to start – one kiwi and one cucumber infused. They were both deliciously crisp and refreshing, perfect for this late summer's day.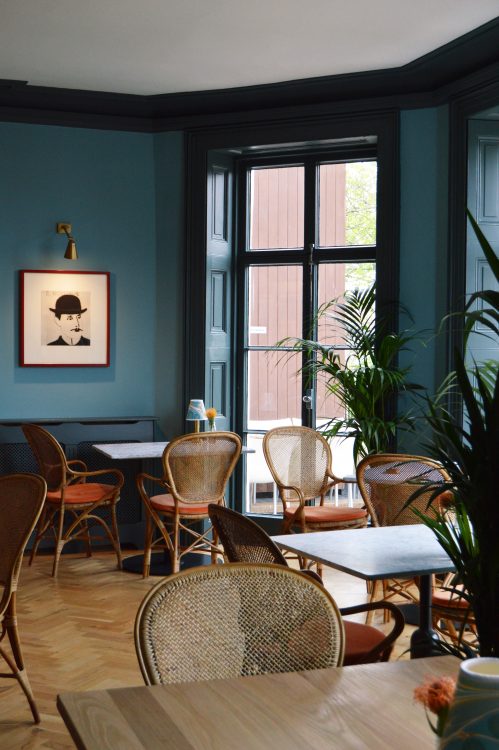 The lunch menu offers two options – a light options with open sandwiches, salads and cakes, or, as we opted for, a two or three-course set menu. The dishes are traditional with a contemporary twist, using fresh ingredients and complex flavours.

To start, my guest enjoyed a colourful plate of Torched Mackerel with fennel, mixed pepper escabeche and a spring onion mayo. Beautifully presented, it was as delicious as it looked and a generous portion for a lunchtime starter. I went for the Ham Hock Salad – vibrant green with thick chunks of hock ham served on a flavoursome salad of baby gem lettuce and peas, served with a pea and vanilla custard.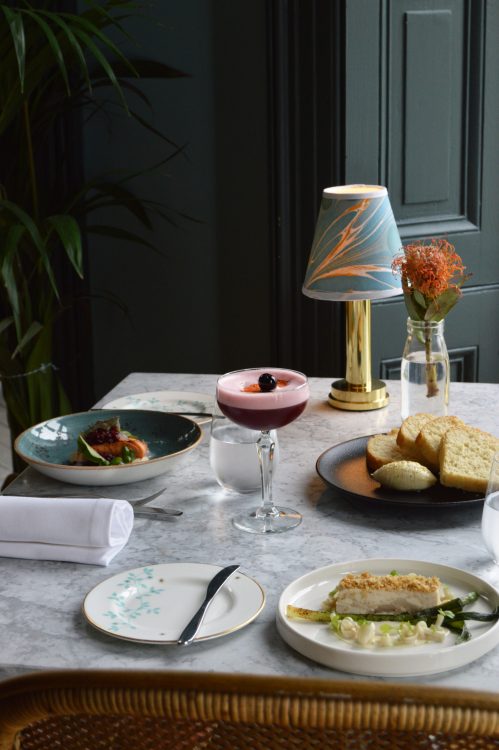 Next, I ordered the Flatiron Steak, which was cooked to perfection, tender and purple-pink to my liking, accompanied with chimichurri and a delicious creamy garlic mash potato, baby plum tomatoes and crunchy sugar snap peas that set the dish off perfectly. My guest dined on the vegetarian dish of the day which was Salt Baked Carrots with wild rice, chickpeas, cumin, hummus and spiced tomato relish. It was an innovative dish with complex flavours which complimented each other perfectly – and so refreshing to have an unusual vegetarian option.

Andy Cole, the head chef at the Bingham Riverhouse, enjoys using fresh produce to create healthy dishes which was evident in our dining experience. We were full and indulged, but our meal didn't feel too indulgent.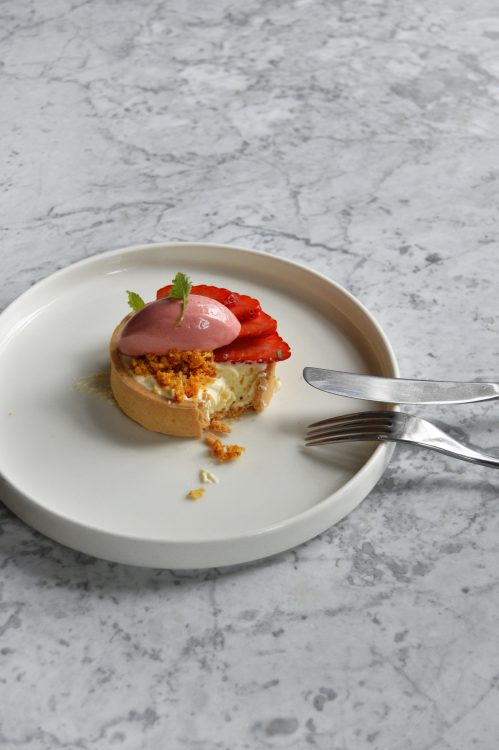 It would have been rude not to sample dessert so I selected the thick and creamy Lemon Posset with raspberry pearls, a white chocolate crumble and raspberry sorbet, which was incredibly moreish, while my guest opted for the Mascarpone Cheesecake with compressed strawberries and wild strawberry sorbet – a great classic.

Time whizzed by quickly as we enjoyed the delicious dishes and cocktails and chatted away – we could have spent hours more here in this lovely setting, people-watching as the world went by. 
The Bingham Riverhouse
61-63 Petersham Road
Richmond-Upon-Thames
TW10 6UT