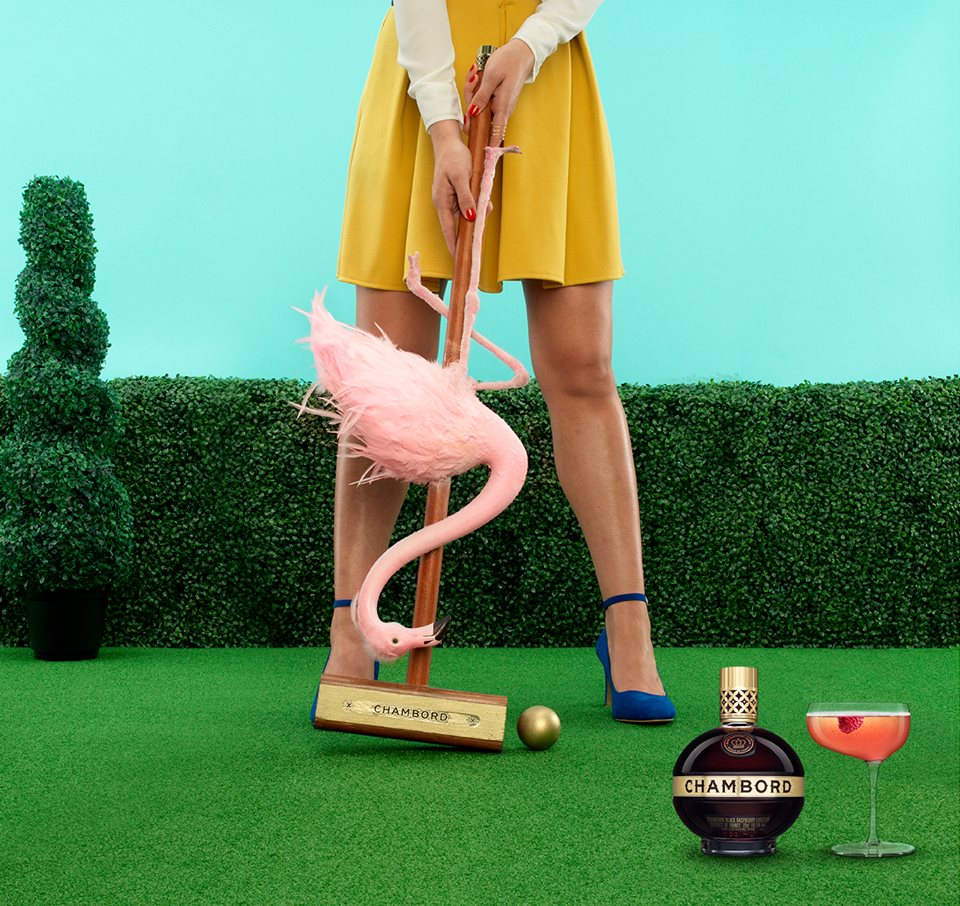 Tucked away from view, atop the winding stairs of the Hothouse building in Hackney, something magical is taking place. Proof's all-new rooftop terrace and bar are hosting the fantastical Chambord Chapter Eight Games; a fantasy world inspired by Alice's Wonderland no less, complete with a flamingo croquet course to nudge your way round; exquisite Chambord cocktails served in their unique flamingo-shaped glasses, and delectable food created and served by French American street food company, Le Bun.
After receiving such an invite, I couldn't wait to see what awaited us. As my friend Sophie and I walked towards the Hothouse building, we could see groups of excited guests making their way to the entrance where an archway of roses welcomed them inside before they disappeared out of sight. We made our way towards the doorway where we were warmly greeted before selecting a time to 'tee off' for a game of flamingo croquet. We were then directed under the archway and led up a long staircase decorated with bright pink feathers all the way to the top.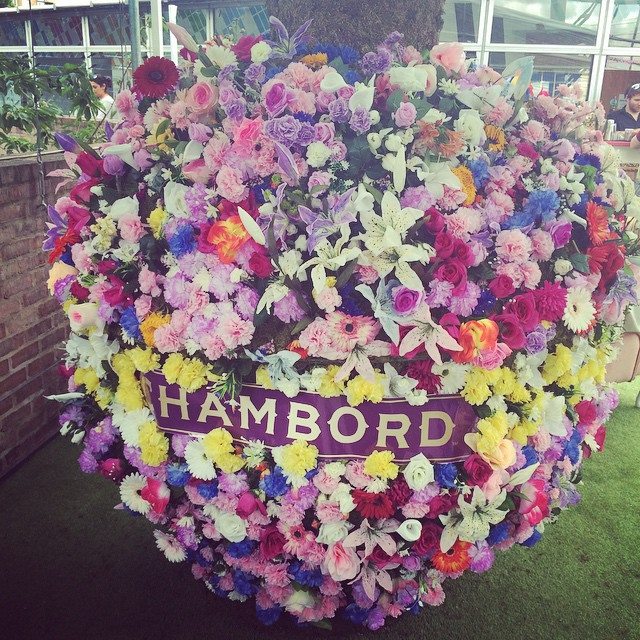 The rooftop was as magical as I had hoped. Green turf stretched out in front of us and croquet 'hoops' had been decorated with oversized fruit, Chambord bottles, trumpets and cocktail shakers. Competitive guests were in full swing, using flamingo-shaped mallets in true Alice in Wonderland fashion. A giant sculpture of the iconic spherical Chambord bottle made entirely from brightly coloured artificial flowers was the focal point of the rooftop and stood at the end of the course while guests admired.
Sophie and I were immediately greeted by a waitress carrying a tray of Chambord Royale cocktails, one of two concoctions created especially for the event, each served in a flamingo-inspired glass and with a single raspberry bobbing around in each. As we sipped on our delicious drinks, we moved towards the seating area – a row of colourful beach huts with benches and tables installed where party-goers could sit and observe the croquet. Table decorations came in the form of oversized bottles of Chambord's Raspberry Liqueur, of course.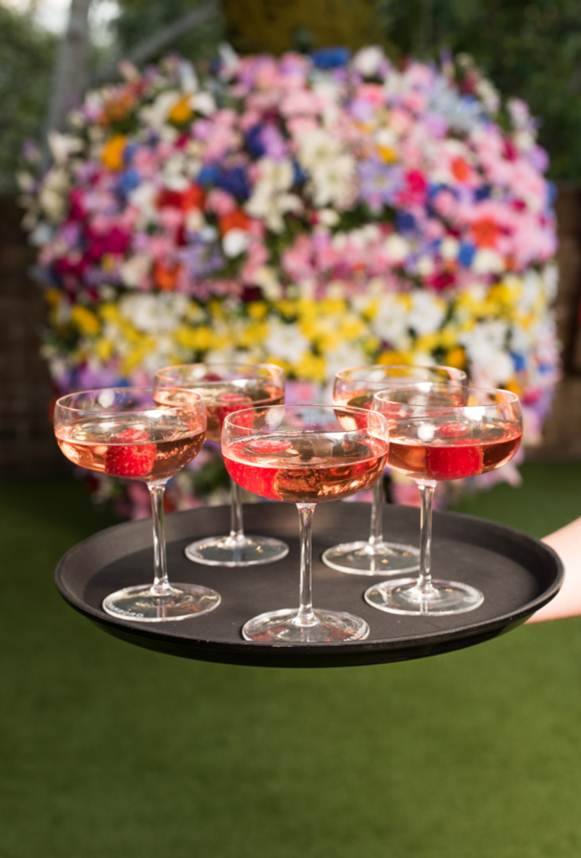 When it was our turn to play a game of croquet, we excitedly headed towards a shack-like booth at the start of the course where we collected our flamingo mallets and balls. I must say my memory for the rules of croquet were a tad foggy, but thankfully we were given a handy set of guidelines to remind us and two helpful ushers offered tips as we made our way around the course. After a few dodgy swings, wayward balls and endless laughter, we managed to get in a few good hits before reaching the finish.
The enticing aroma of the food beckoned us over and we were promptly treated to two varieties of mini burgers courtesy of Le Bun, a French-American street food company specialising in putting a US diner spin on French Bistro dishes. Served to us were their delectable 'Le duck frites bun' with pulled confit duck, duck sauce and champagne slaw, and the 'Le chevre bun' featuring blowtorched goats cheese, truffle dijonnaise and house slaw, both served in a brioche bun. Each was as delicious as the other and went down a treat with our cocktails.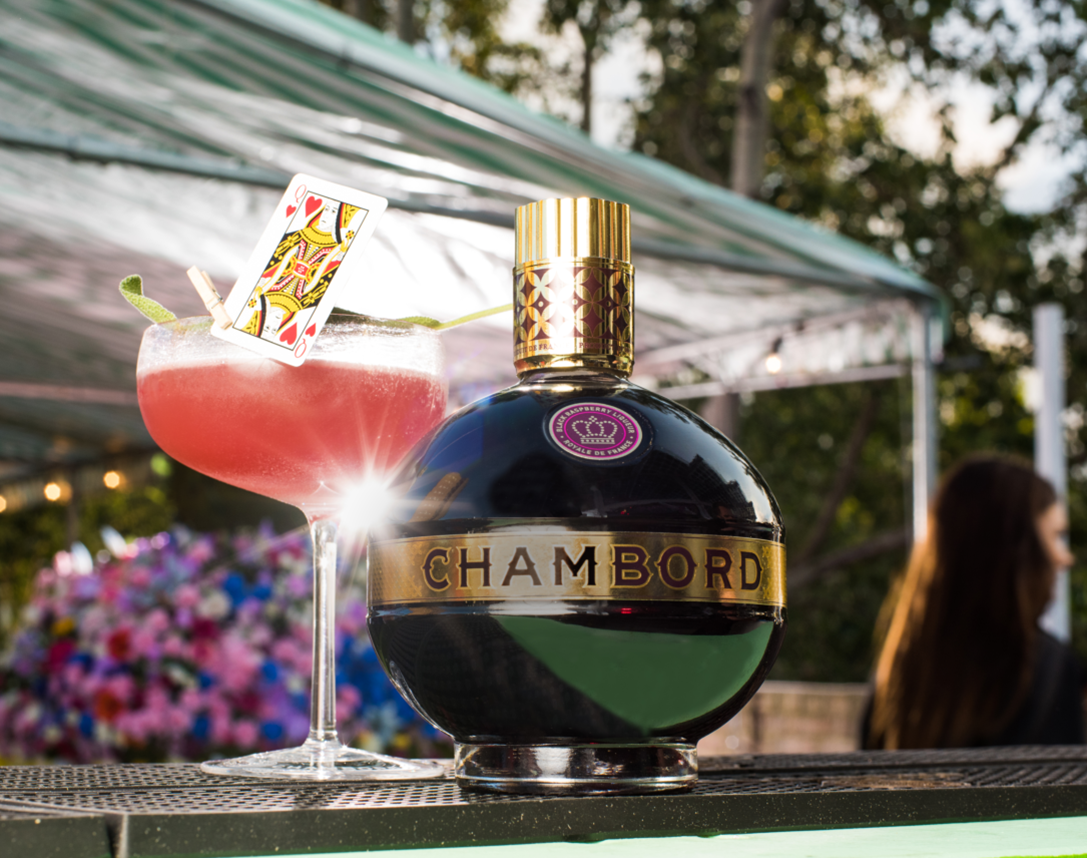 We stood overlooking the park as the last of the light disappeared, the music still playing, the rooftop still brightly lit and filled with cheery guests in conversation, and with those taking up their mallets for a second time that evening. The bar at the end of the rooftop was now serving a second variety of cocktail featuring the Chambord liqueur and grapefruit juice, each with a miniature playing card pegged to the glass edge.
Before we started our second game of croquet, the photographer asked Sophie and I to pose for a few pictures with some other guests next to a mini set they had created with the mallets and bottles of Chambord at the start of the course. We then proceeded to play our rematch, this time becoming a little more competitive and determined to win. After settling the score we thanked the hosts and made our way to the exit and to our delight were handed a miniature bottle of Chambord raspberry liqueur each on our departure, with an Alice-in-Wonderland-esque note tied around it in ribbon.
With the creative minds of East London design-duo Benny and Tom, Chambord had managed to transform the Proof rooftop into a wonderland of curious and fanciful delights, with every detail carefully considered to create a truly fantastic night for its guests. A party fit for Alice herself.