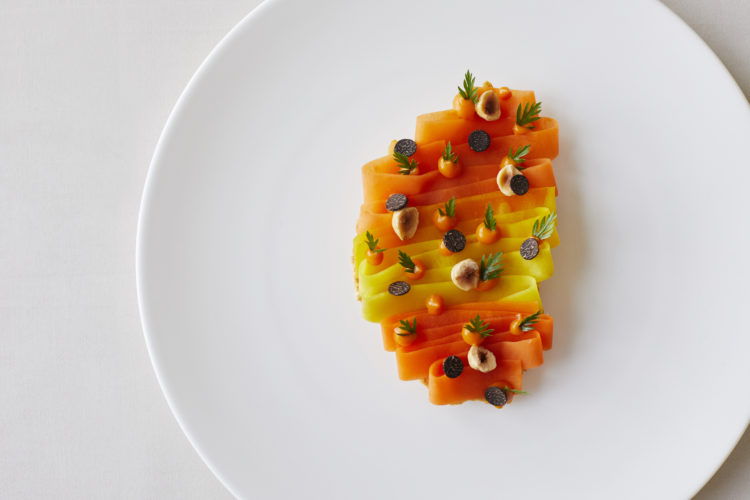 Set in 240-acres of idyllic parkland, Coworth Park is magnificent in all seasons, as a romantic bolthole with crisp golden leaves, roaring fires and twinkling lights in autumn and winter but it really shines in Spring when the iconic wildflower meadow is in full bloom.
At the heart of Coworth Park is the Michelin-starred Restaurant Coworth Park, led by culinary genius Chef Adam Smith. His innovative menu celebrates classic British cuisine using produce largely from the grounds of Coworth Park has been elevated stratospherically with his new bespoke six-course Tasting Table experience.
Prior to your meal, each guest is sent a questionnaire which delves into the meals that shaped your childhood to what food would you drag yourself out of bed at 3am for. Inspired by your answers and his exceptional expertise, Adam creates a bespoke menu for you. It is pure magic, taking a mention of regular Sunday Roasts during childhood, Adam created the most glorious feast we have ever seen. His magnificent take on the classic roast consisted of tender Waterford Farm Salt Aged Beef, cauliflower cheese crowned with fresh black truffle, and Yorkshire puddings crammed with creamy mashed potato. We promise, it will be the most unforgettable meal of your life.
Blacknest Rd, Sunningdale, Ascot SL5 7SE