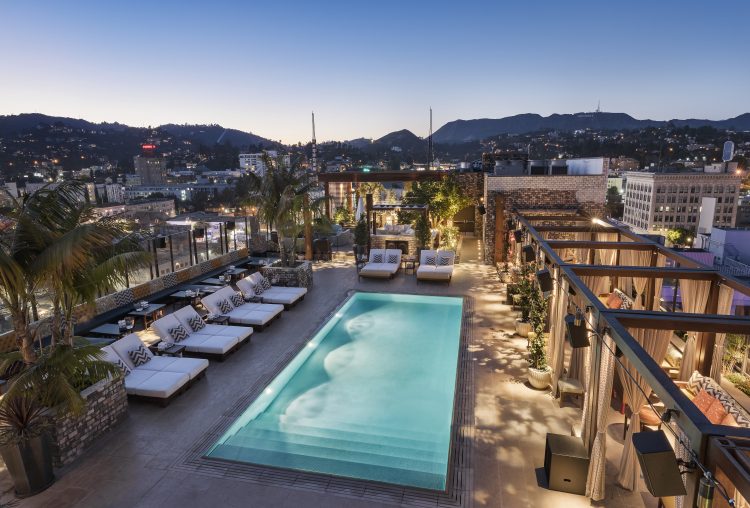 Overlooking the magnificent backdrop of the iconic Hollywood sign, The Highlight Room is part of the iconic TAO group and is located on the rooftop of the Dream hotel and offers one of the most unforgettable rooftop experiences in Los Angeles.
The 11,000 square foot space offers 360 degree views of LA and is perfect for a private party or equally as impressive just for dinner. There is a sun-soaked pool deck, spacious lounge and garden restaurant. There is no better way to spend an afternoon than soaking up the Los Angeles sun by the pool, with a pitcher of Bubbles & Berries, made with Taittinger Blf Champagne, Belvedere vodka, St. Germain, fresh strawberries and cold pressed lemon. The garden restaurant is a marvel, teaming fresh ingredients, astounding scenery and innovative dishes. The Duck and Waffles are a must-try, the duck is tender and juicy and the warm, sweet, fluffy waffle is the perfect accompaniment. 
There is VIP seating and 2 DJ locations, so whether you fancy a healthy brunch in the sunshine or want to rub shoulders with celebrities such as Leonardo DiCaprio, Nas or Hailey Bieber on the dance floor, The Highlight Room is the place to be.

@thehighlightroom
6417 Selma Ave, Los Angeles, CA 90028, USA