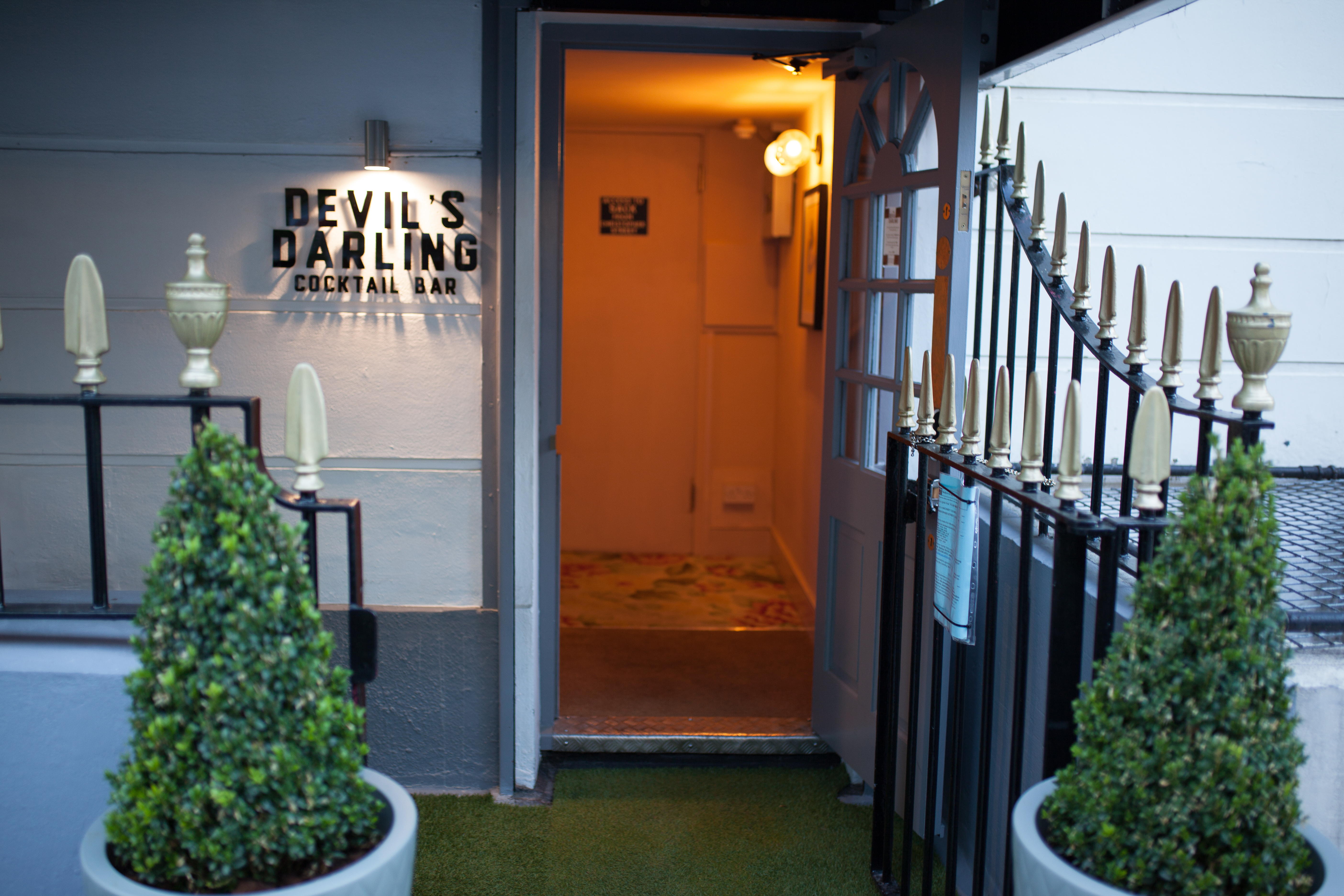 Over the past few months, there has been a great buzz around London's "smallest grand hotel". Newly renovated in 2017, the venue presents a rather enticing premise: one lovingly designed hotel room, generously complemented by not one; not two; but three exceptional and exciting bars, all serving the room by a unique service elevator. Through this magical hatch, one may experience a wealth of mixological prowess, without even leaving the comfort of the wondrous kingsize bed. In short, the Napoleon Hotel is designed to be a haven for the cocktail lovers of London and beyond.
The brainchild of Tom Aske and Tristan Stephenson, both highly respected and accomplished experts in the fields and hospitality. Stepping inside through the wrought iron gate at its entrance, the reason as to why became quickly apparent.
There truly is something for everyone, with each of its three bars offering something completely different and unique: On the first floor, Devil's Darling serves up a menu of three classic libations per night (although plenty more options are available upon request); on ground level you will find Sack, a space that prides itself on its knowledge for all things sherry; and finally the sultry temptation of the basement bar, Black Rock which is home to some of the rarest whiskies in London and even has an oak tree table at the centre. Aske and Stephenson went one step further and dug trenches into the wood, in which they now age their very own American oak whiskies. Clearly, at the Napoleon Hotel, experience is king.
Following the direction of our expert hosts and bartenders, we ascended the staircase to the Napoleon Suite to drop off our overnight bags and freshen up before taking our seats by a tall window in Devil's Darling.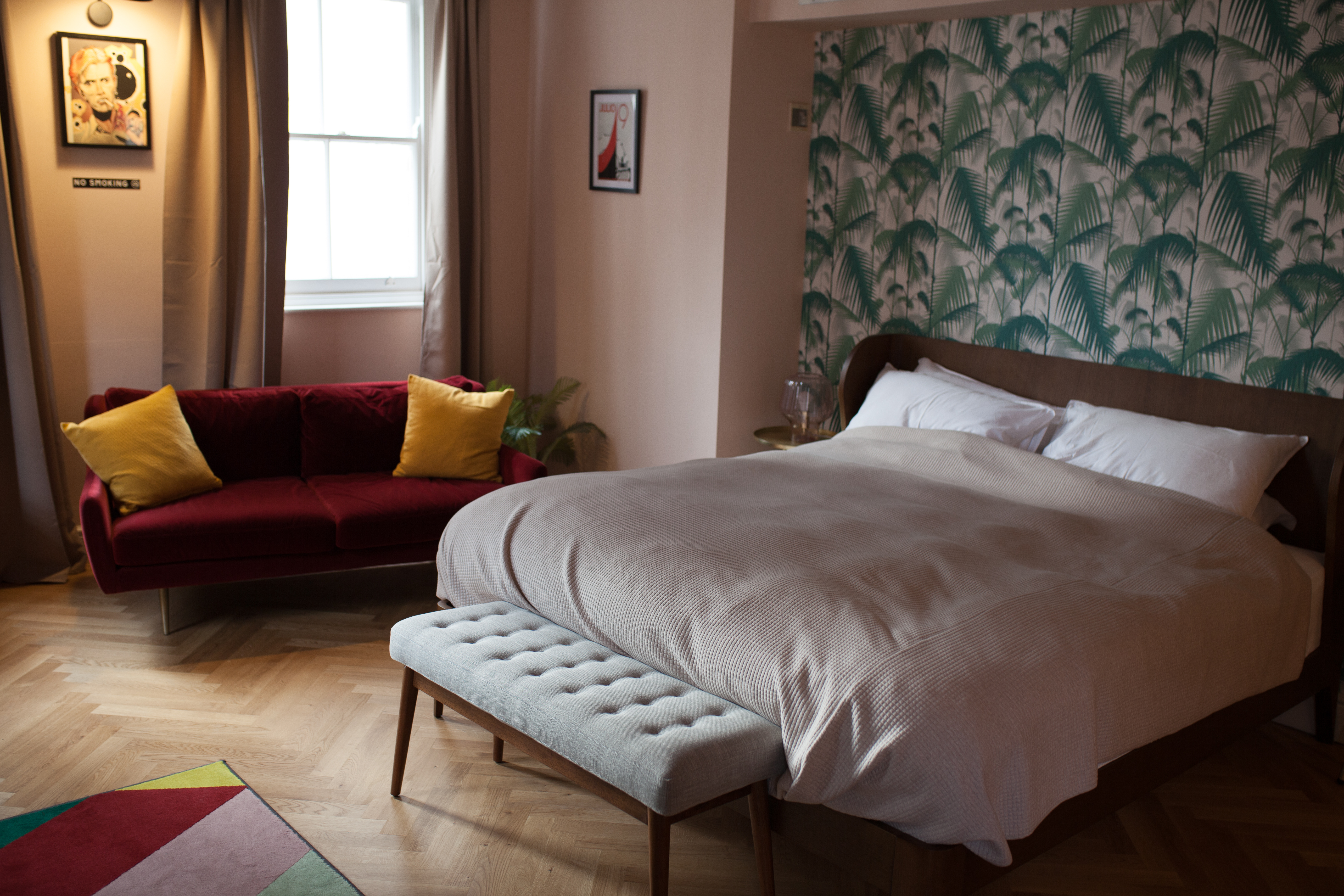 For something that only costs a mere £180 per night, the 430 square foot suite offered a great deal: An Amazon Echo Dot set the mood with free premium Spotify; Tristan Stephenson's collection of written works, including 'The Curious Bartender', 'An Odyssey of Malt' and 'Rum Revolution' provided the intellectual with their reading material; and last but certainly not least, the best minicar-cum-drinks-trolley of any hotel I've come across.
Featuring the entire range of Aske-Stephenson's hand-bottled, wax-sealed cocktail creations, the experience extended far beyond last orders at the bars. From the creamy Flat White Russian to the smoky Cigar & Coffee Manhattan, and the surprising Sesame & Popcorn Daiquiri to the deliciously moreish Peanut Butter & Jam Old Fashioned (each presented in 70cl decanters) there was no room for any form of cocktail envy, and with a large block of ice in the freezer, there was even an opportunity to hand-chip your very own cooling ice spheres.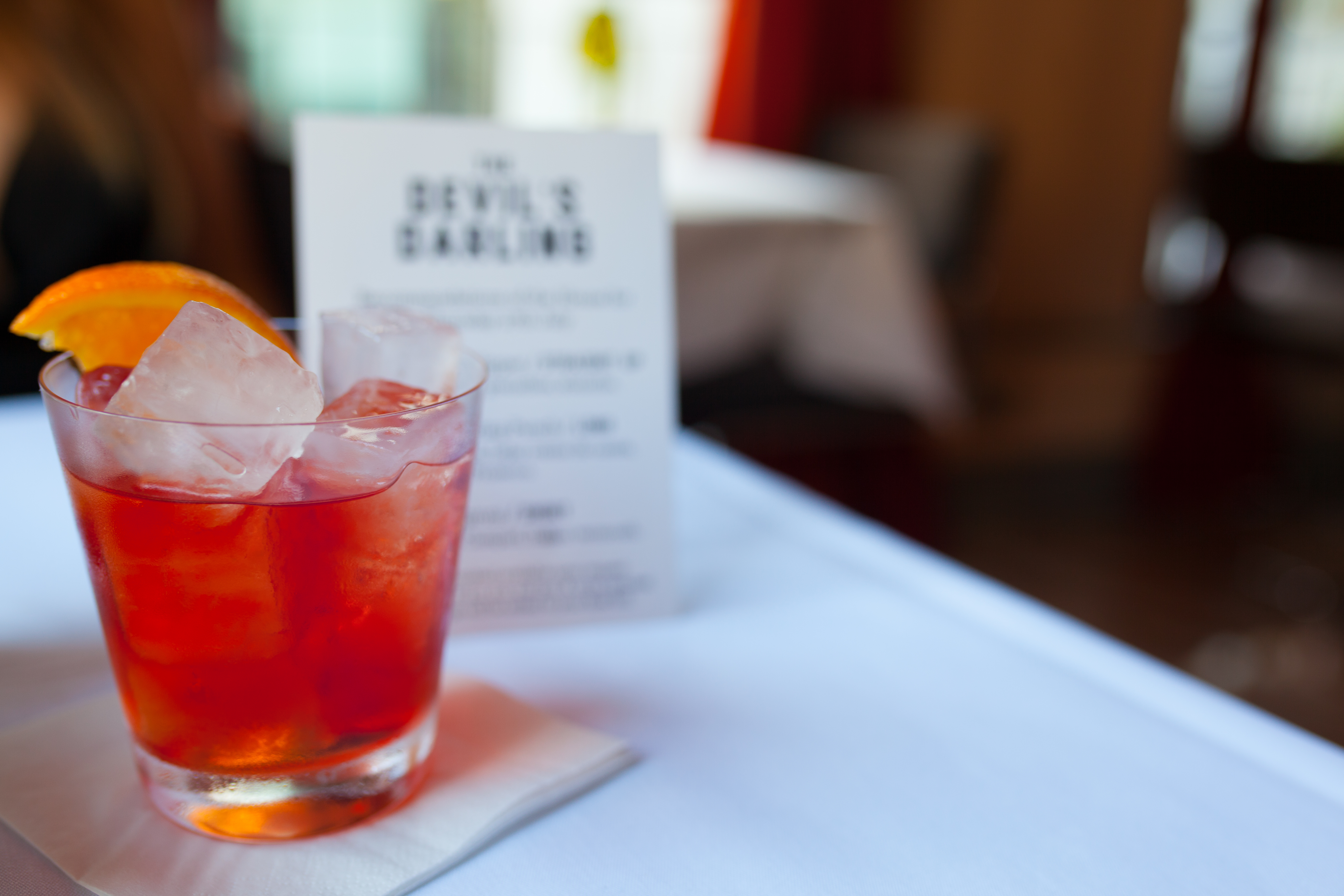 Descending a level back down to Devil's Darling we were greeted with a champagne dish of bubbles, enjoyed as we pondered the three drink list. On the evening of our visit this offered: the straight-up Pan-American Clipper, with Calvados, Lime, Grenadine & Absinthe; Russian Spring Punch served long with Ketel One Vodka, fresh lemon, Creme de Cassis and Prosecco; and the moreish Tanqueray 10 Negroni which, for me, offered the perfect introduction. You can't judge a book by its cover, but you can most certainly judge a classic cocktail bar by its Negroni – as I said, this one was the perfect introduction.
Naturally, my friend opted for something a little more citrussy, and soon our bartender surprised her with a Silver Gin Fizz – a long, well-balanced tipple mixing gin, lemon, superfine sugar and egg white, before being topped with soda in a highball. The bitter lemon flavours danced with the aromatic gin, whilst the egg white foam lent a smooth, textural element. What I found particularly wonderful, was that neither of these cocktails were served with a straw, and the staff were unapologetic about this: "It's simply us doing our bit to save the world", our knowledgable bartender imparted.
Of course, with three bars and an unlimited vintage drinks trolley to enjoy, appetisers were definitely needed. As a classic cocktail bar, Devil's Darling offered classic nibbles: large green and black olives, and a generous mix of salted peanuts, cashews and almonds, all served from an ornate silver stand.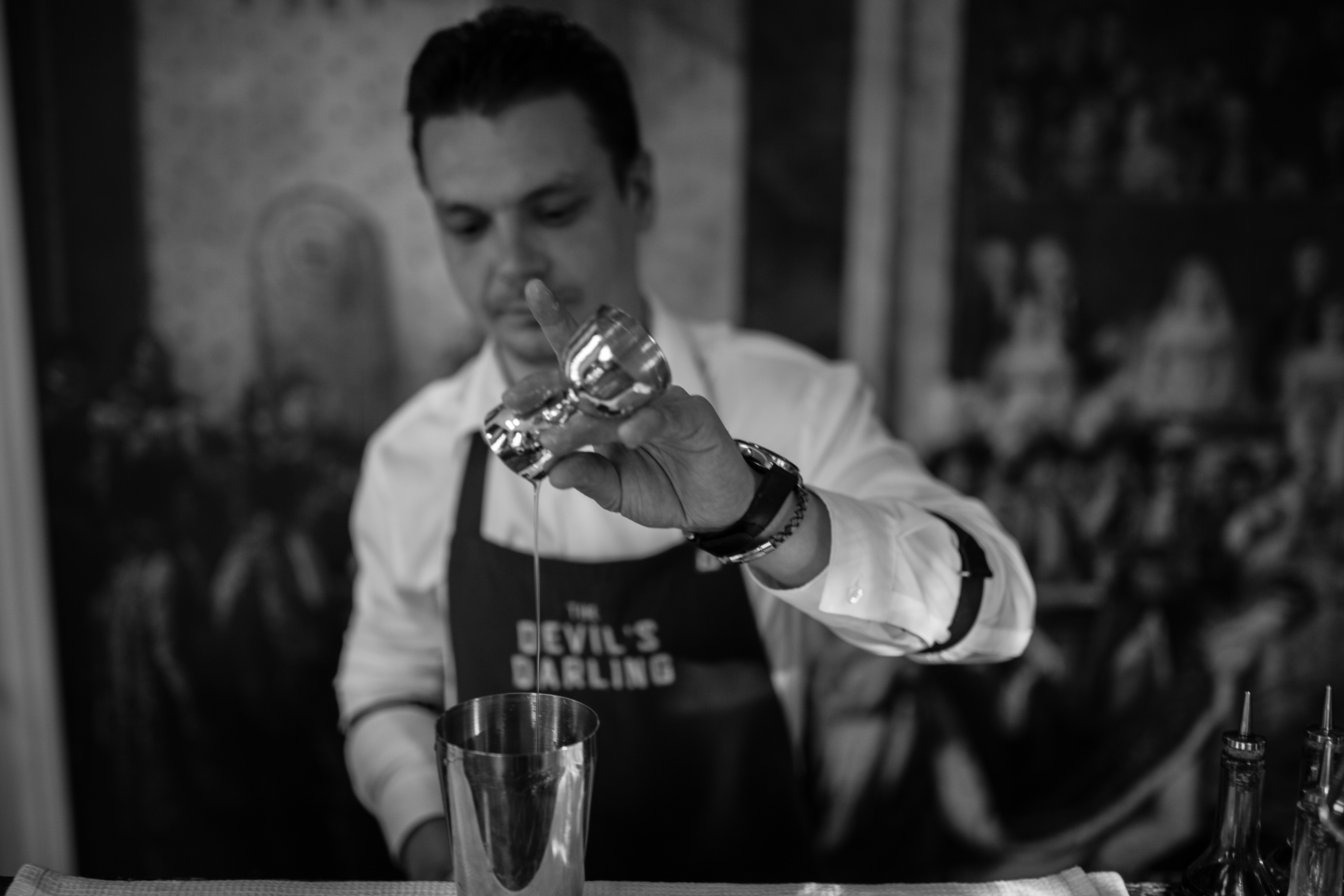 The clever guys and girls at The Napoleon suggest a downwards approach when sampling each of their bars, which works much like a wine or cheese tasting: start with the delicate, intricate flavours of classic cocktails in Devil's Darling; descend into a Spanish-inspired, raisin-led sherry haven; and then allow the rich, mellow flavours of Black Rock to consume you as you consume them into the early hours. Obviously, this is just what we did, so following two more delicious drinks – including The Bicycle Thief with Gin, Campari and Grapefruit – we descended the stairs once more to a soundtrack of 80s and 90s music from the corner record player, leaving through the wrought iron gate and wandering around to the entrance of Sack, the in-house sherry destination.
Everything inside Sack screamed sherry as was presented extremely authentically: old sherry barrels acted as seating, tables and even formed part of the overall décor with bartenders incorporating the traditional serving ladle into their flair.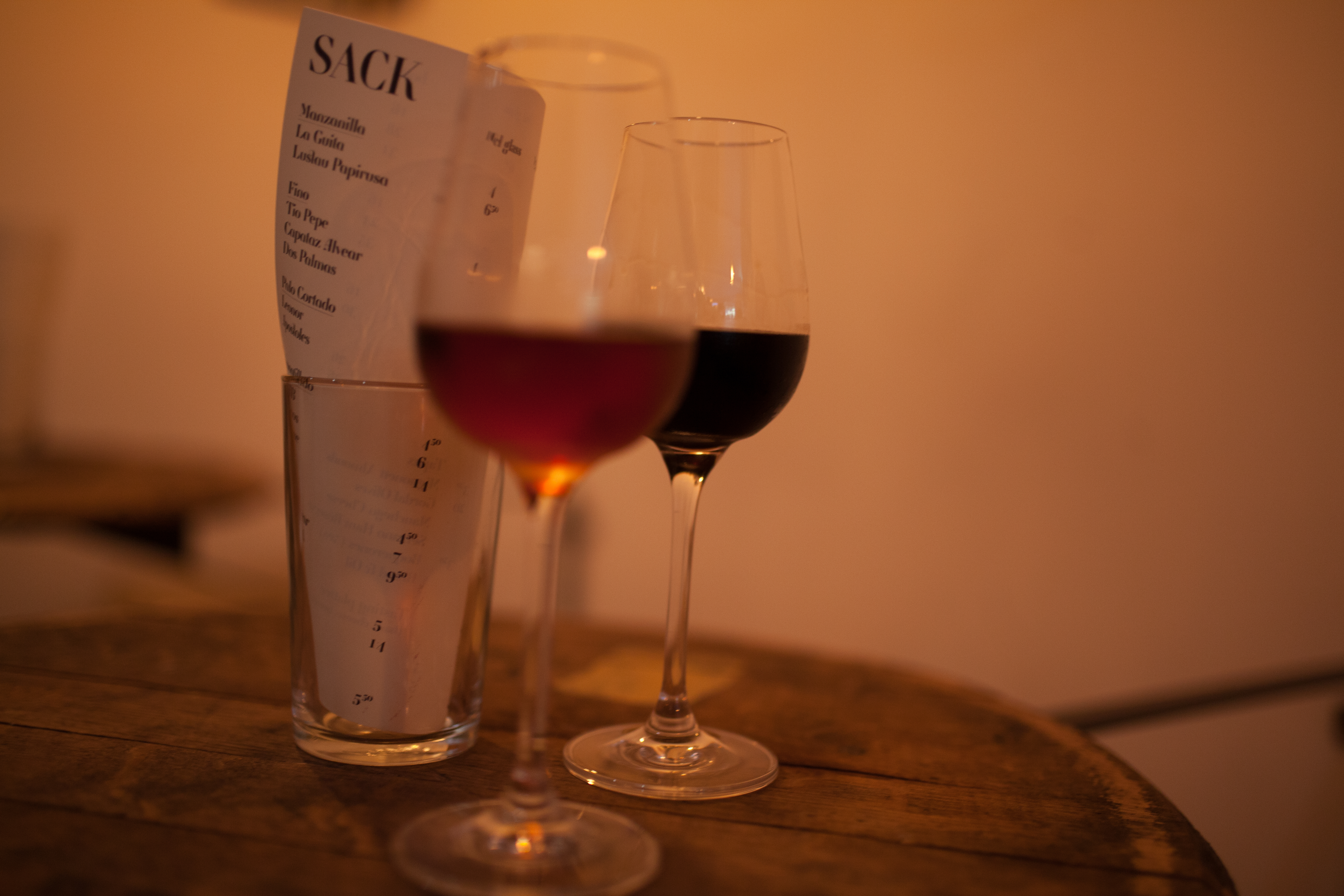 A variety of different sherry styles are available to sample, with anything from a Fino or Manzanilla to an Oloroso or Pedro Ximénez. You name it, Sack had it, but perhaps the most standout element of this bar was its ability to surprise the palate with sherry adaptions of familiar classics: the Jerez Mule; Olé Fashioned and Fino Spritz provide a fun playful take that challenged the traditional perception of sherry – particularly in England – as something your Gran drinks at Christmas before nodding off in the corner. Sack, alongside a few other bars in London, is making sherry trendy and cool like never before. Complemented by charcuterie and hard cheeses, Sack provides the perfect, laid back environment to wile away evenings all year round.
Last but not least – and not even last due to the array of bottle-conditioned cocktails awaiting those chipped ice spheres in our room – we headed into the dimly lit depths of Black Rock. In advance of my visit, I was told to prepare to be amazed by the sheer volume and selection of rare and ultra-rare whisky on offer. Clearly I hadn't prepared myself enough. Huge glass whisky and whiskey display cabinets covered the length of the room's longest wall, with everything from Scottish to American to Japanese and everything in between available. None of these were marked by price but, simply by colour dots on the neck of the bottles denoting a price range. Apparently this priceless method encourages people to step outside their comfort zones and depart from the familiar to the unknown. As whisky tastings go, this stands to be the experiential journey of discovery I have come across. And those whisky ageing grooves in the fallen oak table? Well one of them originally housed a house cherry liqueur and so the wood in that compartment now imparts a deliciously fruity note to one half of Black Rock's very own drams.
Now everyone knows that the best way to taste a whisky, experiencing its full depth of flavour, is to add water. For this reason, each seating area comes complete with a tap to do just that. Perched on a bar stool at a tall table, we perused the cleverly put together cocktail list that separated the drinks into Beer, Highballs and Cocktails. For the Highballs & Cocktails these were defined by characteristics: Balance; Fruit; Spice; Smoke; Fragrance; Sweet. Again, our bartender explained: "This helps people to try new things and discover new, amazing flavours – that's what Black Rock is all about".
As drinks flowed – including a light scotch and home-made ginger ale number, and an intense smoky concoction with Laphroig at its base and sipped through xantham gum – food again became necessary. Luckily, the food selection in Black Rock is the largest on the premises and features scotch eggs; veggie haggis balls and oysters, available raw or baked. With the hours becoming smaller, and the drinks smokier, we retired to our suite.
With Alexa blasting out every track requested and some unrequested (come on Amazon, the Scottish accent isn't that hard to understand), we took turns to chip big blocks of ice and sample each of Aske-Stephenson's six pre-bottled cocktails from the comfort of our super-soft cotton duvet.
The Napoleon Hotel provides a perfect base from which to discover alcohol and mixology like never before. It gives the opportunity to have your own personal in-room bartender without ever having to compromise your privacy; it offers a base from which to explore the bustling East-end of London; and with Aske and Stephenson at its helm, you can guarantee that you are in the safest of hands.
Book your ultimate voyage of discovery today and get ready to experience drink in a whole new light.
The Napoleon

9 Christopher St, London, EC2A 2BS
020 3633 1006