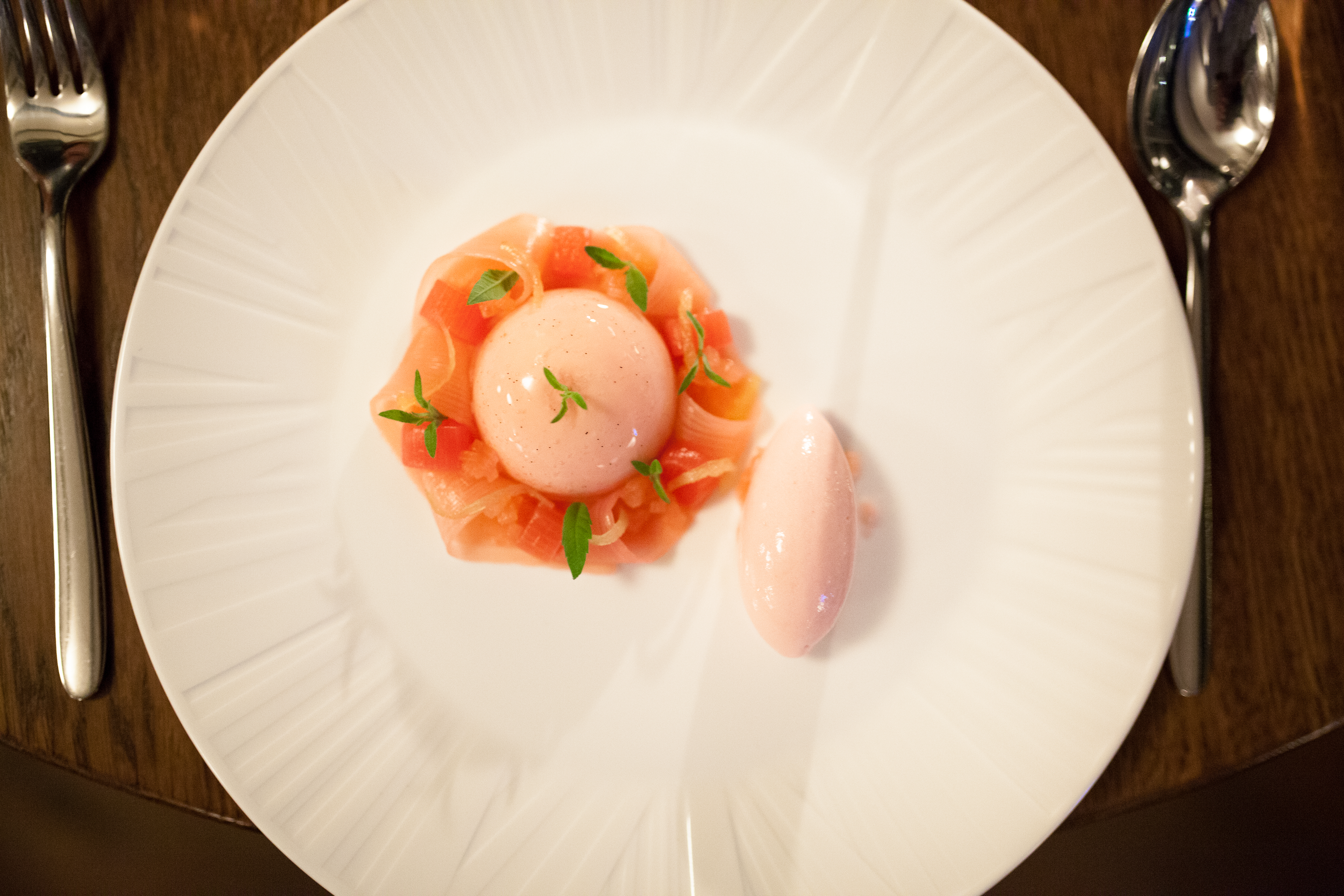 There is a lot to say about the newly opened Oxford Blue. Since its acquisition by ex-Restaurant Gordon Ramsay sous chef Steven Ellis in 2015, the quaint village pub and eatery, first opened in the 1800s, has undergone some remarkable changes that, according to its newest proprietors, "marry the finest elements of tradition with modern practicalities and comfort". Now featuring a state of the art kitchen, which includes a marble-top pastry counter (allowing the perfect temperature for moulding pastries and chocolates), its own on-site game hanging shed and five large herb gardens – "each the size of a good-sized jacuzzi".
At its heart, The Oxford Blue is a close-knit family-run establishment: in the kitchen Head Chef Steven Ellis runs a fantastically talented team of multi-talented employees, including his fiancée and pastry chef Ami; and front-of-house, General Manager Daniel Crump and his wife Margriet Vandezande-Crump – who created the extensive drinks list, designed to complement Ellis' menu – head up a small team of knowledgable and confident waiters and waitresses who, equipped with extensive training, provide an ultimately unforgettable experience.
It's all the tiny details that make The Oxford Blue such an experience. You're treated like royalty, here, regardless of your social status: the front door is opened as you approach it; every member of staff greets you naturally; your chair is pulled out for you each and every time you go to sit down; and, throughout, the service is impeccable – a level of service that one would expect from a Michelin hopeful. This, combined with fantastic, highly imaginative dishes leaves something particularly special.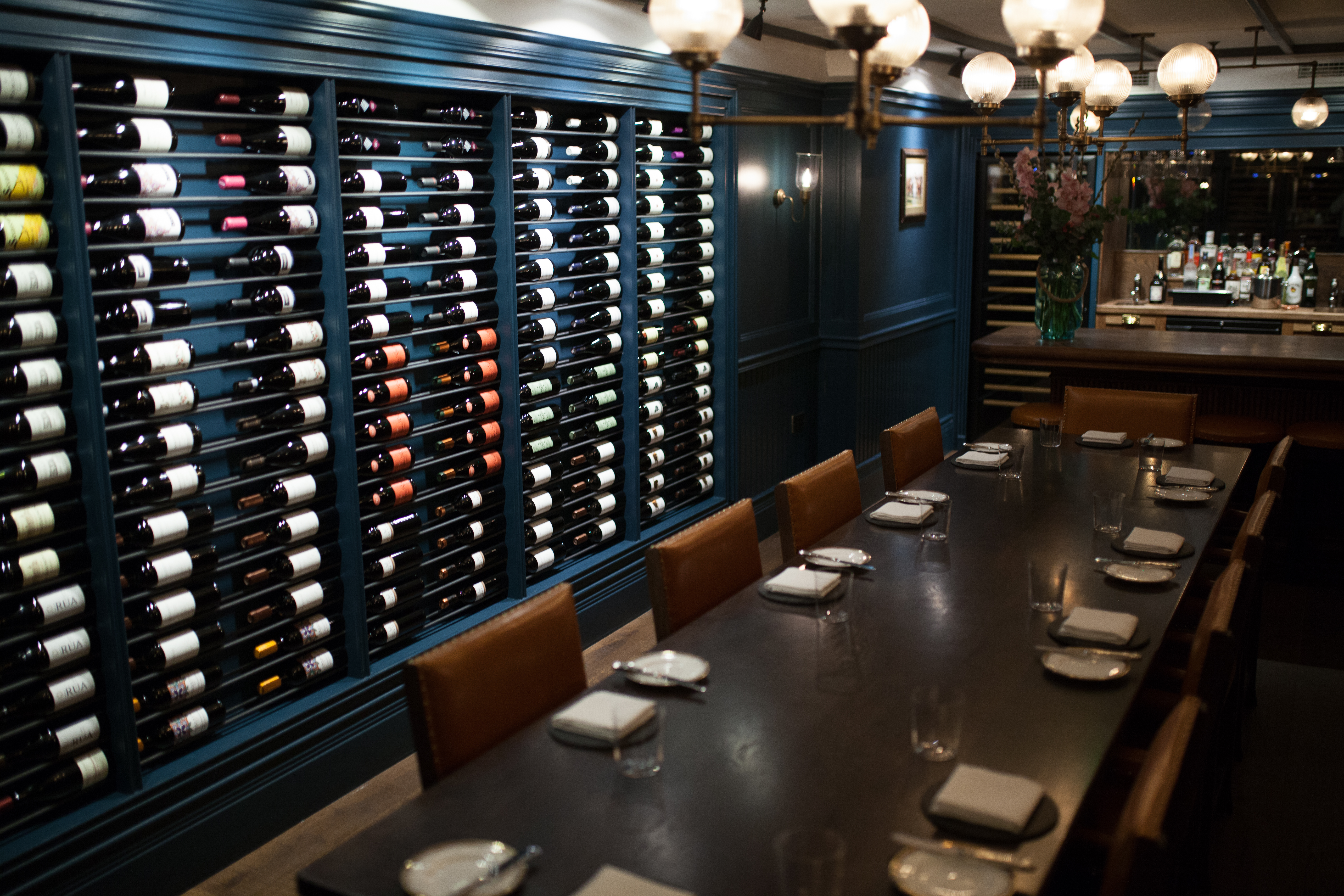 Entering the restaurant, glasses gleamed from above the bar and an open fire roared in the centre of the well-lit space as we sunk into two comfy armchairs in the bar area. The drinks selection is fantastic, with lagers like the local Windsor & Eton brewed Republika and the Kentish Chapel Down Special Brew on tap, alongside a variety of before, during and after-dinner cocktails, Luscombe softs and fine wines from all over the globe – a few of which we would be lucky to sample as pairings throughout the evening. These wine pairings are rather reasonable, too.
Upstairs in The Wine Attic – a private dining room featuring oak tables surrounded by wine fridges all at different temperatures to guarantee the perfect serve – guests may enjoy a three or six course 'Nose-to-Tail of Beef' culinary experience at just £90-per-head for 3 courses, including matching wines or £150-per-head for 6. For Daniel Crump, the space is particularly special as guests may "watch pheasants running across the rolling hills opposite as they enjoy the same on their plate".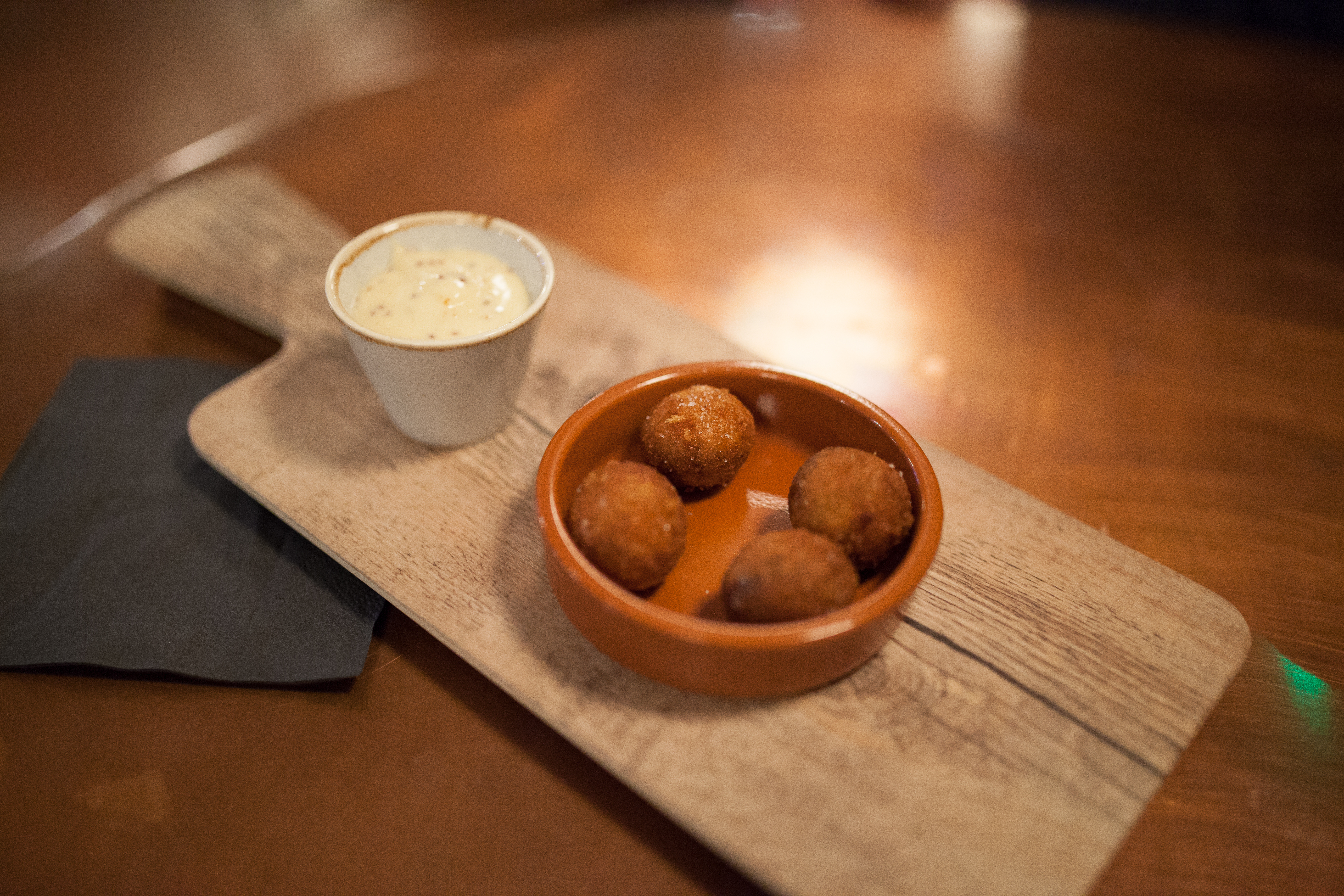 After a comprehensive tour, and nestled back in our fireside seats with a zesty lemon-led Sipsmith Gin & Tonic in hand the amuse-bouche arrived, giving the first insight into the quality of fare we were to enjoy. Biting into a perfectly round and juicy Venison Bonbon, game-led flavours exploded onto the palate, complemented by a wholegrain mustard dip.
Soon after our waiter, Josh, introduced himself and led us to our round, window-side table. The main restaurant was clearly focussed on quality of service: a waiter's station in the middle of the room with round tables and plush booths at its circumference, and from the very start the importance of a guest's experience to Ellis, Crump & team shone through.
As we waited for our starters and first wine pairing to arrive, Josh presented us with a small, paper-wrapped loaf of cider bread, freshly baked on-site by Ami that day and served with some of the most amazing butter we'd ever tasted. The Oxford Blue work very closely with Grant Harrington, creator of & Ampersand Cultured Butter who has "the sole target of making butter as buttery as possible". He's definitely onto a winner.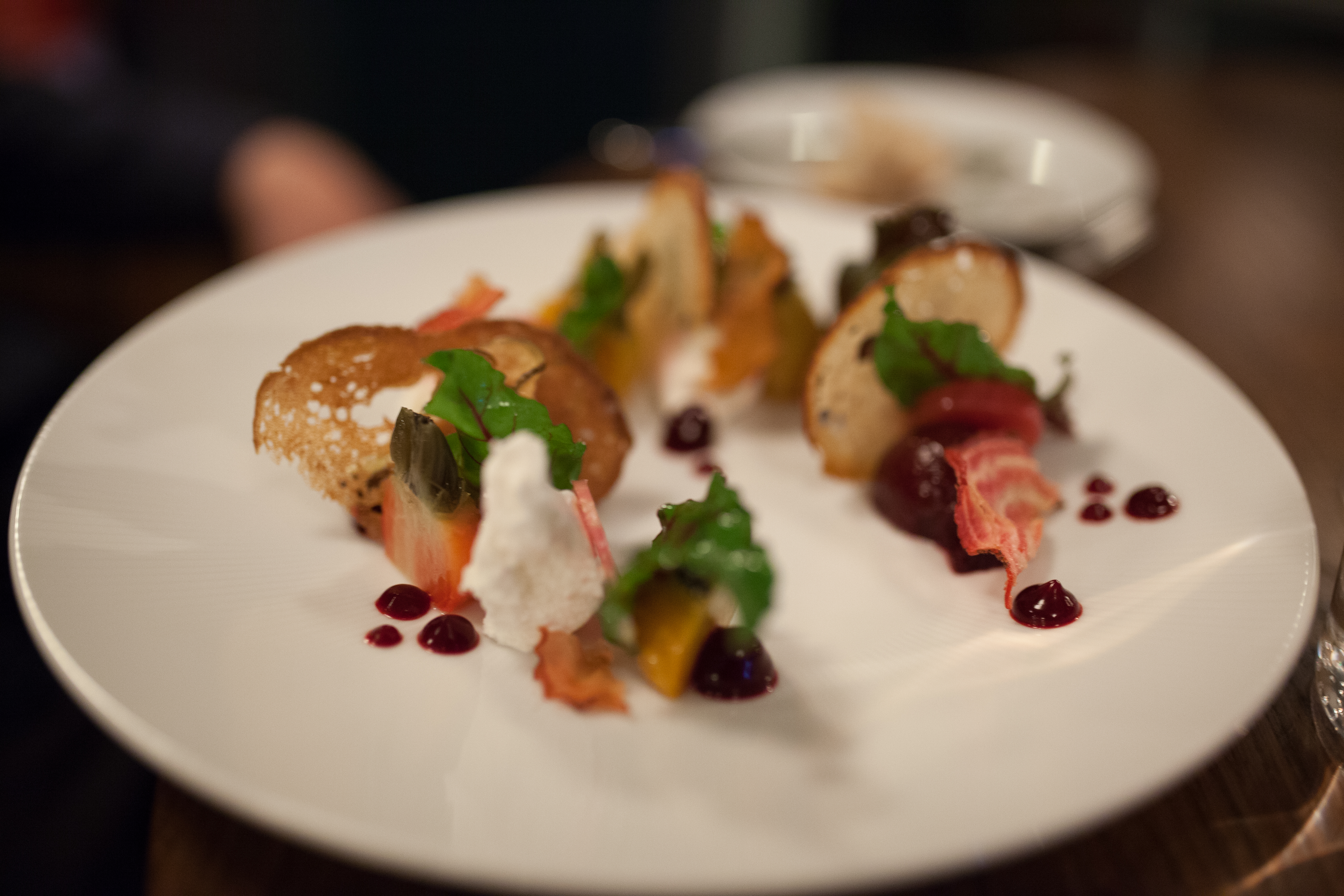 To start, we opted for two of The Blue's most popular dishes, paired appropriately. For Dave, this was a fantastic Beetroot dish with mouth-coating Smoky Goat's Cheese and Melba Toast accompanied by a delicious 2015 Grenache Gris/Cinsault rosé from Domaine de Bachellery. Meanwhile I opted for Ellis' signature dish, 'Braised Suckling Pig's Trotter' with Black Pudding, Apple Carpaccio and Sauce Gribiche with Edoardo Miroglio's wine SOLI from Bulgaria's Thracian Valley. An intriguing dish, Ellis told me: "The Pigs Trotter is a dish I have been working on for many years. The inspiration originated during my time spent at Restaurant Gordon Ramsay. The main reason I love this dish is because it shows people how delicious these not so popular cuts of meat can be if prepared and cooked with a bit more love and attention".
With a truly delectable first course complete, Daniel returned to our table with news that he "could not resist offering another course", presumably because we hadn't ordered a fish dish and Josh had already quizzed us for all possible allergies.
When the dishes arrived at the table, accompanied perfectly by two glasses of Vermentino from Les Vignes de L'Eglise, they looked rather majestic: four large succulent scallops atop a bed of al denté cucumber & potato balls, disguised by a sea-foam-like sorrel velouté, and interestingly served on a handful of real seaweed which, as Crump recalled, was not edible: "My Mum came in for dinner the other night and ate some of it – she's still not talking to me!"
In addition to these three fantastic starters, The Oxford Blue also offer one other particularly special starter experience: The Ploughman's. Upon ordering, a specialist trolley is wheeled tableside, where your waiter carefully carves Honey Glazed Dingley Dale Pork and garnishes the dish with Mrs. Kirkham's 12-month matured Lancashire Cheese, a freshly-baked Mini Loaf, Cabernet Sauvignon-pickled onions, Pineapple Chutney and an exquisitely fresh piccalilli.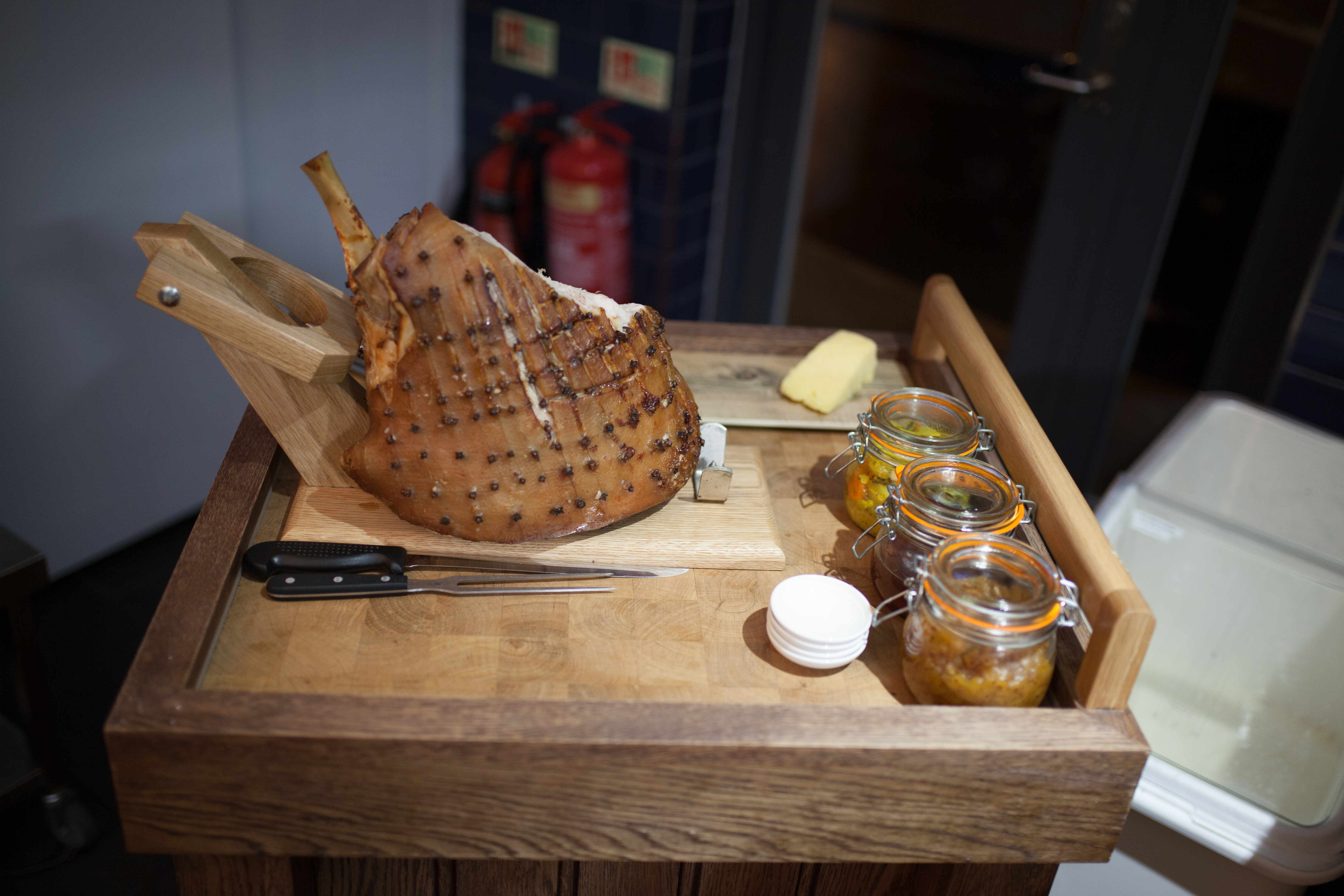 Although, perhaps one of the most standout aspects of our evening at The Oxford Blue was the moment just before our main courses arrived, when Josh walked to our table with a wooden box which, upon reaching us, he opened to reveal a set of Laguiole Knives, each in a different handle finish. They looked so impressive and it was such a great detail to have (and upon research, I found that each knife was worth around €72, so impressive seems to be an understatement!).
The main course brought our experience to a whole new level. Everyone I talk to who has eaten at the Blue has talked about – no, praised – the Confit of Chicken Pie. The aroma that rises out of it is captivating, and reminds you of roast dinners with your closest of friends and family and the taste that erupts out of it is second to none after your waiter pours a jug of gravy into a small hole in the top of the crunchy pastry, drenching the confit chicken and crispy chicken skin in exquisite moisture. It makes your mouth water just thinking about it.
The other plate on the table simply had to come from the specials of the night: Balmoral Estate Hare with a Game Suet Pudding, again soaked in rich gravy. The medallions were perfectly pink in colour while bones the diameter of cocktail sticks protruded from the thin cutlets dotted around an immensely flavourful suet date, walnut and game suet pudding and large al denté peas and kale added fresh colour from beneath. So rich in flavours and textures, the suet pudding could have been a meal on its own, but altogether the elements presented the decadent indulgence that you'd expect from a game-based dish. A South African Pinotage from Spice Route supported the richness of the suet, whilst another Bulgarian wine from Edoardo Miroglio – this time a light Pinot Noir – complemented the flavours of the pie without being too overpowering.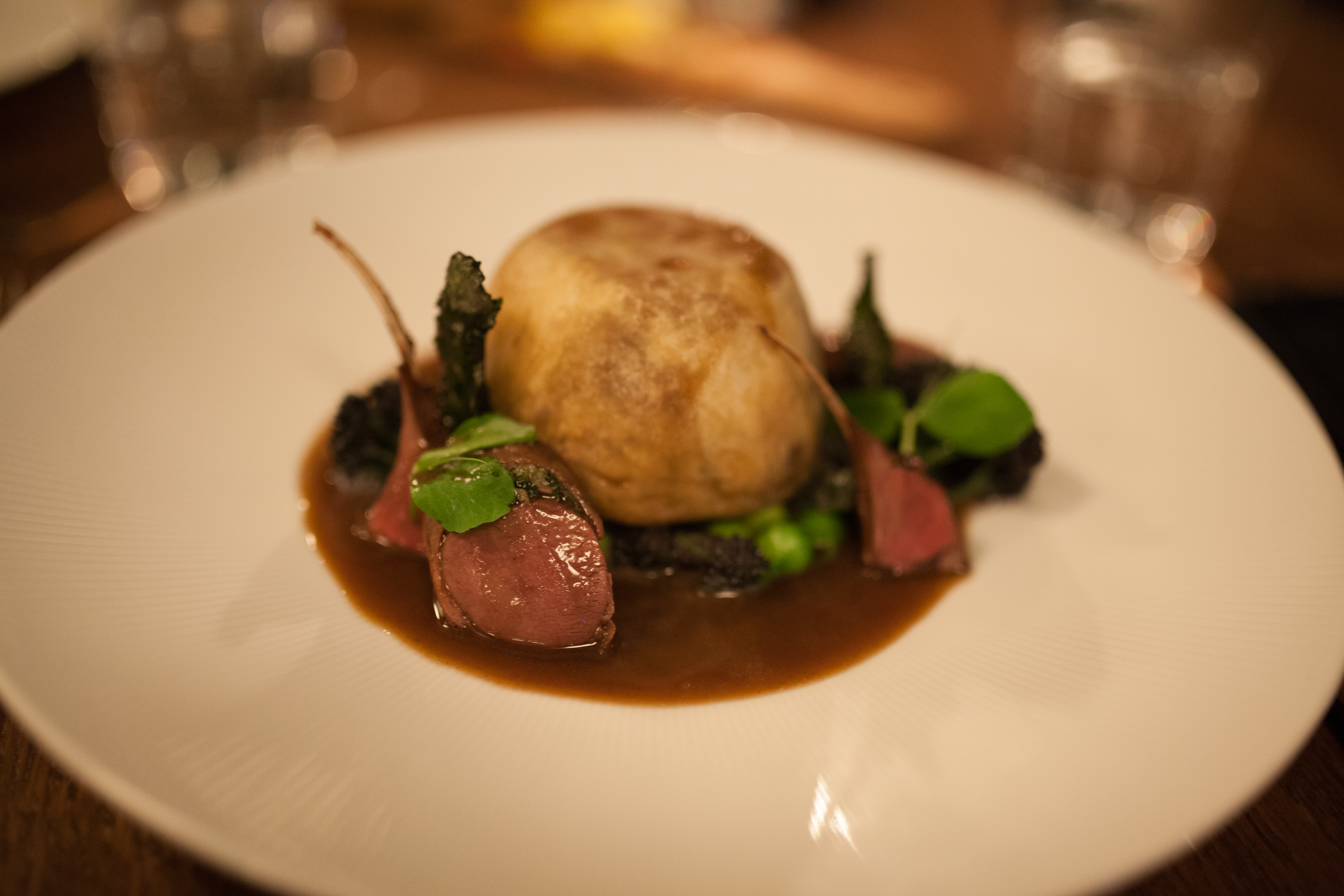 During our time at the table an entire ruby-red candle had almost completely burnt out without us realising. Time was really rushing past as we sat there enjoying what is one of the finest meals available in the Home Counties and, enjoying a well-earned break before our desserts arrived, we really appreciate this fact. Steven Ellis & Co. really have done an incredible job in what they have created on the edge of Surrey, and with support coming from everything from local magazines and online publications to The Telegraph, critics seem to be enjoying the new offering just as much as we did.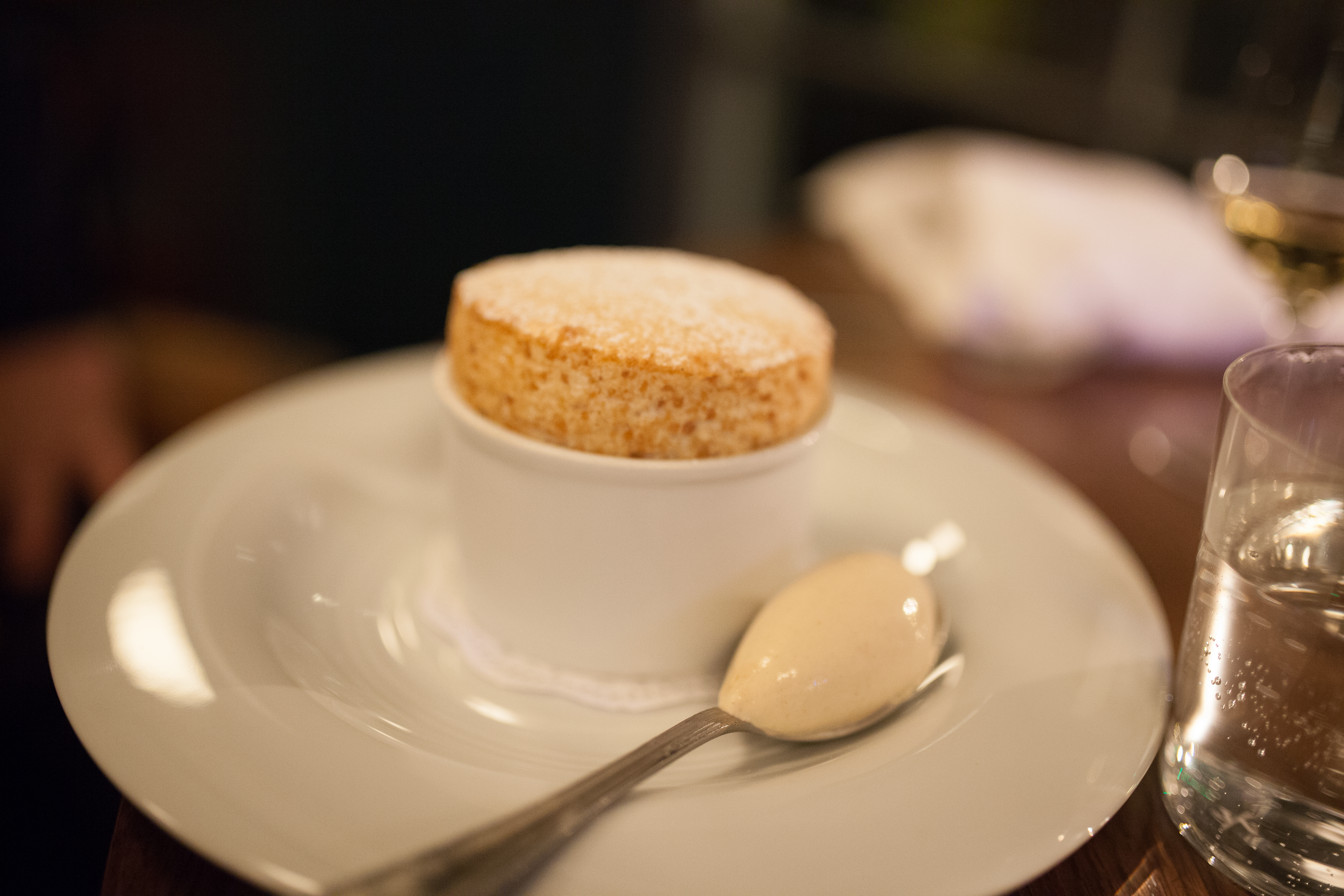 The final wine pairing of the evening was particularly exciting, with a choice of eight different dessert wines, ports and sherries on offer, selected to perfectly complement seven different dishes. A lover of all things Earl Grey, Dave jumped at the chance to try the Tregothnan Earl Grey Tea Soufflé with Biscuit Ice Cream, accompanied by a sweet, fragrant 100ml serve of Late Harvest Tokaji Katinka. Apparently Ami is so passionate about the perfect soufflé that she makes two every time one is ordered, and a dessert will never leave her sight until she feels it is completely perfect. And it really was: the soufflé was so full of air that it disappeared in the mouth the moment it entered.
On the other side of the table, I enjoyed a Moscato d'Asti di Strevi from the Piemonte region of Italy which presented delicate elderflower notes and accompanied my gingery Yorkshire Rhubarb perfectly alongside Bavarois, Lemon Verbena and a shot of homemade Rhubarb and Ginger Beer.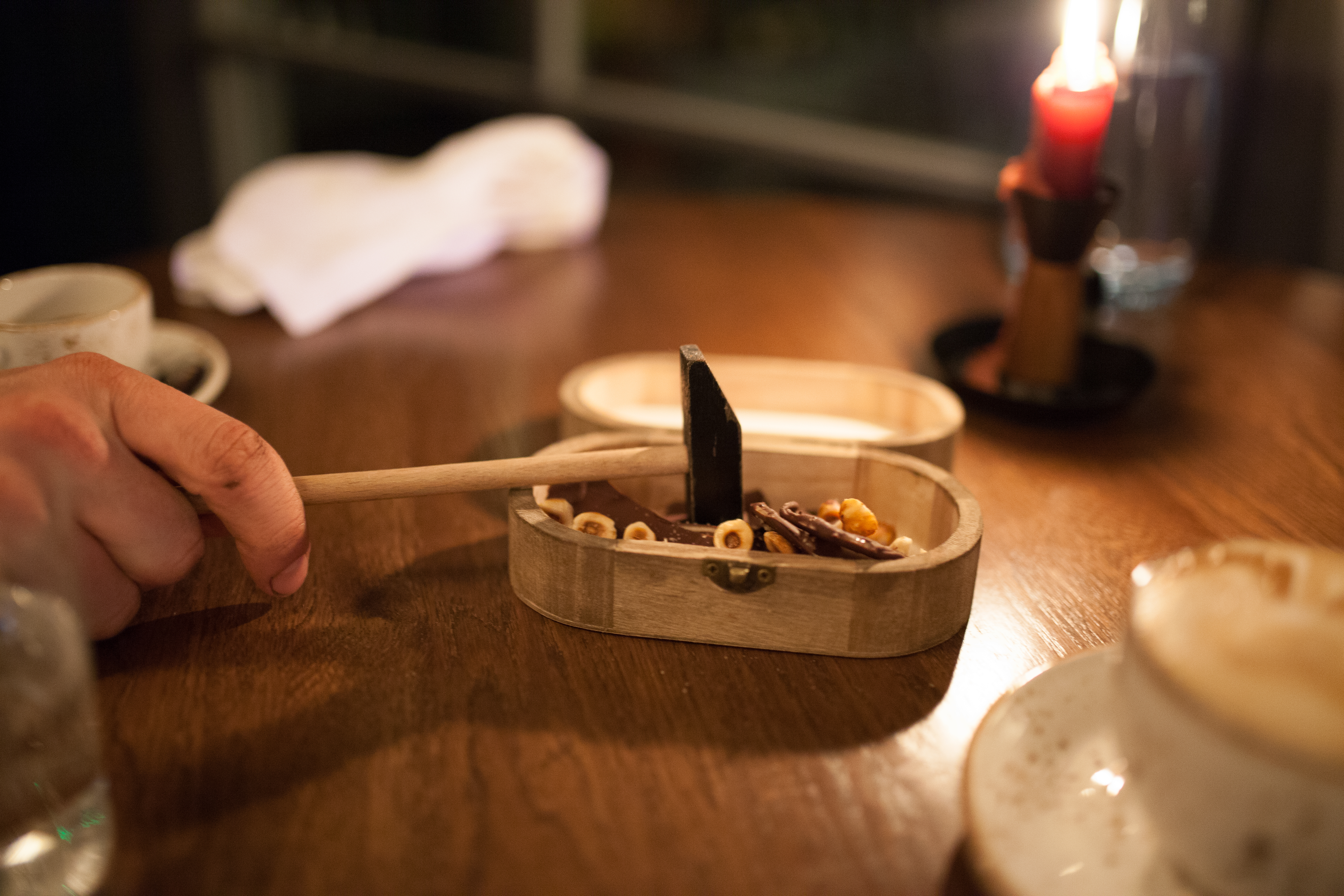 With desserts cleared and coffees ordered, it emerged that The Oxford Blue had one final treat for us as Josh placed a wooden box on the table with a small wooden mallet beside it. Opening the box he revealed a perfect homemade slab of salted hazelnut chocolate and the mallet's purpose quickly became clear. Sipping on a flat white that was neither too bitter nor too sweet we sunk into our chairs once more as the roaring fire raged on behind us and we smiled in appreciation of the evening we had just so enjoyed.
The Oxford Blue
10 Crimp Hill, Old Windsor, Windsor SL4 2QY
01753 861954