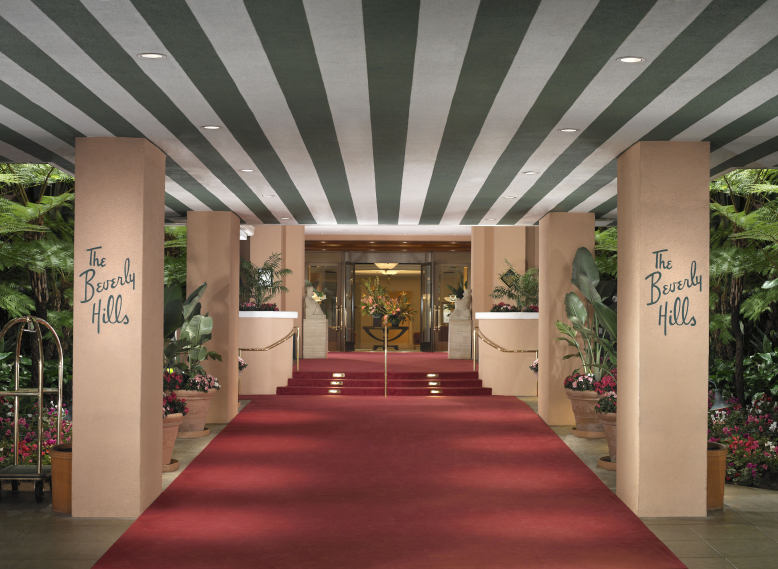 It is said that a hotel is only as good as its reputation; in that case The Beverly Hills Hotel is unrivalled. It opened on the 12th May 1912, long before there was even a city called Beverly Hills. Over a century later, it has become a landmark in Los Angeles and around the world as a place to see and be seen.
The hotel is affectionately referred to as the 'Pink Palace'. Over the last century, its popularity with some of the world's most recognisable faces has escalated. It has welcomed both actual and Hollywood royalty. From old Hollywood silver screen stars, including Audrey Hepburn, Charlie Chaplin and Marilyn Monroe to more recently, Rihanna, Angelina Jolie and Harry Styles.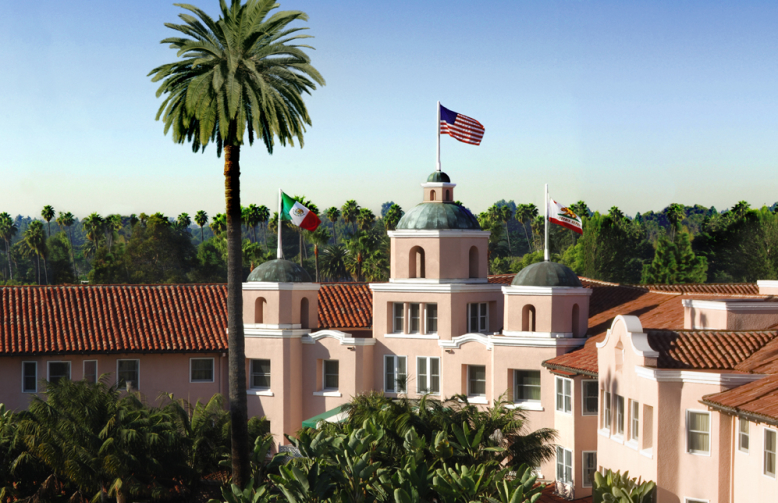 If only these majestic pink walls could talk, the things they have witnessed. The Beverly Hills Hotel's glittering history is the stuff of legends; Frank Sinatra, Dean Martin, Sammy Davis Jr. and the rest of the infamous Rat Pack could often be found indulging in debaucherous drinking sessions. During his campaign to become president of the United States in 1960, John F. Kennedy entertained a number of pretty young things at the hotel without his wife Jackie O's knowledge. The Beatles went for midnight swims in the hotel pool and John Lennon and Yoko Ono escaped from the prying eyes of the outside world, by spending an entire week in bed in one of the hotels bungalows.
Elizabeth Taylor made it a tradition to bring her infamous husbands to the hotel; over the years she brought six of her eight husbands. In 1964, Elizabeth Taylor and Richard Burton honeymooned at The Beverly Hills Hotel. They were regular guests and always preferred to stay in bungalow no.5. It is said that during their honeymoon, they had a standing room-service order, which included two bottles of vodka with breakfast, and another two with lunch.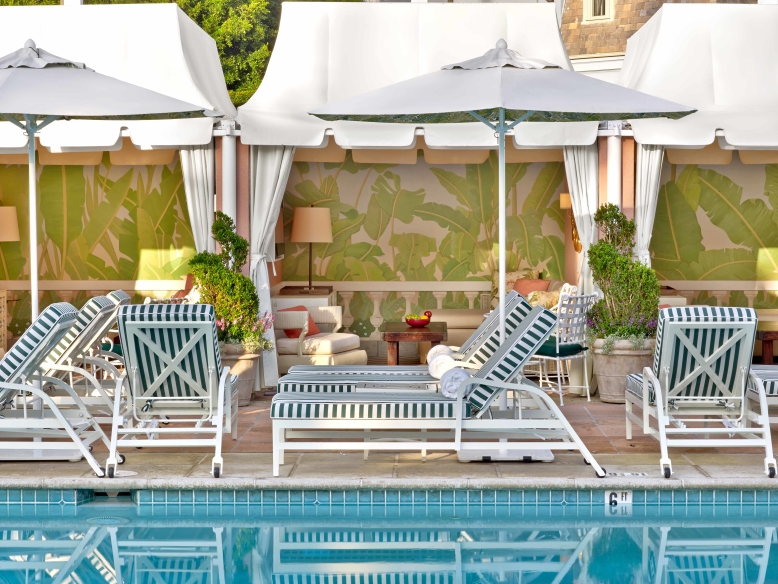 On the evening I visited the Beverly Hills hotel you couldn't imagine a more serene and elegant place. I drove up the famous winding drive, flanked by palm trees, their green leaves touching the pink-streaked evening sky. I pulled up alongside the hotels red carpet and my car was whisked away discreetly by a friendly valet.
I was dining with my partner that evening and we made our way through the glamorous lobby towards The Polo Lounge. The maître d' greeted us warmly and asked whether we would prefer to sit inside or outside. It was May so in the evening the temperature has a tendency to drop considerably, but I couldn't resist eating outside, a rarity back home in London.
It was like walking into a scene from 'A Midsummer Night's Dream'. There were dozens of intimate tables draped in snow-white cloths and white metal chairs with intricate detailing and dark green cushions.
It was a secret garden in the heart of Beverly Hills; everything was shrouded with lush greenery, exotic pink flowers decorated every table and the centrepiece was an enchanting tree decorated with hundreds of golden fairy lights.
The outside space was illuminated subtly with flickering candles and vintage lamps that descended from the ceiling. It was breathtakingly romantic.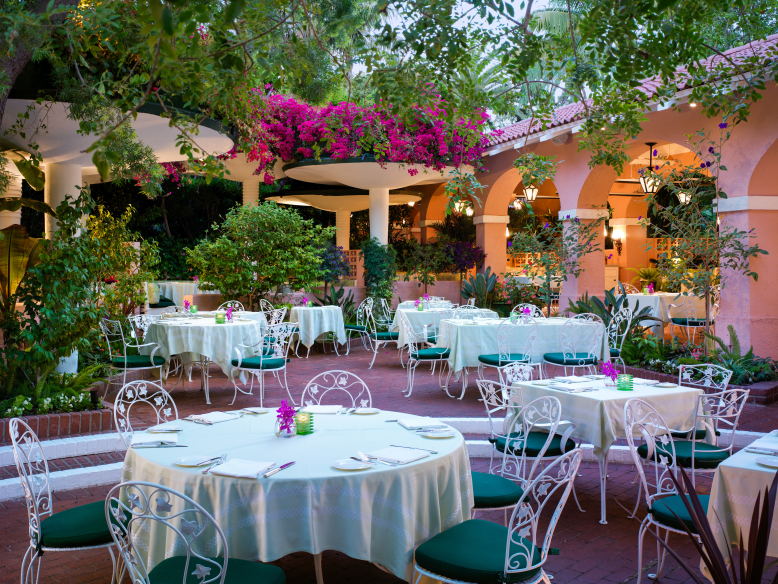 We slid into an intimate booth and our waiter greeted us with a warm smile. He said: "Hello friends, my name is Eugene and it is a pleasure to look after you this evening."
Eugene produced a white napkin, but then he hesitated. He smiled knowingly and said: "Give me two minutes, I'll be back." Then he dashed out of sight.
He returned moments later with a black napkin. He winked mischievously at me, and said: "Now it matches your dress, can't ruin such a beautiful outfit."
We ordered our drinks, my partner stuck to water, but I decided on the 'Blueberry Lavender Fizz'. It was one of the most delicious cocktails I had ever had. It was a fruity and fragrant blend of Stolichnaya blueberry vodka, fresh blueberries, lavender, lime and soda water.
Eugene brought over a warm selection of bread and handed us two large green menus. I always prefer to hear the waiter's recommendations rather than just randomly picking from the menu and tonight, he certainly did not disappoint.
Eugene recommended the Chef's special 'Real Southern Style Fried Chicken'. With a twinkle in his eye, he said: "It will be the best comfort food you've ever eaten. I'm from the Deep South so you can trust me; I've got pretty high standards when it comes to fried food."
Suddenly an acoustic rendition of Tom Petty's 'Free Fallin' filled the air. This just happens to be one of my songs and I instantly began singing along. Then the song slowed un-expectantly and I turned around to discover that the song wasn't a recording but was being performed beautifully by a live musician. Throughout the evening, he would sing raw covers of everyone from Ed Sheeran to Ben E. King.
Our food arrived and my eyes widened at the sheer size of the portion, it looked magnificent. There was a generous piece of bronzed Southern-style fried chicken that had a crunchy and flavoursome batter. Buttery mashed potatoes, English peas, a honey maple buttermilk biscuit and decadent caramel coloured southern-style gravy accompanied it. It was a truly indulgent meal and one of the best I had ever tasted.
Eugene reappeared with a knowing smile. He revealed that it reminded him of childhood meals with his family. We also started talking about New Orleans, where he told us a number of raucous tales of his experience on the hedonistic party scene. They were side-splittingly funny, but definitely not mine to share.
Suddenly Eugene stopped telling his hilarious story, he said courteously: "You look a little cold, shall I get you a pashmina?" He then disappeared again before reappearing moments later with a beautiful powder pink pashmina in hand, which he then draped on my chilly shoulders.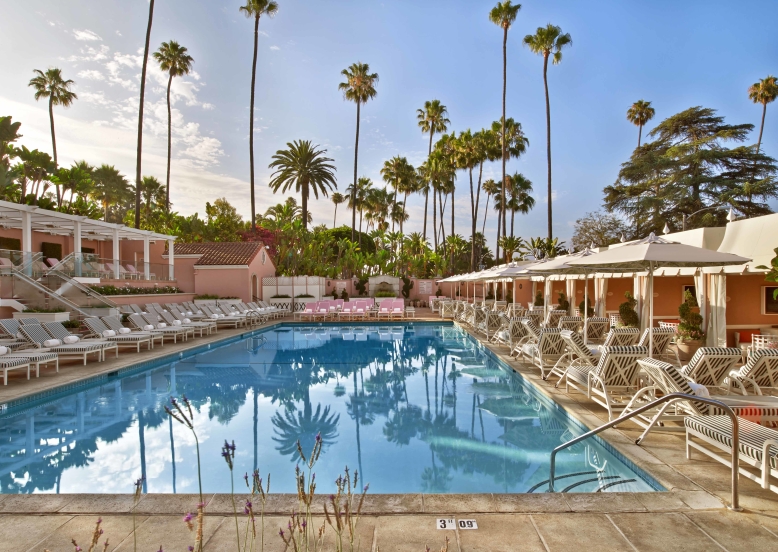 Our dessert arrived as Eugene was telling us another entertaining anecdote about the first time he went horse riding earlier that week. He shook his head gently, and said: "It was surreal. I was riding a horse underneath the Hollywood sign. I wore what I thought was a real cowboys outfit; a flannel shirt, jeans and cowboy boots. The outfit didn't save me when the horse tore off and I nearly flew off face first."
Eugene then courteously excused himself with a smile. We had chosen the red velvet soufflé, which had 'Polo Lounge' emblazoned on top. As soon as I dipped my spoon inside, it fell apart slowly like a cloud. As I spooned it into my mouth, it melted on my tongue.
My night at the Polo Lounge was a dream. Everything about it exuded luxury and romance. With an extraordinary service, magical location and phenomenal food, it isn't difficult to see why it has been a playground for Hollywood's elite for over a hundred years.
The Beverly Hills Hotel
9641 Sunset Blvd, Beverly Hills, CA 90210, United States