Gaz Oakley's passion for cooking led him to leave school at just 16 years old to work in the kitchen of a local Cardiff Hotel. He became restless to express his creativity within the world of fine-dining and was exhausted by the long hours of working in a kitchen. Gaz decided to go in a completely different direction as a salesman. The lack of creativity in the role eventually led him back to his love of food where he could express himself once more and on a new vegan diet. This was the start of the Avant-Garde Vegan, where Gaz has a combined audeienceof nearly 800,000 followers on YouTube and Instagram and was able to quit his day job. He has since worked with Ben & Jerry's, Harvey Nichols and most recently Wagamama.

Gaz's latest book, Vegan Christmas, is available to buy on Amazon now.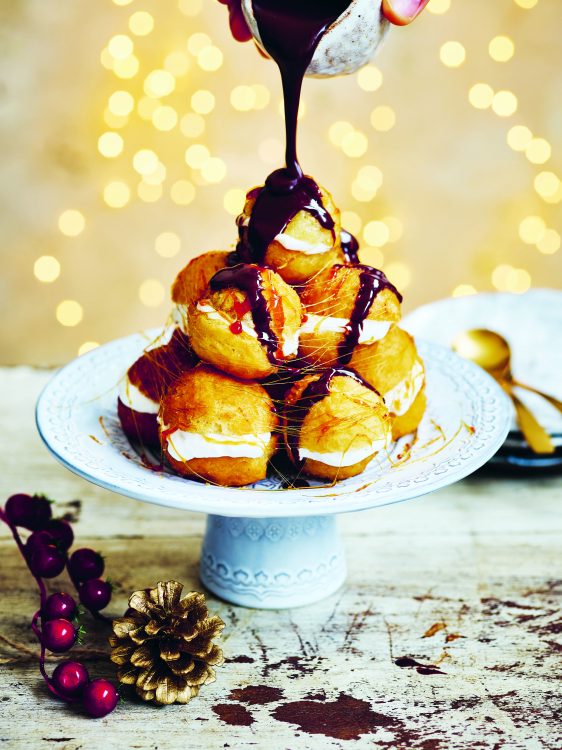 Fried Doughnut PROFITEROLES
I came up with this recipe while wracking my brains trying to veganize choux pastry. I thought, why not combine two big desserts, doughnuts and profiteroles? The outcome is unbelievable!
FOR THE DOUGHNUT PROFITEROLES
120ml (1/2 cup) almond milk
5 tbsp vegan spread
250g (2 cups) plain (all-purpose) flour, plus extra for dusting
2 tsp baking powder
pinch of sea salt
50g (scant 1/2 cup) icing (confectioner's) sugar
1.5 l (61/3 cups) vegetable oil, for frying
FOR THE CREAM FILLING
320ml (11/3 cups) coconut cream
1 shot Baileys Almande or vegan liqueur (optional)
1 tsp vanilla bean paste
2 tbsp icing (confectioner's) sugar
FOR THE CHOCOLATE SAUCE
300ml (11/4 cups) almond milk
3 tbsp agave nectar
100g (31/2oz) dairy-free dark chocolate, finely chopped
FOR THE SUGAR STRING
200g (1 cup) caster (superfine) sugar
Serves 4–6
Cooks In 60 minutes
Difficulty 7/10
First up, make the doughnut profiteroles. Put the milk and spread in a small saucepan over a low heat to melt and mix together. Combine all the dry ingredients in a mixing bowl, then pour in the melted spread and milk and mix with a spatula until it forms a wet dough. Lightly flour your hands and your work surface. Pick up around 2 tablespoons of dough at a time and roll it in your hands to form neat balls.
Line a baking tray with kitchen paper and preheat a deep-fat fryer to 170°C (340°F) or half fill a large saucepan with the vegetable oil and set over a medium heat. Test if it's hot enough by dropping in a little piece of dough – if it bubbles and floats to the surface, the oil is ready.
Fry 3 to 4 balls at a time for 3–4 minutes, or until golden brown. Youmay need to flip them over half way through cooking. When cooked, lift them out of the oil using a spider or slotted spoon, gently shaking off excess oil, and transfer the profiteroles straight onto the lined tray and set aside to cool. To make the whipped cream, put all the ingredients in a mixing bowl and whisk together until thick and creamy. Set aside until you're ready to serve.
To make the chocolate sauce, pour the milk and agave nectar into a saucepan and place over a low heat to warm gradually. Meanwhile, tip the chopped chocolate into a mixing bowl. When the milk is piping hot, pour it over the chocolate and stir until smooth and all the chocolate has melted. Cut the profiteroles in half lengthways. Pipe or spoon generous amounts of the cream onto the bottom halves and stick the tops back on. Before serving, melt the caster (superfine) sugar in a heavy-based pan until golden. Stack your profiteroles on a serving plate then drizzle over the chocolate sauce. Finally, using a spoon, spin the melted sugar around the stack. Be extremely careful as the sugar will be super hot.

TIRAMISU
FOR THE SPONGE
250ml (1 cup) almond milk
1 tbsp apple cider vinegar
1 tsp vanilla bean paste
50g (1/4 cup) vegan spread
215g (13/4 cups) self-raising flour (or gluten-free flour)
230g (generous 1 cup) unrefined caster (superfine) sugar
pinch sea salt

FOR THE CREAM
2 x 400g (14oz) tins coconut cream
170g (6oz) vegan cream cheese
1 tbsp cacao powder
3 tbsp icing (confectioner's) sugar
120ml (1/2 cup) good-quality coffee, brewed over ice
4 tbsp rum, or to taste
TOPPINGS
grated dark chocolate
coffee beans
Serves 6
Cooks In 60 minutes
Difficulty 5/10
GF If gluten-free flour is used

Preheat your oven to 180°C (350°F) and line a 5cm (2in) deep 20 x 30cm (8 x 12in) baking tray with non-stick baking paper. First up, the sponge! Put the almond milk, apple cider vinegar, vanilla paste and vegan spread into a small saucepan over a low heat. Measure the flour, sugar and salt into a large mixing bowl. When the spread has melted, pour the milk mixture into the dry ingredients and fold together. Scrape the batter into your lined baking tray and level out. Place the tray into the oven to bake for 12–15 minutes, or until golden and springy to the touch, then turn out the sponge onto a wire rack to cool completely.
Whisk the coconut cream, cream cheese, cacao powder and icing sugar together in a large mixing bowl until fully incorporated. Add a few tablespoons of coffee and rum, then taste. Adjust the flavours according to how you like it. Cut 12 discs of sponge to fit into your serving glasses. Pop a sponge disc in the base of each glass, then a spoonful of cream, then another sponge disc. Drizzle in a little more coffee and spoon in another layer of cream. Top each tiramisu with chocolate shavings and a couple coffee beans. Eat straight away or chill in the fridge for up to one day.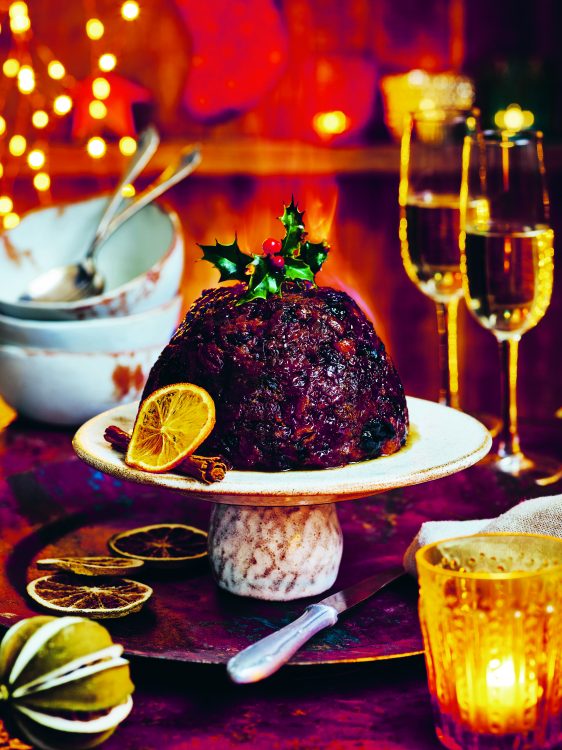 Christmas Pudding

PUDDING
1 tsp ground mixed spice
1 tsp ground cinnamon
1/2 tsp sea salt
75g (1/3 cup) demerara or coconut sugar
2 tbsp black treacle (molasses)
1 Braeburn apple, grated
115g (scant 1/2 cup) vegan spread, plus extra for greasing
45g (1/2 cup) breadcrumbs
95g (3/4 cup) plain (all-purpose) flour
1/2 tsp baking powder
100g (3/4 cup) sultanas
100g (generous 1/2 cup) dried mixed peel
100g (generous 1/2 cup) chopped dates
50g (1/4 cup) dried cherries
25g (1 oz) crystallized ginger, chopped
120ml (1/2 cup) rum or brandy
juice of 1 orange
zest and juice of 1 lemon
1 bay leaf
1 tsp ground nutmeg

The ultimate vegan Christmas pudding – boozy, fruity and moreish! The day before, put the dried fruit plus the alcohol, orange and lemon juice and the bay leaf into a large bowl. Stir well to mix, cover and leave for at least 12 hours to plump up. The next day, grease a 1 litre (2 pint) pudding bowl with vegan spread, then line the base with a circle of greaseproof paper to ensure the pudding comes out once cooked. Remove the bay leaf from the fruit. Add the lemon zest, spices, salt, sugar, treacle and apple and mix. Stir in the vegan spread and breadcrumbs. Sift in the flour and baking powder and fold in. Spoon the mixture into the pudding bowl, leaving a 2.5cm (1in) gap at the top. Cover with greaseproof paper, then a sheet of foil and tie with cook's string. Put an upturned ramekin in the bottom of a saucepan. Sit the pudding on top, then pour in boiling water half way up the sides of the pudding. Cover and simmer over a low heat for 5 hours, topping up the water when needed. Lift the pudding out and leave to cool. Store for up to a month before serving. Steam again in the same way for 30 minutes. Add 2 shots of vegan-friendly brandy to a saucepan and heat over a low heat for 2 minutes. Light the brandy with a match, then carefully pour over the pudding for that festive flame.