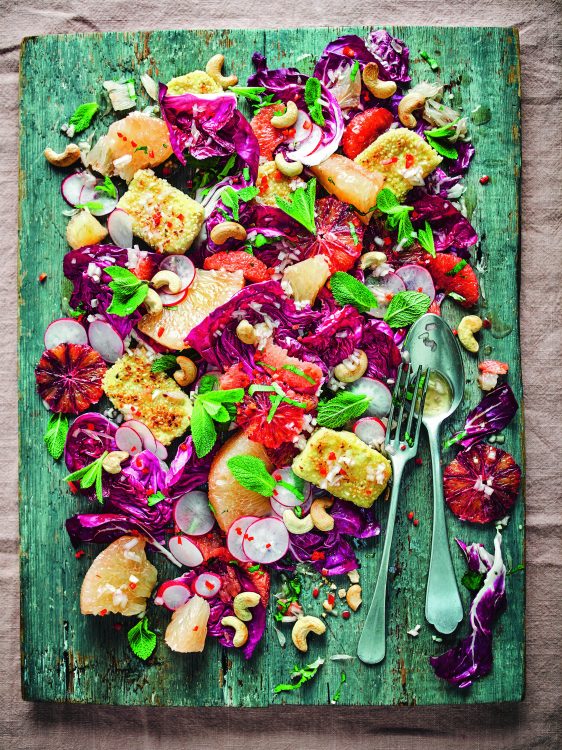 Lucy Watson may be best known for her appearances on the small screen but her true passion is vegan cooking. Lucy is sharing her collection of bright and beautiful recipes for everyone so you can still have your cake and eat it too. These are enough to turn the head of even the most dedicated carnivore, so whether you're a full-time vegan or just fancy cutting down on meat, fish and dairy, these recipes are for you.
Here, Lucy talks us through two delicious recipes that are perfect for Spring…
Feed Me Vegan is available to buy on Amazon now.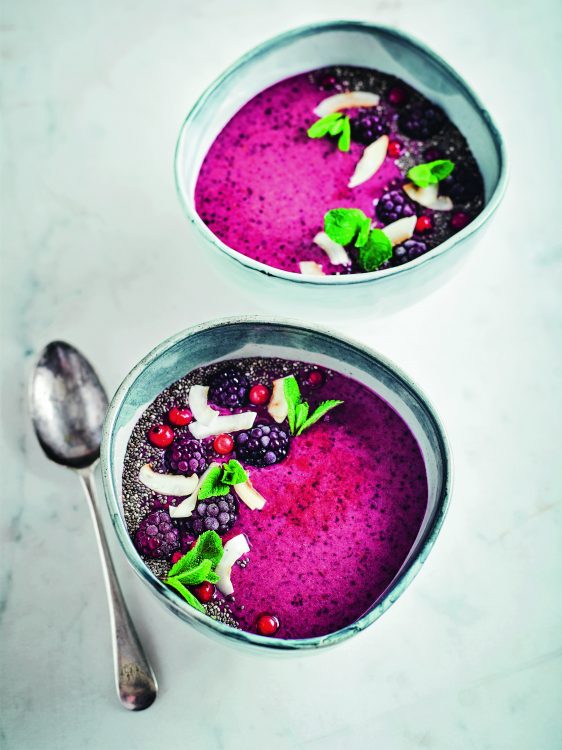 Acai Bowl
Acai (pronounced 'ah-sah-ee') has become very popular over the last few years and I can understand why! The acai berry has so many health benefits and is bursting with antioxidants. Though actual acai berries are very hard to source, using acai powder means you can still get all the benefits.
This is a perfect recipe for on a warm day as it's super-refreshing, especially with some coconut flakes sprinkled on top.
SERVES 1 | 2 MINS
60g banana, cut into chunks and frozen
1–2 tsp acai powder, to taste
90g frozen berries
200ml coconut milk from a carton (not a tin)
1 tsp vanilla bean paste
For the topping:
A handful of frozen blackberries
1 tbsp chia seeds
1 tbsp toasted coconut flakes
A handful of mint leaves
Put the banana and the remaining ingredients into a blender and blend until smooth. Pour into a bowl and top with the frozen berries, chia seeds, toasted coconut flakes and mint. Sprinkle with a few red currants or toasted pumpkin seeds, and serve.
Pomelo Salad with Sesame Crusted Tofu
How pretty?! Not only that, but this salad is super yummy! The tofu helps make it filling, and all in all it's gorgeous for a summer lunch. I'd leave out the coriander if making it for myself but I know that some people are real fans so wanted to make sure the option is there. We all have days where we're in the mood for something a bit lighter and this is ideal.
SERVES 6 | 45 MINS
1 pomelo
1 pink grapefruit
1 navel or blood orange
80g cashew nuts
100g radishes, thinly sliced
1 radicchio lettuce, roughly sliced
A small bunch of mint, leaves chopped
A small bunch of coriander, leaves and stems finely chopped
1 red chilli, deseeded and finely chopped
For the dressing:
Juice of 1½ limes
30g palm sugar, grated
1 shallot, finely chopped
40ml rice vinegar
60ml sesame oil
For the fried tofu:
40g sesame seeds
2 tbsp cornflour
280g block firm tofu, cut into thick slices
Sea salt and freshly
ground black pepper
Groundnut oil, for shallow-frying
Using a sharp knife, cut a thin slice of peel and pith from each end of the pomelo. Put cut-side down on aboard and cut off the peel and pith in strips. Remove any remaining pith. Cut out each segment leaving the membrane behind. Repeat with the grapefruit and orange.
Or, alternatively, you can slice the peeled orange into attractive rounds. Put the cashew nuts in a dry frying pan and toast over a medium-high heat until golden, tossing them regularly. Leave to one side.
Arrange the citrus fruits, radishes, lettuce, herbs and chilli on a large serving platter. To make the dressing, put the lime juice and palm sugar in a small bowl and whisk until dissolved. Whisk in the remaining dressing ingredients.
To make the fried tofu, mix together the sesame seeds and cornflour, then season generously with salt and pepper and put on a plate. Coat the tofu slices in the sesame seed mixture, pressing each side of the tofu into the coating. Heat some of the oil in a non-stick frying pan and fry the tofu until golden brown on each side. Top the salad with the fried tofu and toasted cashew nuts. Spoon the dressing over the salad to serve.

@lucywatson