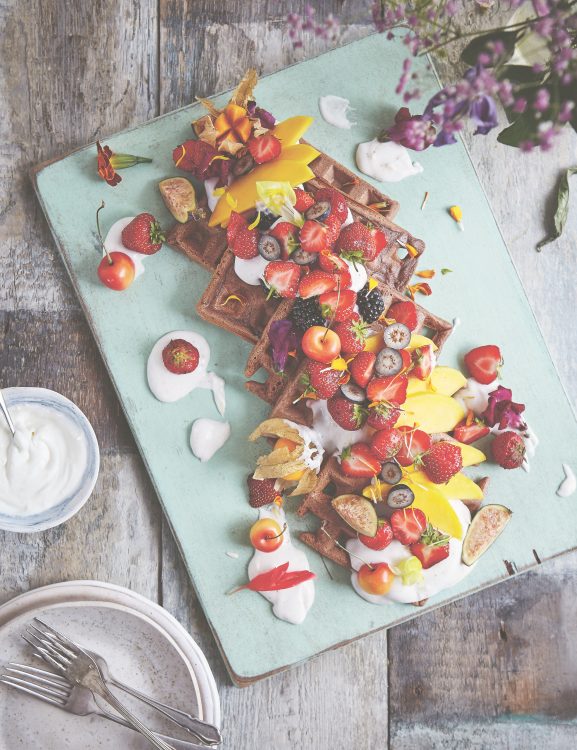 In her popular cookbook Happy Food, celebrated vegan chef Bettina Campolucci Bordi shares a collection of easy and delicious plant-based recipes. Bettina's philosophy is simple, she believes that food is meant to make you happy!
HEARTY BUCKWHEAT WAFFLES WITH STRAWBERRIES

I love this breakfast, especially on a lazy weekend morning. It ticks all my boxes in terms of comfort, indulgence and appeasing that insatiable sweet tooth that we all have.

Makes 4 waffles, serves 2

60 ml (2 fl oz / 1/4 cup) melted coconut oil, plus 1 tablespoon for the waffle iron
375 ml (13 fl oz / 11/2 cups) Almond Milk, shop-bought or home-made
200 g (7 oz / 11/3 cups) buckwheat flour
3 tablespoons cacao powder
1/2 teaspoon baking powder
1/2 vanilla pod (bean), scraped, or 1/2 teaspoon ground vanilla pod
pinch of salt

To serve
230 g (8 oz / 1 cup) Coconut Yoghurt, shop-bought or home-made
1 teaspoon grated lemon zest
1 tablespoon maple syrup, plus extra for drizzling
1/2 vanilla pod (bean), scraped, or 1/2 teaspoon ground vanilla pod
handful of fresh fruit
micro herbs and edible flowers (optional)

Start by heating the coconut oil in a pan on medium heat with the almond milk.
Place all the remaining waffle ingredients, including the melted coconut oil and almond milk, into a bowl and mix well.
Heat up the waffle iron and dab or brush with coconut oil. I use the small waffle iron where the waffles come out looking like a four-leaf clover. Ladle some of the batter mixture into the iron and cook until super crispy.
While the waffles are cooking, pimp up the coconut yoghurt with lemon zest, maple syrup and the vanilla, stirring to combine.
Once the waffles have been cooked, serve with a dollop of the coconut yoghurt, fruits, micro herbs and edible flowers, if using, and drizzle with maple syrup.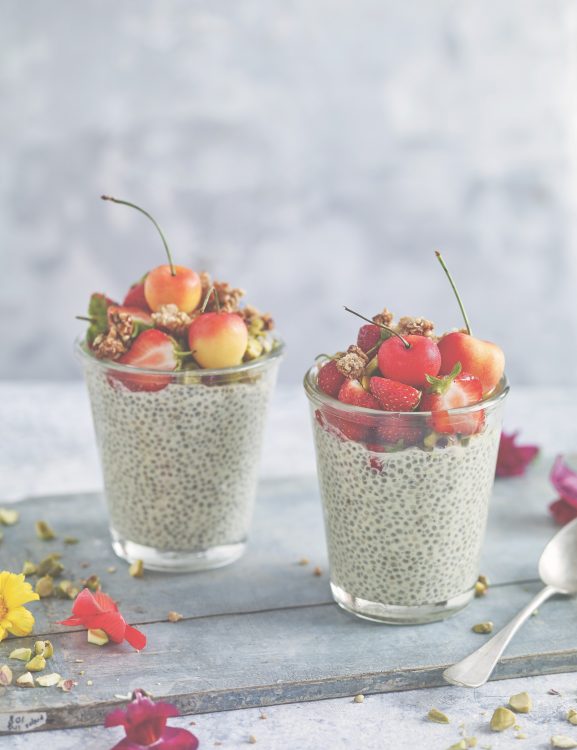 PISTACHIO MILK CHIA PUDDING IN A JAR

Chia puddings are a great quick breakfast, especially for those suffering from porridge fatigue. This is a quick version with a twist – add whatever toppings or milk you like. Pistachio is one of my favourite milks but it isn't one that you can buy in shops, which makes this twist extra special.

Serves 2
60 g (2 oz / 1/3 cup) raw shelled pistachio nuts
250 ml (8 fl oz / 1 cup) water
1/2 vanilla pod (bean), scraped, or 1/2 teaspoon ground vanilla pod
1 teaspoon maple syrup
a dash of rose water (optional)
5 tablespoons chia seeds

To serve
Granola
nut butter, shop-bought or home-made
berries or cherries

Place the pistachios, water, vanilla seeds or powder, maple syrup and rose water (if using) in a blender and blitz until you have a light green milk.
Put the chia seeds in a jar and cover with the pistachio milk, pulp and all. Pop the lid on and give it a good shake.
You can leave the jar in the fridge overnight or wait for at least 30 minutes until the chia seeds absorb all the liquid and you are left with a lovely thick consistency.
Top off your jar with any of the serving alternatives. My personal favourites are granola crunch, a dollop of nut butter and berries or slices of orange.

Tip This is a fantastic takeaway breakfast, perfect for eating on the go. It can be made in bigger batches and lasts in the fridge for at least 3–4 days, giving you breakfast for most of the week. Alternate your toppings and milks to find your favourite combination. Also, chia seeds are great bought in bulk.
Extracted from Happy Food: Fast, Fresh, Simple Vegan by Bettina Campolucci Bordi (Hardie Grant, £20) Photography © Nassima Rothacker.