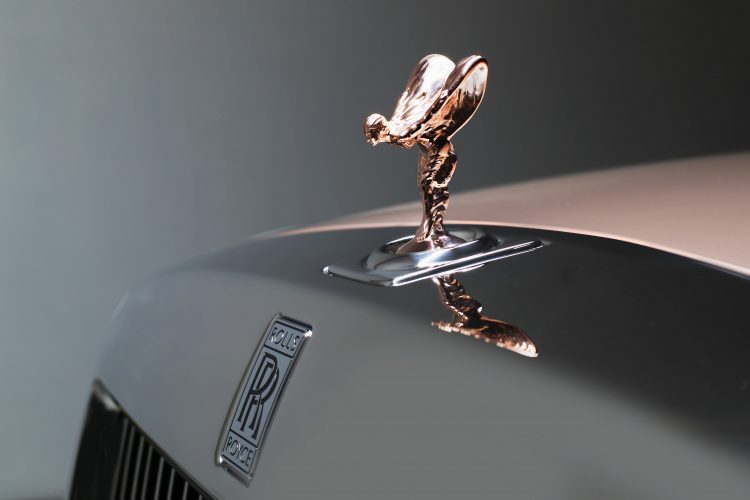 Nestled in the heart of Surrey's rolling hills, set amongst 470 acres of grounds is Beaverbrook, an idyllic late-19th century fairy tale mansion.
Now affectionately crowned 'England's Most Beautiful New Hotel' after a majestic £90m renovation, once upon a time it was home to Lord Beaverbrook, publicist and political powerhouse, one of the most powerful men in Britain during the 20th Century.
The house was known far and wide for its decadent and hedonistic parties that enticed the creme de la creme of high society from around the world. Lord Beaverbrook's glittery guests have left their mark, each bedroom is named after one of his most illustrious guests, from Charlie Chaplin to Elizabeth Taylor, to Ian Fleming and Winston Churchill, whose suite still retains a private door which Churchill would use to discreetly escape during war time.
This historical treasure has been transformed into a tranquil retreat, situated just 18 miles from Central London. A country estate as magical as this deserves an equally extraordinary ride. Explore the winding country roads in style in a majestic Rolls Royce Phantom.
Here is our carefully curated itinerary for the perfect day at Beaverbrook…
The Car
Since the first Rolls-Royce Phantom appeared in 1925, it has been synonymous with elegance and power. Rolls-Royce is the barometer by which everything in everyone in the world of opulence measures themselves.
In 2018, the New Phantom was hailed as the 'Best Car in the World' by the global media, to the surprise of absolutely no one. Not content with such a colossal achievement, Rolls Royce also offers a bespoke service like no other, it recently showcased three commissions by connoisseurs of luxury that perfectly demonstrate why Rolls-Royce is a Luxury House in the business of bespoke.
A personal favourite of this gallant trio is 'The Gentleman's Tourer' in Iced Gunmetal which harks back to the era of the grandest of Grand Tourers, the Phantom II Continental Saloons of the Thirties. These were driven on long, cross-country journeys, designed for endurance but still absolute showstoppers. The interiors are deep greys and blacks and in the Gallery, sits a sculpture in Ruthenium, a precious metal of which only 20 tonnes are mined each year, compared to the 2,500 tonnes of gold.
Rolls-Royce has long been crowned the connoisseur of luxury in the world of automobiles and the Phantom is a work of art. Expect eyes to widen, necks to crane and mouths to open as you glide by, the bar of excellency cannot be raised here, it is already at the peak, platinum-plated and studded with diamonds.
@rollsroycecars
Rolls-roycemotorcars.com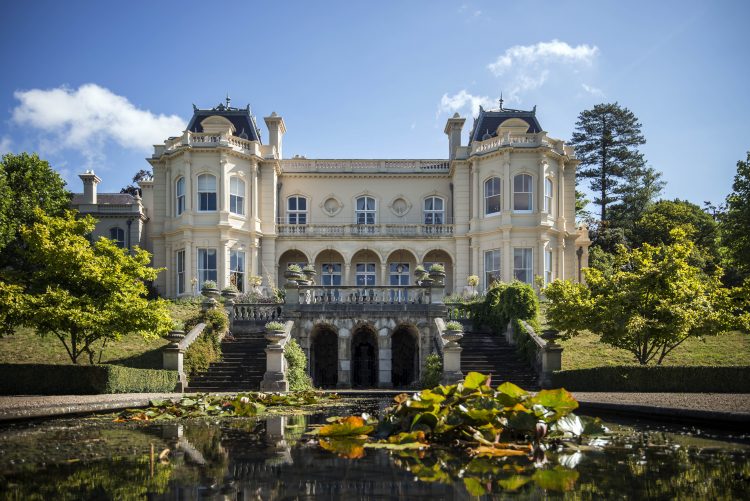 7am – Wake up at The House
The neo-classical mansion exudes character and quintessentially English charm. It may have an undeniable air of opulence and romanticism but at its heart it feels like a home.
The interiors are eclectic, full of historical and whimsical aesthetic treats, from the bold Gerhard Richter tapestry that is displayed proudly in the glass-domed lobby to a Rudyard Kipling poem that was written specially for Lord Beaverbrook.
It boasts 18 beautifully appointed bedrooms, our favourite is The Dowager Suite, which was once occupied by Lady Beaverbrook. She adored the room because of its sweeping views of the Surrey Downs and exquisite Italian Gardens.
Golden sunlight floods through the sash windows, illuminating a regal four poster bed dressed in crisp fresh linens and delicately embroidered pillows. Louise Bourgeois artwork adorns the walls and a chandelier glitters above a room carefully decorated with precious antiques.
There is a vast bathroom stocked with aromatic Bamford toiletries, complete with a walk-in rain shower and two private terraces. All of the rooms have fluffy robes and slippers, coffee machines, Apple TV's and a bottle of Sipsmith sloe gin.
After a long soak in the ornate freestanding bath with nothing but birdsong for company, head downstairs to the morning room. Sink into one of the deliciously soft sofas in front of a crackling log fire to read the morning's papers over coffee.
Breakfast is a regal affair in its own right, offering silver service on period silverware. Sip fresh chilled coconut water as you peruse the breakfast menu, an amalgamation British and Asian cuisine, such as the traditional full English breakfast and eggs Benedict to flavours from the Orient with poached duck egg with avocado and a Japanese omelette with grated daikon and Hijiki seaweed.
Staff are on hand to recommend things to see, eat and do, from clay pigeon shooting or wine tasting to tennis or croquet. From the moment you arrive until the moment you regretfully have to leave, you will want for nothing. Dressed in 1920s waistcoats with braces and flat caps that ache with glorious nostalgia, they are warm, charismatic and will preempt your every whim.
10am – The School of Cookery
Hop in a golf buggy and head to The Garden House for a rare opportunity to cook with some of the most celebrated chefs in the world. Using the freshest ingredients, many are grown on the Beaverbrook estate, pick up some of the tricks of the trade to create incredible gourmet meals.
There are a vast array of courses available, from making pasta from scratch to chocolate work, however the real showstopper is the Japanese cooking class with head chef at Beaverbrook, Taiki Maruyama, who made his name at Nobu Park Lane.
Maruyama is a pioneer of Japanese cuisine, spend three hours learning how to make delicious salmon teriyaki from scratch, traditional sushi rice and the perfect premium salmon sashimi and nigiri.
To be up close and personal with the great Maruyama is an honour and to cook alongside him is the stuff of wildest dreams.
1pm – Lunch at The Garden House
After The School of Cookery you are welcome to dine alfresco amongst the rose bushes in the private walled garden on the food you have prepared or save it for later and try the menu at The Garden House.
It serves charming rustic Anglo Italian inspired dishes which change with the seasons. Start with Sardinian flatbread with olive oil and rosemary, followed by Puglian Burrata and blood orange with pistachio.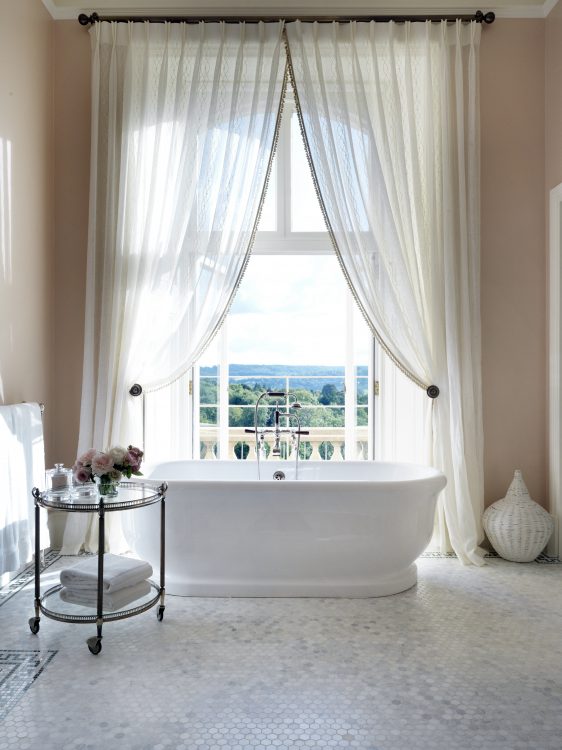 For the main course, the Chicken Milanese with black truffle and sautéed spinach is a delight, crowned with a local farm egg. To finish, a dreamy caramelised Sicilian lemon tart with fresh raspberries and a dollop of clotted cream.
3pm – Watch a film in the private Cinema
If the weather turns, a true English custom despite the season, retreat to the cosy cinema. It is one of the UK's first and still boasts the original wood-panelling and lighting. Help yourself to a bucket from the freestanding vintage popcorn machine and recline to watch one of three films that are screened daily, from classics such as Charlotte's Webb to Hollywood blockbusters like Batman Returns.
7pm – Dine at The Japanese Grill
Go on an exotic gastronomic adventure through the Far East with a bold menu serving contemporary Japanese cuisine in an elegant setting.
The food is incredible, highlights include, the popcorn shrimp with spicy mayo and butter ponzu, a divine Black Cod with den miso and yuzu miso and tender Himalayan salt-aged beef with koji soy served on a banana leaf. Finish with the plum dessert, which looks like it has been constructed on Picasso's canvas.
10pm – A Night Cap at The Parrot Bar
Beaverbrook's crown jewel is the powder pink The Parrot Bar which aches of the unapologetic grandeur of The Great Gatsby and the golden age of the roaring 20s.
Put on your rose coloured glasses and be transported to a bygone era, you almost feels as if Fred Astaire could glide across the room towards you at any moment. Finish a perfect evening with a One Night Stand, an exotic concoction of Hibiki Harmony Japanese Whisky, fresh raspberries and rhubarb bitters, served in a martini glass.
Reigate Rd, Leatherhead KT22 8QX