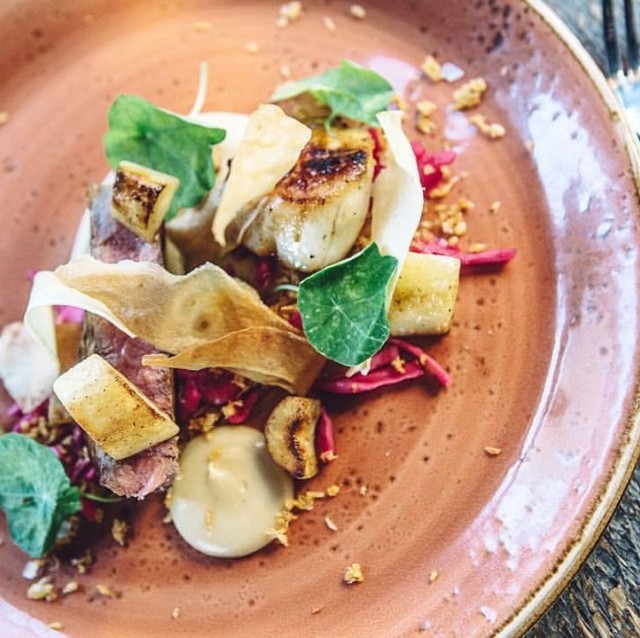 If you live in Brighton, you've probably heard of The Set. Their reputation for being one of the city's most highly regarded restaurants has been proven time and time again with their consistency in winning awards and their popularity with diners.
The restaurant itself couldn't be in a more 'Brighton' location, sitting centrally within a square of beautiful Grade II* listed Regency-style townhouses. Out front, a lush public garden stretches towards the seafront, with the towering British Airways i360 and the iconic frame of the West Pier in front.
The Set is situated within the Artist Residence Hotel, but is by no means your typical 'hotel restaurant', commanding its own audience as well as guests. Set up by chefs Dan Kenny and Semone Bonner, the restaurant has been impressing diners since its launch back in 2015. The food may be of the highest quality, with three tasting menus created using local suppliers that change with the seasons, but the environment is a relaxed and welcoming one.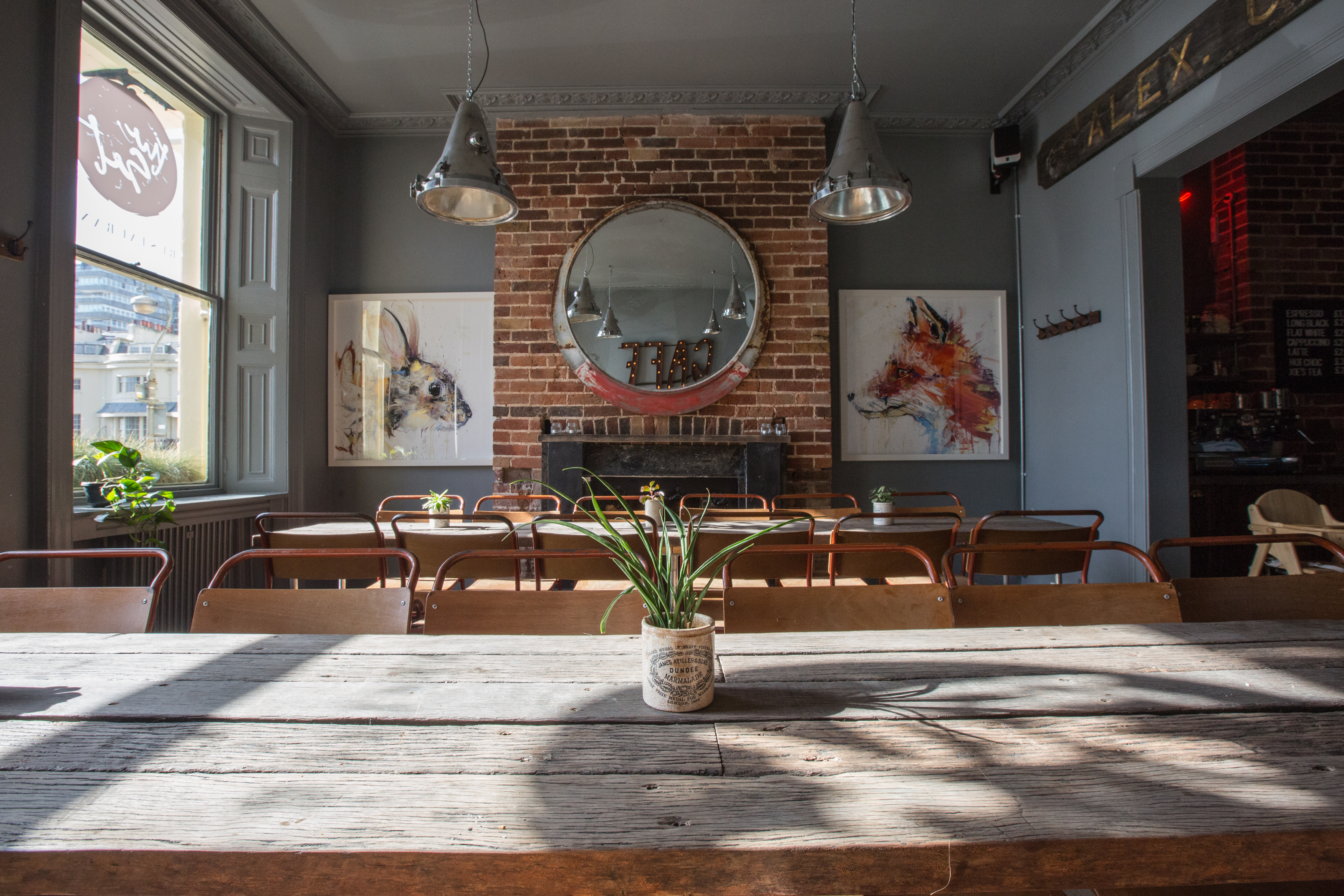 My Boyfriend, Dan, and I were shown into an intimate restaurant designed to fit twenty people, and were sat directly opposite their open kitchen, where we could see chefs preparing for the evening ahead. The decor has an industrial meets urban feel, yet makes sure that all the essential dining comforts are provided.
Your eye is drawn to hemp sack cushions, industrial-style pendant lamps suspended above, the mixture of corrugated iron and exposed brickwork walls, and the wooden 'pass' which allows guests to sit on raised stools and witness the kitchen action first-hand.
Assigned to us for the evening were Joe and Tosca, two knowledgeable and friendly members of the team who introduced themselves and presented us our menus, which arrived paper-clipped to two hardback books. The three tasting menus offer a very different experience from each other, and list only several main ingredients from each course, leaving you in much anticipation of what your dish will entail.
We also opted for the additional 'wine flight' which paired a different wine to compliment each course. To get proceedings started, we were presented with a rosé and soda aperitif along with two classic snacks with a twist: nacho guacamole cones and homemade chicken nuggets with a red cabbage ketchup. Having built up a healthy appetite, we devoured these with ease.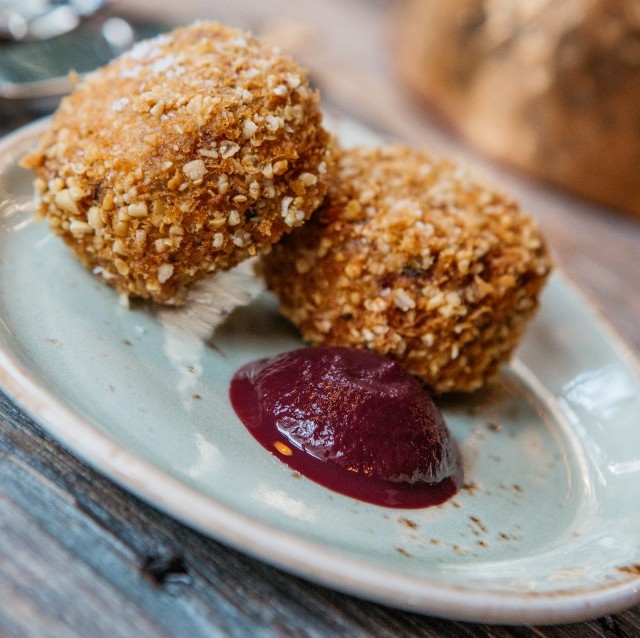 The next two snacks were just as delicious: flaxseed cracker with squid ink and radish, along with a mini homemade stout-flavoured loaf. Each of these tiny entrées resembled a piece of art, as well as combining unique textures with intricate flavouring.
I had opted for the tempting creations of menu three, and Dan had decided on menu one. My starter was a beautifully light dish consisting of red and yellow tomatoes, kicky kimchi crisps and creamy goats curd, this was perfectly paired with a French wine with notes of summer berries. Dan's starter was beetroot made four ways served surrounding a quails egg rolled in nibs of burnt aubergine skin – the sheer imagination that went into this dish was impressive and I was told that it tasted as good as it looked. A Chilean wine with floral hints and lychee was chosen to compliment.
Next arrived my favourite course of all, the curious trio listed simply as 'trout, crab, watermelon', three ingredients I love individually, but that when married together by The Set, became exquisite. The trout was thick and flaky with a crisp buttery-tasting skin, the crab tartar was delectable, and the compressed melon added a light and airy texture to an otherwise decadently rich meal.  Dan's tender pork with tapioca crisp and cuttlefish went down a treat, and we eagerly awaited the next course.
My pork with pigs head confit, chicory, apple and apricot ketchup was perfection – I have to say the word 'pigs head' can seem off-putting to some, however you'll be pleased to know it doesn't resemble its source and has a uniquely rich flavour that is a must-try. Dan's next dish consisted of rabbit loin, crispy rabbit, baby gem rarebit, rabbit crumb and rabbit sauce. I gathered that from the silence and continuous nodding that the dish was a success. After seeing what the chef's could do with our savoury courses, I was excited to taste their take on dessert.
Before ours arrived, we were treated to two more inventive snacks from the kitchen: miso marshmallows and lime popsickles rolled in cocoa nib. The strong citrus flavour of the lime contrasted the bitterness of the crunchy cocoa nib perfectly.  Dessert for me was a chocolate and blueberry pie, with pie crust pastry, blueberry curd, chocolate mousse, cocoa nib brittle, blueberry ice cream and sorrel. The combination of the airy mousse with the juicy blueberries and curd was truly delectable. Dan had cereal milk, spelt, granola and milk ice cream which satiated his affection for breakfast foods and sweet things alike.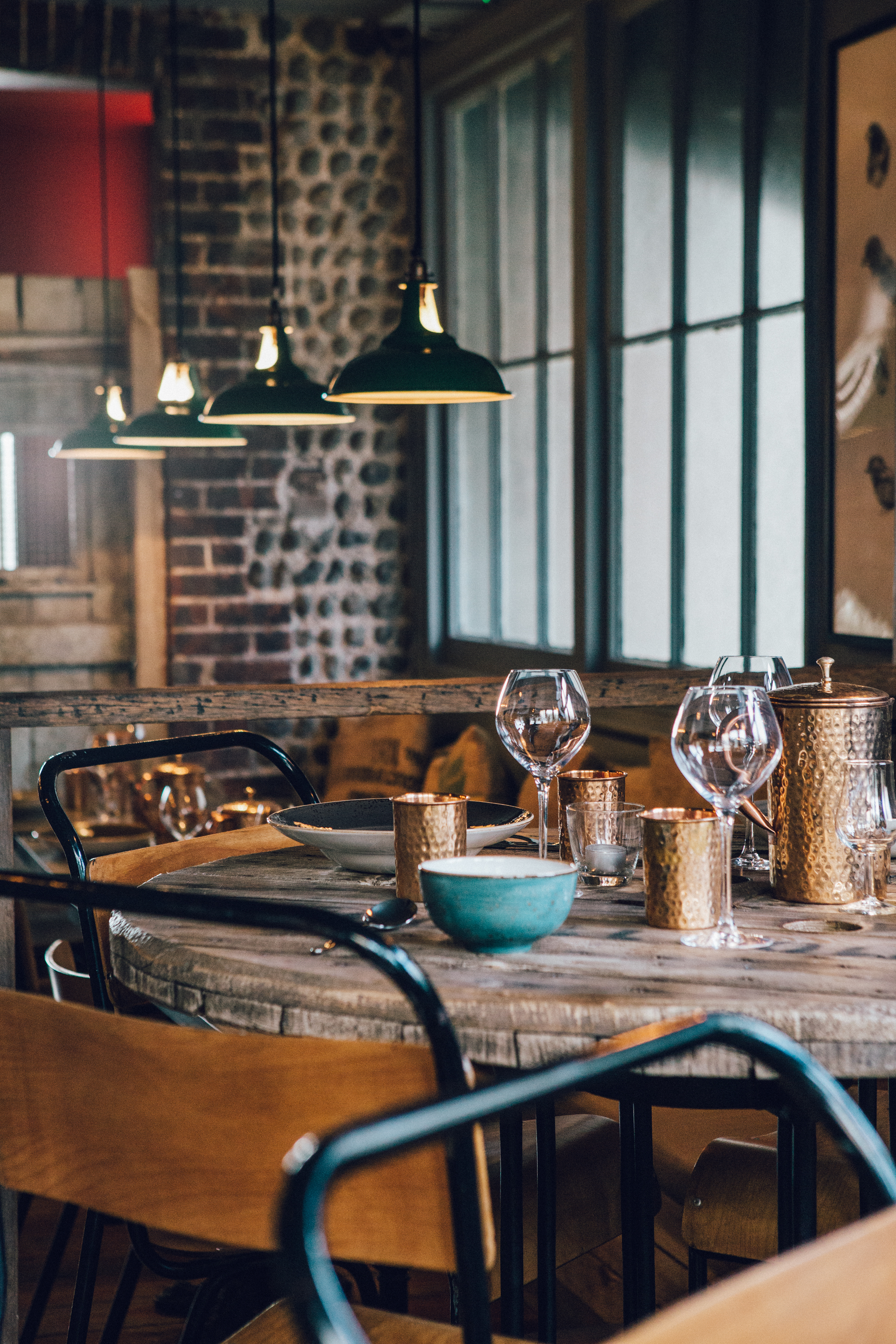 The pairing for our last course featured a drink christened 'Christmas in a glass' by the team at The Set and for good reason, one sip of this sherry and you were sure Santa himself would appear at the door. My fortified Malbec had a similar richness, with hints of nuts and figs to compliment.
Of course, they couldn't let us leave without a paper bag containing selection of homemade sweets consisting of Tonka bean fudge, strawberry and Szechuan jellies, and beetroot chocolates. As our empty dishes were taken away, we said our goodbyes, left the restaurant and headed towards the promenade where we were met by a balmy sunset reflected upon the calm waters.
The Set is an unexpected treasure in the heart of the city. If you're looking for unique, innovative, delicious food that will surprise you in every way, as well as a laid-back atmosphere, friendly staff and quirky surroundings, then your search is over.
The Set
33 Regency Square, Brighton, East Sussex, BN1 2GG
01273 855572