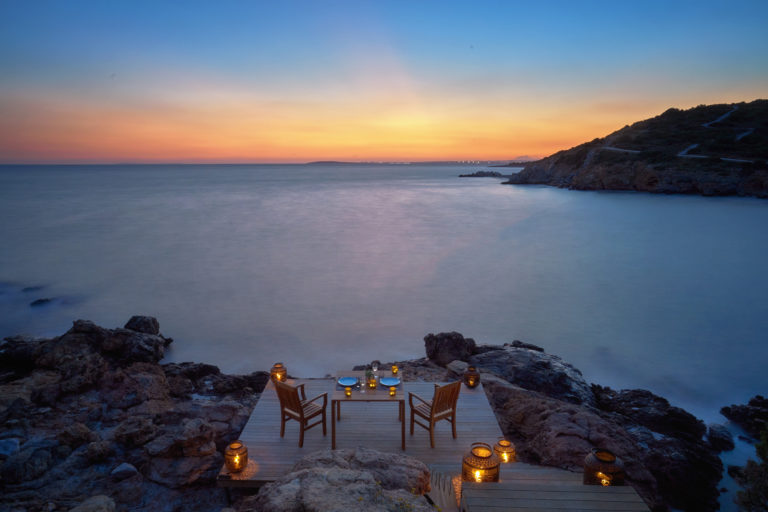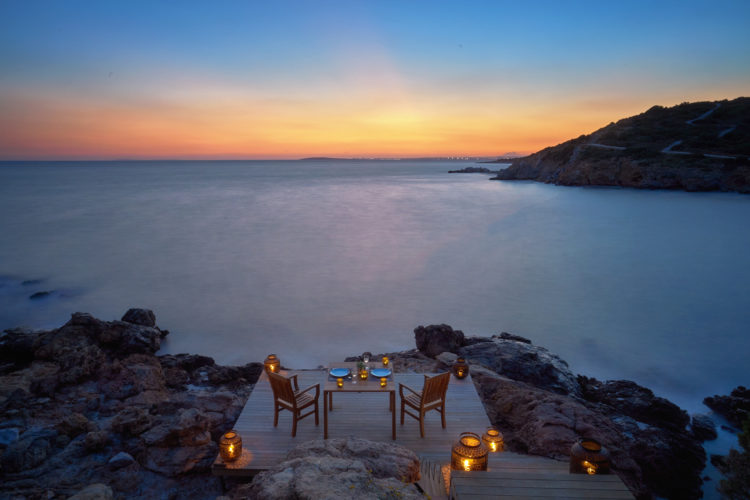 The sacred ancient healing system of Ayurveda believes life to be a combination of the body, senses, mind and soul. This is the essence that Six Senses Kaplankaya is founded on.
With wellness as its beating heart, the latest offering in the Six Senses family, Kaplankaya Turkey, is by far the most impressive. Located across the bay from Bodrum, the Six Senses Kaplankaya has 141 guestrooms, six suites, 66 Ridge Villas and residences. Carved into the rock formations along the azure blue Aegean coast; the resort is a jewellery box of glittering shorelines, fragrant jasmine gardens and illusions of oneness with infinity pools stretching deep into endless horizons.
There's a sense of infinite scale here. No matter why you find yourself at Six Senses you will find freedom. Every element of the experience is designed to seduce the senses & connect you to nature, the greatest healer.
The building was designed by New York-based Clodagh Design and is an architectural feat of understated grandeur, almost Scandinavian in the approach to sustainable materials. Earth tones are brought to life with the boundless light, space while the playful peppering of jewel toned accents illuminate the ocean views and honour the Turkish heritage.
Botany is the Pinterest Board inspiration here. The resort actually lives and breathes; from the vibrant green living walls from which fresh herbs are harvested for dinner and Mojitos, rooftops house secret gardens where fresh fruits bask and swell with sweetness, culminating in Six Sense's pride: the earth laboratory where 80% of the restaurant's food is grown and elemental alchemy meets a bid for the resort to be zero waste in the coming years. With this constant interplay with the natural world you cannot help but to feel connected, you cannot help but to breathe.
Beyond interiors & an impressive myriad of technically advanced auditorium sized gyms, fully equipped reformer Pilates, yoga, dance studios and water sports station lies a deeper sense of healing. In the core of the Six Senses resort you find a spa like no other. An on-hand team of resident and world-renowned visiting professionals are fully at your disposable to make you feel incredible at the deepest cellular level – the tailor-made packages don't include a 'Grow a new body program' for no reason. Drawing upon a holistic approach, the centre combines NASA devised technology with the application of Ancient Ayurvedic rituals for a true mind, body soul overhaul.
Upon arrival you can undertake a wellness screening which uses bio impedance to assess your physical and nervous/mental function, alongside a Bod Pod which was originally developed for astronauts to provide the most accurate measure of health. From this, Six Senses professionals are able to craft your personal wellness program. These programs range from sleep, stress management to weight loss & anti-aging.
The focus is on true and lasting health. The passion (and complexions) of the wellness team tell you everything you need to know: nature has the power to change our lives. The spa is a vast Aladdin's cave of experiential wellness; glowing pink Himalayan salt coves, steam room built around an enormous quartz crystal, traditional Turkish Hamman. Mix your own Ayurvedic massage oils pre-treatment at the alchemy bar, explore the science of the singing bowl & let yourself be guided into deep meditative states of relaxation.
If knowledge is power, then wellness education eclipses all. Dining at Six Senses doesn't feel like a love affair, it feels like true romance with all explosions of flavour working together in harmony. Ingredients are picked before your eyes as traditional Turkish cuisine is inventively reimagined with relish and purpose.
There is never a sense of longing or dogma in the way that some health menus can make you feel, instead there is a focus on gastronomical mischief which makes health taste like anything but. Six Senses aims to inspire positive change and understanding on how food can medicate. Much like the symphony of tastes on the 100 dish strong mezze platter – there is something for everyone here. Choose the "Dine with Six Senses" option for an unforgettable multi-sensory journey enveloping you in taste, scent and texture, like Charlie & the Chocolate factory for the health generation
With six bars and restaurants to indulge at we highly recommend the alfresco 'Mezze By The Sea' to watch the sunset pour into the horizon – the same liquid gold hue as your Aperol Spritz. Departure by boat draws you away from the private alcoves and icing sugar soft beaches. Leaving brings a lightness of being, not at having left something behind but as though you have rediscovered something you should have known all along.
And with this new-found clarity you may just notice the way your breath falls in step with the rhythm of the sea lapping the shore – after all this is Six Senses Philosophy, connection with all. If it is only when we are aware of the earth and our place within the earth as poetry that we truly live then awareness begins here.
Bozbük, Merkez Sokak No:198, 48200 Milas/Muğla, Turkey