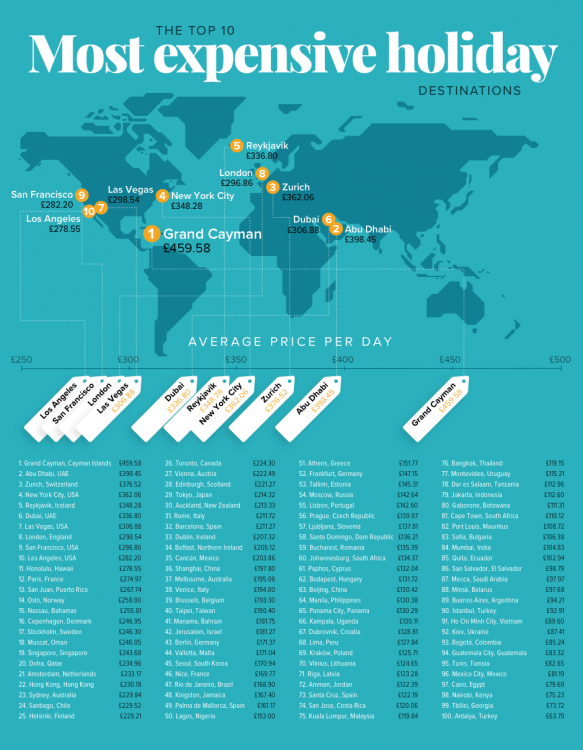 Are you dreaming of getting away on a summer adventure once exam season is over? Whether it's a weekend break, a fortnight in the sun or six months living out of a backpack, travelling can be a great way to learn more about yourself and the world around you.
And you won't be alone either – young people make up on average 23% of international tourist arrivals each year. If you're on a student budget, however, it can pay off to do your research on how costs compare from place to place.
From beers to B&Bs and beyond, here are the world's most and least expensive holiday destinations in the world in 2020 according to research from transport experts hoppa.
Food and drink
Thirsty? Stop off in Kampala, Uganda for the cheapest beer in the world – just 88p – then make your way to Tanzania's Dar es Salaam or Vietnam's Ho Chi Minh City for more pints under a pound. Cocktails in Argentina's Buenos Aires meanwhile will set you back a mere £3.16.
On the pricier end of the scale is Doha, Qatar, where your average supermarket bottle of wine costs £30. And if you're in need of a caffeine hit to get over your jetlag, prepare to pay as much as £5.68 for a coffee in Abu Dhabi.
But you need to eat too, remember. You can fill up on fancy food with a friend for just £19 in Ho Chi Minh City, but the guilty pleasure of a greasy Big Mac comes to an eye-watering £12 in Iceland's capital of Reykjavik.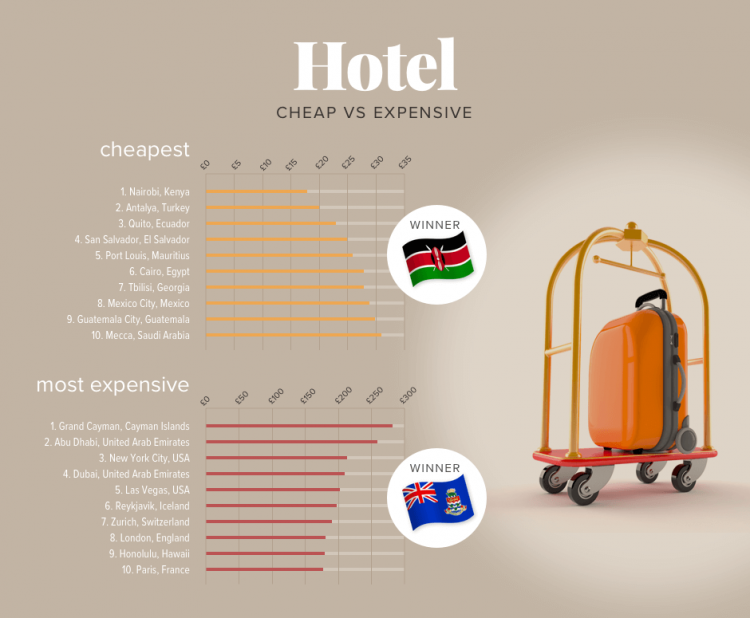 Hotels
Whether you've got each day's itinerary planned out or you prefer to go with the flow, you're going to need a place to rest along the way. Head to Nairobi in Kenya to cut costs on your accommodation or stay closer to home in Turkey's Antalya for as little as £20 per night.
If you've got grand plans of visiting Grand Cayman in the Caribbean however, you may need to stump up almost £300 for a one-night stay. Stop-offs in Abu Dhabi and the U.S.A's New York City both come in close behind on cost.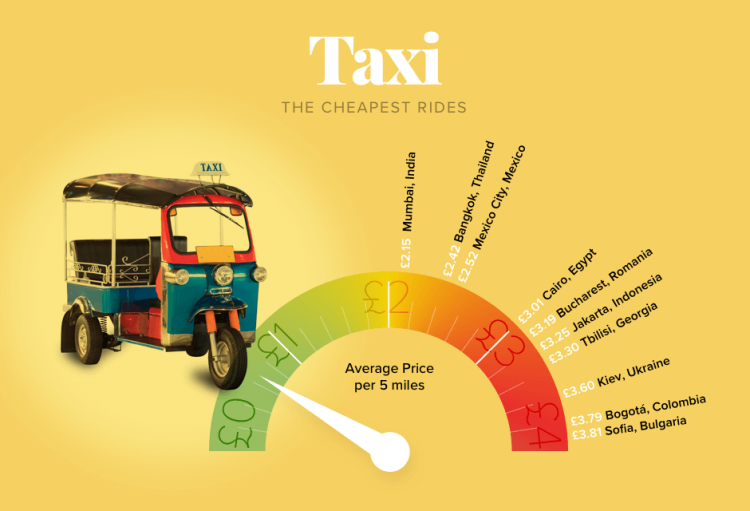 Taxis
How do you plan to get around once you've arrived? Catching a cab in India's Mumbai, Thailand's Bangkok or Mexico's Mexico City will cost you less than anywhere else in the world; you'll only pay between £2.15 and £2.52 for every five miles you travel in these locations.
You may be better off stretching your legs if you've got ground to cover in Zurich, Switzerland, however. This pricy port of call has boasted the world's highest average taxi prices for four years in a row.
Medical aid
While hopefully unlikely, accidents do happen – and trips to the hospital could leave you short of change. Nowhere more so than in Los Angeles in the U.S.A, where treatment costs a painful £293 per visit.
New York City and Zurich round out the top three at £135 apiece. Getting travel insurance can reduce the risk of an unwanted medical bill, however, while applying for an EHIC card can keep your costs down when travelling in the EU.
Ultimately, with a little research, you're bound to have a great time wherever you set your sights on. Have you factored in these costs to your travel plans this year?