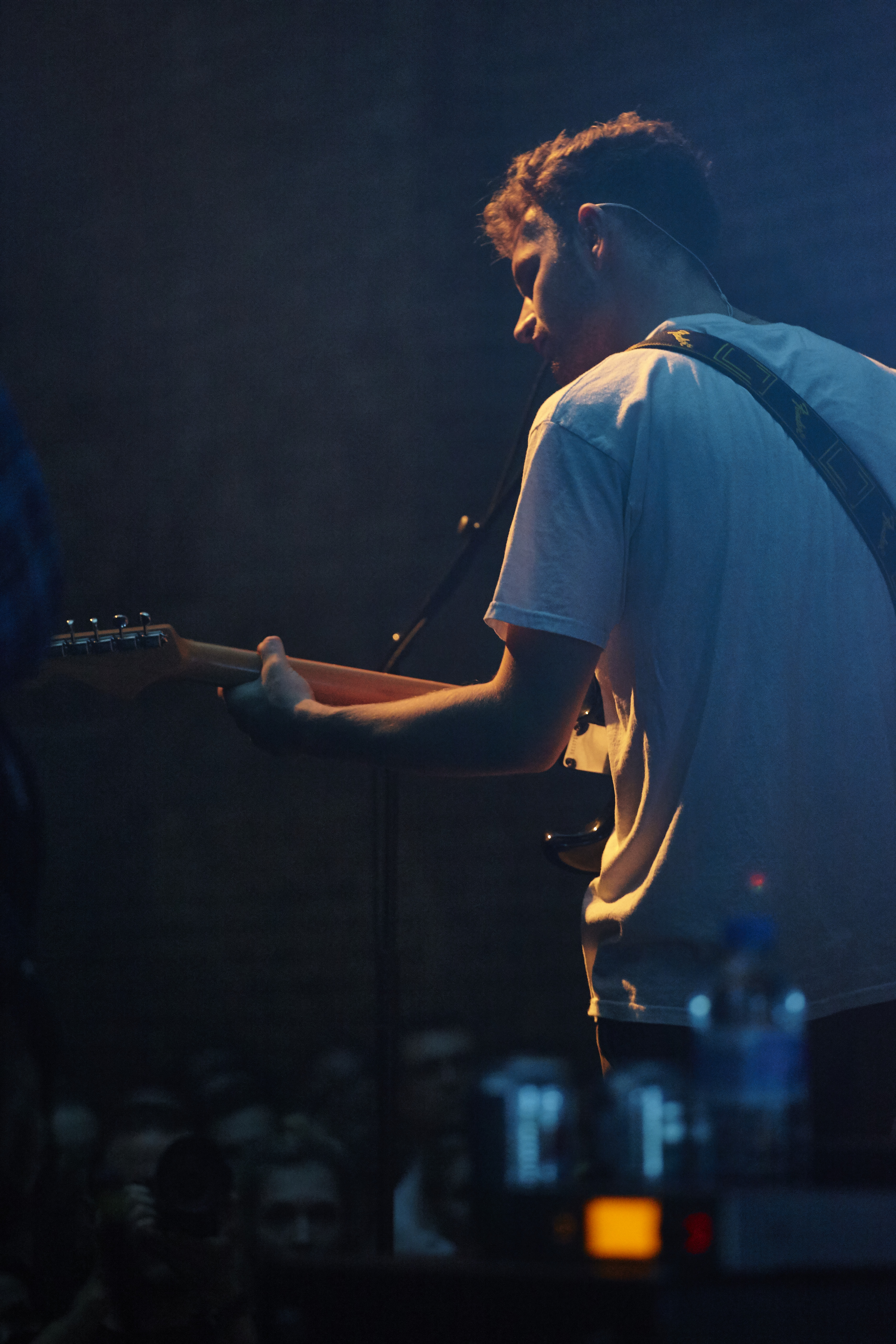 If you're reading this and haven't heard of Tom Misch before, quickly open Spotify or Apple Music and start to play Beat Tape 2. Now: breathe in, relax, and read the remainder of this live review to a soundtrack of melodic mastery. Welcome to the world of Misch.
Tom Misch stepped onto the stage at Shoreditch's Village Underground and began to play a stellar set, jam-packed with extra special guest appearances.
Intimate yet atmospheric, the East London Underground space accommodated an artist such as Misch to incredible effect, offering excellent acoustics and enhancing his ultra-smooth vocals. From the very outset, Tom had the very fashionable audience dancing and swaying to his infectious Fender guitar-led tracks, the opening three of which provided an insight into Misch's musical style: 'The Journey' showcased down-tempo beats and skilfully picked guitar intonations; 'Colours of Freedom' revved up the pace and laid down deep bass patterns; and 'I Wish' set those same ultra-smooth vocals against simplistic yet effective chord progressions that launched in funky chorus riffs.
The first guest of the evening was a truly special one, and one that the crowd was audibly pleased to see. As Loyle Carner entered, stage right, the venue erupted with hearty cheers and, as 'Nightgowns' progressed, these cheers were replaced with soulful, infectious dancing. Soon, the entire venue seemed to sway together.
When the soulful sway came to an end, a beautiful, stripped-back rendition of Patrick Watson's 'Man Like You' perfectly filled every corner of the underground space. No one sang, no one spoke, no one moved. They just listened to Misch's mesmerising murmurs.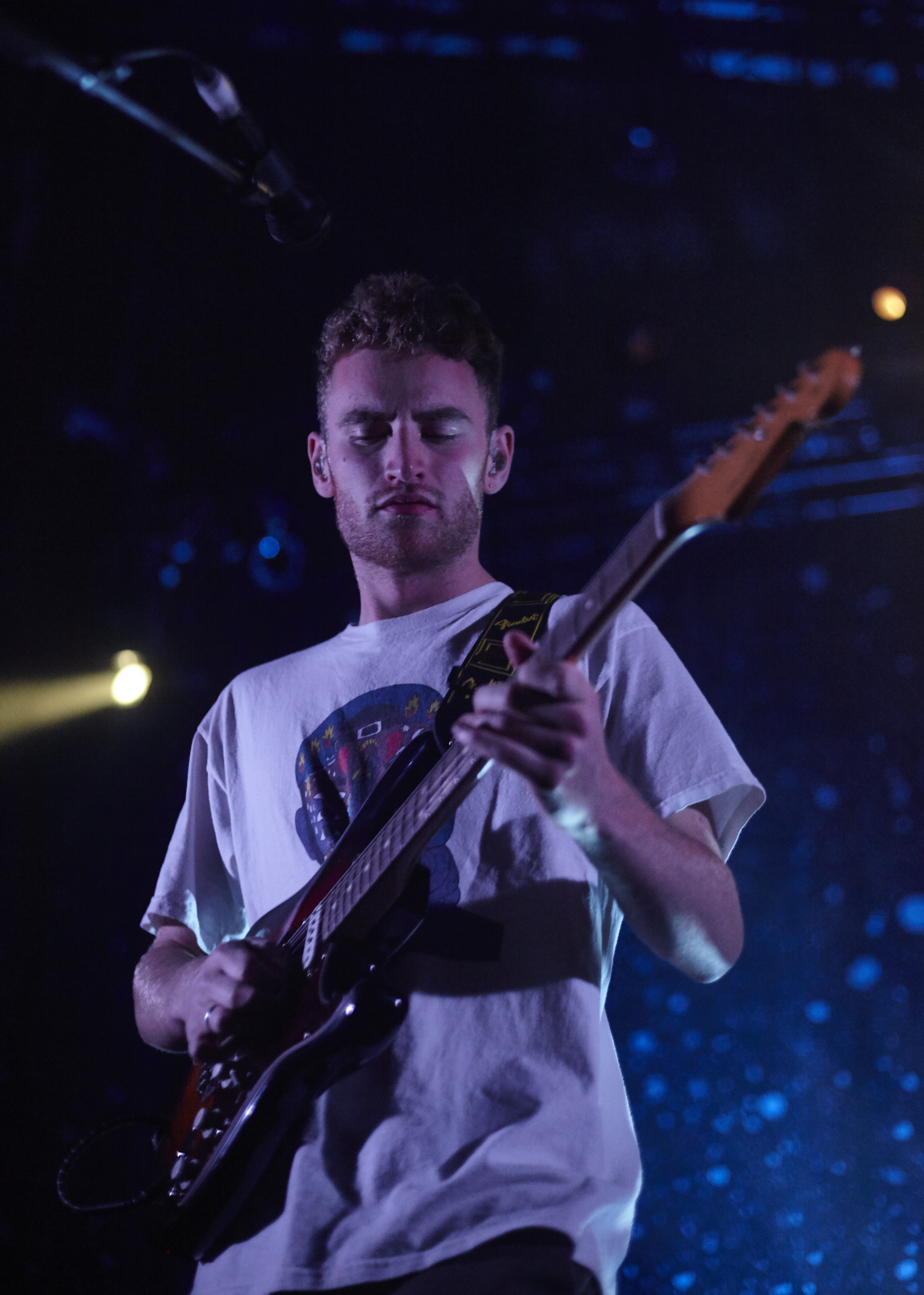 Featuring the incredibly talented Barney Artist, 'Space' introduced a low-tempo rap approach to the genre, reminiscent of early Ed Sheeran. The venue swayed once more, only interrupted by Misch's supremely heartfelt thanks: "I can't thank you enough for coming out tonight. This is so surreal, man. So crazy".
Picking up the temp, another guest held in very high regard came in the shape of one Zak Abel, who provided a fantastically soulful performance of 'Beautiful Escape' alongside Misch, who clearly has quite a wealth of highly-talented friends: "This is only the second time we've played this track live", Misch told the crowd.
It is not only these talented friends that Misch calls on for support, though. Masterfully wielding a shining saxophone, Tom's sister Laura took to the stage to perform the jazz-infused 'Follow', the pair chemistry highly evident throughout. It was elements such as this that truly set Tom Misch out from the crowd. There are not many artists out there that can rely on such a wealth of talent that they can also call their close friends and family: the performance was truly heartwarming.
Earlier in the evening, Carmody graced the same stage with a moving, upbeat supporting set, and it was only fitting that she should appear once more alongside Tom for 'Atmosphere': and what a treat that was – the duo's voices blended in perfect, effortless harmony.
Later in the evening, after an interlude Tchaikovsky would have been proud of, Misch previewed a brand new track, 'South of the River' which, of course, was received to great acclaim and featured exciting guitar riffs and arpeggios alongside infectious drum patterns… Three guest tracks followed, with Sam Wills taking the stage for 'In the Midst of It All'; Jordan Rakei for 'Wake Up This Day'; and Loyle Carner and Barney Artist rejoining Misch for one hell of a medley.
When, to huge disappointment, the trio eventually left the stage, the lights came up and the venue chanted "We Want Tom". He had to come back though, really… It was inevitable: a hometown show without 'Watch Me Dance' would have been entirely incomplete, and the completion was insane: the perfect final track. The Village Underground watched Tom dance as he watched us, in near-perfect harmony.
Tom Misch was fantastic. We loved him; his fans loved him; London loved him. Watch him dance. Watch this space. Tom Misch is going to be huge.
Follow Tom Misch on Instagram: @tommisch
Tom Misch's Set List
The Journey
Colours of Freedom
I Wish
Nightgowns, feat. Loyle Carner
Home
Man Like You (Patrick Watson Cover)
Space, feat. Barney Artist
Sunshine
Beautiful Escape, feat. Zak Abel
Follow, feat. Laura Misch
Atmosphere, feat. Carmody
Hark
South of the River
In the Midst of It All, feat. Sam Wills
Wake Up This Day, feat. Jordan Rakei
A Medley, feat. Loyle Carner & Barney Artist
Watch Me Dance (Encore)