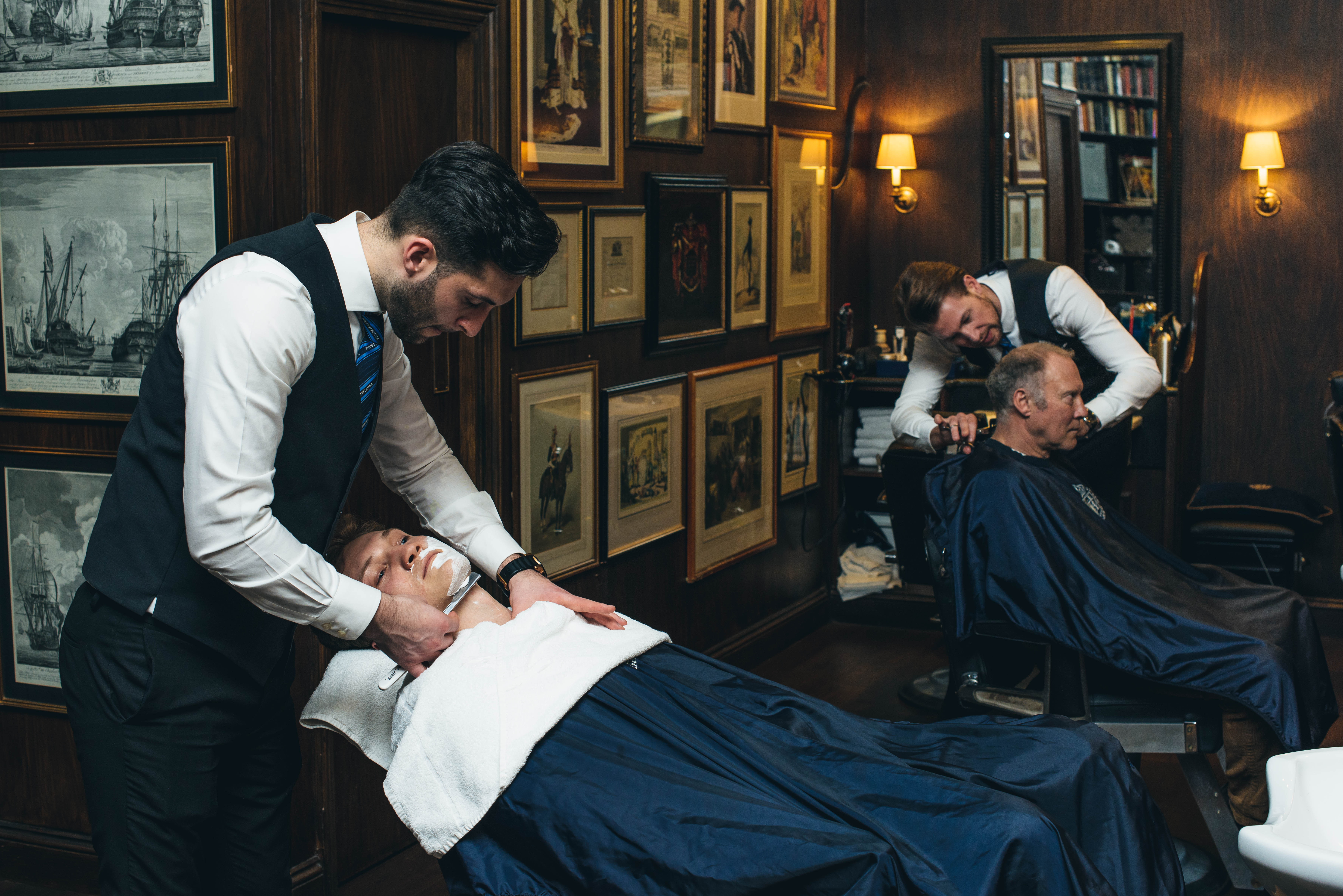 It's quite the claim-to-fame to be able to boast that you're the oldest anything in the world and Truefitt & Hill are no exception given that they are proud to announce that they're the oldest barber in the world. This sensational firm was founded by William Francis Truefitt in 1805, the same year as the battle of Trafalgar just to put it in a bit of historical context. It received its first hard won Royal Warrant from George III, and thus Truefitt's own reign catering to the 'aristos' and the well-heeled alike commenced. It isn't just 213 year's worth of nobles who have graced the oak floorboards and panelled walls of Truefit, other notable clients include little known English author Charles Dickens, that guy who's reasonably famous for having been a decent singer, Frank Sinatra and the original muse for the Churchill insurance 'nodding dog', one Winston Randolph Churchill.
Before I made my own pilgrimage to visit this hallowed sanctuary of masculinity and well-groomed serenity I explored the 'ethos' behind Truefitt & Hill. It seems that a core underlying principle of the company is that 'gentlemen deserve the best in everything they do'. You can see this in the care that goes into each and every one of the company's own products which comprise their impressively extensive offering. Every item from this range, like good quality beef or knowing how to discuss the weather using more than one million synonyms, is 100% British.
The cologne range at Truefitt is particularly impressive and at a price-point which is certainly not eye-watering given the quality and care that has evidently gone into the inception and creation process. I was immediately drawn to the 'West Indian Limes' scent, it's youthful, light and zesty and reinforces the fact that despite its impressive lineage Truefitt certainly isn't a place for the wizened and the hard of hearing, its a place for anyone who truly values 'the best'. The cedar-wood scent of the 'Apsley' cologne is also irresistible. It's rich and succulent with beautiful vetiver top notes. The Truefitt range doesn't stop there, far from it, it also comprises of everything the grooming enthusiast could desire from hand-made badger brushes to miniature moustache combs, from pore cleansing moisturisers to matte hair pomade. This list goes on though one thing binds absolutely every item together, put simply, it is exceptional quality.
The barbershop itself isn't just a functional place of business, it is a bit of a work of art. Everything about it is saturated in history and sophistication, but it simultaneously puts you at ease and makes you feel that it is utterly acceptable to fall sound asleep halfway through your treatment simply because this is a place where gents can go to be gents, and if aforementioned gent wants to sneak in forty winks then he should damned well feel comfortable to indulge in just that. I was lured in by the deluxe facial treatment which consisted of around 60 minutes of blissful man-pampering including exfoliation, deep cleansing and face and neck massage and of course each stage of this well-thought-out process used the Truefitt & Hill products. Of course the barbershop is best known for its haircuts, but they also offer beard and moustache trimming, face or head massage, or even 'The Truefitt & Hill Ultimate Grooming Experience', lasting a cool 100 minutes, for those who seek the very upper echelons of decadent pampering.
Truefitt isn't just limited to the St James Street venue in central London which I visited and has gone very much international. Other branches can be found in Baku, Beijing, Bangalore and far beyond. It's a brand which has stood the test of quite considerable time for one main reason: what it offers, whether it is a cologne, a trim, a razor, or anything else for that matter, is created or performed to the very highest possible standard. The emphasis is so clearly put on sheer quality that long-standing clients pledge their undying loyalty to Truefitt & Hill, and now I pledge mine too.
Truefitt & Hill
71 Saint James's Street, City of Westminster, London, SW1A 1PH